With the playoffs approaching, the WNBA MVP race remains neck and neck. The 2022 reigning MVP, A'ja Wilson looks to defend her title in a three-legged race with Breanna Stewart and Alyssa Thomas. Who will get the nod on Sunday? Let's take a look at the odds to win this year's WNBA Most Valuable Player for Breanna Stewart.
The WNBA 2023 season is winding down, which has been full of record shattering performances. With history broken numerous times by consecutive players, only one will be crowned most valuable player on Sunday. Currently, the chase for the award is close between Breanna Stewart, A'ja Wilson, and Alyssa Thomas. All three players are incredibly talented, breaking historic records with their respective franchises. With few matchups left in the regular season, is there a possible sleeper for MVP? In this article, let's break down Breanna Stewart's odds and stats for the 2023 WNBA Most Valuable Player. If you are looking for the best betting odds and stats, here is information to know.
The WNBA MVP race 👀 pic.twitter.com/bQOIvAA7Qg

— Bleacher Report (@BleacherReport) September 6, 2023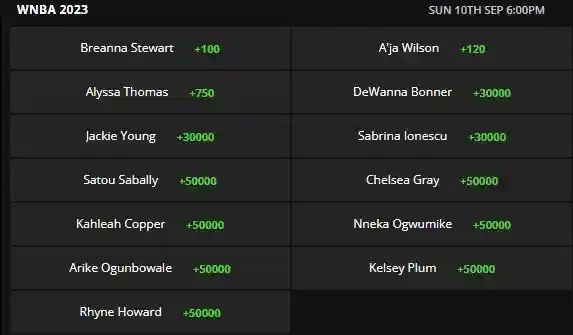 Breanna Stewart last night 👏 Broke the WNBA record for points in a single-season (885)

Broke the record for most 40 PTS/10 REB games in history (3)

Broke the record for most 40-PT games in a season (4)

Tied the franchise record for double-doubles in a season (20) pic.twitter.com/asDlxLey6Z

— Ballislife.com (@Ballislife) September 6, 2023
PPG: 23.3 | FG: 46.8 % | 3 PT: 35.9 % | FT: 84.7 % | REB: 9.4 | AST: 3.8 | STL: 1.5 | BLK: 1.6
Former No. 1 overall pick and UConn Husky, Breanna Stewart shocked the basketball world, when she signed with the New York Liberty this past offseason. A 2x WNBA Champion, Stewart spent her first six seasons with the Seattle Storm, in which she was crowned Most Valuable Player (MVP) in 2018. Five years later, Stewart finds herself on a loaded roster, which includes Sabrina Ionescu, Jonquel Jones, Courtney Vandersloot, Betnijah Laney, and several important role players.
Having covered the Liberty this season, Breanna Stewart has risen her game to new heights, and in ways we've never seen before. Prior to the season, there was some ambiguity surrounding player roles, and as a free agent, No. 30 took a pay cut to sign with New York. With that said, it was expected Stewarts personal statistics could possibly decline. However, the storyline this year has been the evolution of Breanna Stewart, and her continuous record-breaking performances.
Breanna Stewart is an elite scorer
Through 38 games this season, Stewart is averaging career-highs in several statistical categories. That includes points (23.3), minutes (34.2), assists (3.8), and offensive rebounds per game (1.6). Throughout her WNBA tenure, the MVP candidate is scoring the highest points off turnovers (4.4), second chance points (2.9), and fast break points (2.9) in her career. In 1,299 minutes played on the court, Stewart is scoring the highest percentage of points (3 pointers, mid-range, and fast break points) than she ever has before. Most impressively, the Liberty forward is shooting the highest percent of three-point field goals made, which are unassisted. She has the ability to create her own shot, pick and pop, attack the basket, as well as in the paint.
#SYCforMVP🗽 NUFF SAID. 🤷‍♀️ pic.twitter.com/K6zFU9XDFI

— New York Liberty (@nyliberty) September 6, 2023
Overall, No. 30 has been impactful all season long. Furthermore, her production in September has been tremendous. Through three games, Stewart is averaging 26.7 points per game, 19.3 field goal attempts, 11.3 rebounds, 4.7 assists, in just 31.2 minutes. Stewart, 29, ranks second in the league, behind Jewell Loyd in points per game, second in field goals made, and third in field goal and free-throw attempts per game. This season, 50.6 percent of her shots are two-pointers, and her mid-range shots are up four percent from last season. Additionally, there's been a five percent increase in points in the paint, as well as momentous increase in three-pointers unassisted. Her post moves are strong and prodigious.
Stewart now holds the record for most points in a single-season
The list keeps getting longer 🤩

The NEW All-Time leader in single-season scoring! #SYCforMVP🗽 pic.twitter.com/H3hUKdaTF5

— New York Liberty (@nyliberty) September 6, 2023
Overall, the New York Liberty rank second in points scored (3385), directly below the Las Vegas Aces. Since the All-Star break, Breanna Stewart leads a Liberty team that has the best record (17-3), and highest field goal percentage (46.5). In pre-game warmups Stewart can often be seen locked in and ready for each and every matchup. She leads New York in 17 field goal attempts per game, which can be presented from anywhere on the court. Elite inside the paint, Stewart is known for her fadeaway mid-range shots, and is often a force beyond the perimeter. The fellow UConn star leads the league in points scored (885), and recently broke the record for the most points in a single season. In addition, Stewart broke the record for the most 40-point games in a season (four).
The success of the Liberty, especially in the backend of the season, shows how impactful Breanna Stewart is. Her high IQ, and ability to read defenses and screens is remarkable. Her capacity to set screens opens the floor for teammates, as well as spacing.
No. 30 is a force on the defensive end
Since the All-Star break, the New York Liberty have the best defensive rating, only trailing the Los Angeles Sparks. In addition, New York has the best net rating since July, in which they lead by a large margin. Although the Liberty have a multitude of talented players, Breanna Stewart remains a concrete staple on the defensive end. Since 2022, the forward is averaging 9.4 rebounds, which is nearly two points more than the previous season. Less than .6 rebounds away from averaging a double-double, Stewart averages 1.6 blocks, .7 higher than 2022. Moreover, she currently has 60 blocks, which is on pace to shatter her rookie year record of 64.
With three games left in the regular season, Stewart has 57 steals, the most in her career, along with 359 rebounds. Her 297 rebounds rank second in the league, just three boards short of Connecticut's Alyssa Thomas. In the month of August, she had 9 blocks in three matchups against the Aces, in which the Liberty won the Commissioner's Cup on August 15. Although the box score doesn't always reveal the value of a player, Stewart has been a defensive juggernaut in critical games. In two games against the Aces, Stewart held A'ja Wilson to 9 points, each on 4-24 shooting. It speaks volumes that Wilson, one of the most dominant players in the league, was held to 16 percent shooting through two of those meetings.
Ranking third in total blocks this year (60), Stewart has been the defensive anchor in several matchups. With stretch fours becoming more prevalent, she has the task of guarding both the outside and inside of the perimeter. Often times, Breanna does an incredible job of switching on screens, especially when the opposition plays a small lineup. Over the course of the season, No. 30 broke the record for the most 40 point/10 rebound games in history with three and ties the franchise record for 20 double-doubles in a season.
Stew York City
Through the course of the season, the Liberty have continued to create chemistry and trust one another. No matter how considerable the victory or loss, several Liberty players have vouched for Stewart, and often refer to the campaign as "Stew York City."
Prior to the matchup against the Connecticut Sun, Liberty forward Jonquel Jones had some meaningful words for her teammate. " I think the things that you see are some of the things that make her special– Her ability to be able to score on different levels, defensively, being in the right places, or time, and blocking shots, " Jones told the media. "Multiple 40-point games, and all of that, so I mean, she's our MVP, and I would love to see her win the MVP at the end of the season."
Stewart's impact on her team is colossal
On nights where the shots aren't falling, Stewart still finds a way to contribute on all aspects of the court. Following the victory against the Aces on August 28, coach Sandy Brondello emphasized why Stewart should be this year's MVP.
"I think that's a stature of who she is. It's not all about scoring big. Stewie can do everything, " said Brondello. She's impactful because she's changing shots— guarding the best player on the other team. She's rotating, rebounding, she's running, creating for others. It's not always about scoring."
The former UConn star can do it all
Following New Yorks recent victory over the Connecticut Sun, Betnijah Laney spoke on the impact of Stewart on the court. " I don't think it's just been tonight. You know, I think it's been all season long," said Laney. "I'm not just saying that because she's my teammate, and not biased. Just everything that [Stewart] has been able to do. She hit's every mark on the set. For her to be able to do that and lead us. I think she's already made a strong case for herself, and it wasn't just tonight."
In addition to scoring, rebounding and defending, Stewart is averaging the most assists in her career. For example, often times the forward is double teamed, which creates an open lane or shot. As a result, fellow Storm star is averaging the highest-turnover ratio in her career (2.64). Stewart ranks 13th in overall assists (62), which is a considerable indicator of her high-IQ and vision of the court, as well as incredible unselfish ball movement by the Liberty.
Her teammates back her MVP Campaign
Prior to the last matchup against the Aces, Liberty star Sabrina Ionescu commented on the importance of Breanna Stewart, and her work ethic, both on and off the court.
"I think it's a standard that she set for herself, and one that we've been able to witness, from, obviously, her in Seattle, but obviously as a teammate just being able to see what she does game in and game out, "Ionescu told the Media. " Starting in training camp and practice. For me and for us, as a teammate, is just wanting to continue to help her be the absolute best player she can, and understanding how that helps us as a whole."
Coach Brondello stepped in and had a few words. " MVP, what are you talking about? Right there."
The Liberty forwards list of accomplishments this season
Over the course of the season, Breanna Steward is a 6x Eastern Conference player of the week, and 3x Eastern Conference player of the month. In the midst of witnessing greatness, Stewart is arguably in the prime of her career, and poised to make another playoff run. She joins Sheryl Swoopes and Sylvia Fowles as the only players in the history of the WNBA to lead in every single win share category.
Stewie's historic season continues, joining Sheryl Swoopes and Sylvia Fowles as the only players in @WNBA history to lead in all win share categories in a single-season!

P.S. Swoopes and Fowles did it in MVP seasons. 🤷‍♀️ #SYCforMVP pic.twitter.com/KeBAW44WWf

— New York Liberty (@nyliberty) September 5, 2023
After reading this, the stats speak for themselves. In other cases, the box score doesn't show her impact, and how much she means to her teammates and coaches. It's remarkable the influence that Breanna Stewart has on her teammates, and the contribution's she's made to the organization's success. Her hard work ethic, and talent has not gone unnoticed in New York, who have been waiting for their first ever WNBA Championship. She's always making plays for teammates and contributes on every aspect on the floor. With the volume of talent on this team, her unselfish performance is advertised nightly, yet she devotes her best in every category. Being an MVP candidate on a highly talented team speaks volumes.
Breanna Stewart was right all along. The key to success is "trusting the process." All around Stewart, are her teammates making history, and breaking records right beside her.
Picture credit:  (Brandon Todd/New York Liberty)
Sara Jane Gamelli is a full-time Sportswriter at BallisLife, and Sports Content Creator on Twitch and TikTok. She has a focus on the NBA, WNBA, NCAA Basketball, and the NFL. Sara Jane currently resides in Connecticut with her Cat and Dog. SJ has her undergraduate degree from the University of Connecticut in Economics, with a minor in business administration.
Tweets by BallislifeBets
NATIONAL PROBLEM GAMBLING HELPLINE1-800-522-4700
The National Council on Problem Gambling operates the National Problem Gambling Helpline Network. The network is a single national access point to local resources for those seeking help for a gambling problem. The network consists of 28 contact centers that provide resources and referrals for all 50 states and US territories. Help is available 24/7 and is 100% confidential.