After a season in which he led the NL in WAR and finished second in the MVP voting, Manny Machado was supposed to be right in the middle of the Padres' takeover of the NL West. Instead, he's off to a subpar start for a stumbling, sub-.500 team, and now he's added injury to those insults. Manager Bob Melvin revealed on Wednesday that Machado has been diagnosed with a fractured metacarpal in his left hand and may need a stint on the injured list.
The 30-year-old third baseman was hit by a slider from the Royals' Brad Keller in the second inning on Monday night, and while he remained in the game, he was replaced by pinch-hitter Rougned Odor in the fourth inning and didn't play on either Tuesday or Wednesday; the Padres had Thursday off. Initial x-rays did not show the break, but CAT and MRI scans taken on Tuesday revealed that he had suffered a hairline fracture of his third metacarpal.
That revelation was only part of a dark day for the Padres, as they dropped the rubber match of their series against Kansas City, 4–3, and heard their share of boos from the 32,416 fans at Petco Park. They didn't lose for lack of opportunity, going just 2-for-9 with runners in scoring position and 0-for-3 with the bases loaded. They've lost nine of their last 12, including five out of six to the Dodgers, and fallen from 17–15, one game behind Los Angeles in the NL West, to 20–24, 7.5 games back. Their odds of winning the NL West have fallen from 55.4% as of Opening Day to 37.8% before the skid to 12.9% as of Friday morning; their 41.6-point drop in their odds of winning the division is the majors' largest, and their 23.4-point drop in their odds of reaching the playoffs — from a season-opening 85.3% to 61.9% — is second only to the Cardinals' 26.6-point drop among NL teams.
After Wednesday's loss, the team held a players-only meeting, with Matt Carpenter offering a summary:
"We've just got to do a better job… You can feel the angst from the fans, and we feel it. It's just some very unhappy time in the clubhouse — like (it is for) anyone following the team. We haven't been able to execute like we were hoping we would at this point. So something's gotta be done. We've got to do a better job."

…"A little bit of a snowball situation kind of happening… where you get an opportunity in a game and guys want it so bad that they take themselves out of the at-bat by doing something that they otherwise normally wouldn't do."
As a team, the Padres are hitting .196/.293/.333 for a 73 wRC+ with runners in scoring position; the batting average is dead last in the majors, the wRC+ and OBP are both second-to-last, and the SLG is third-to-last. Overall, they're second-to-last in the NL in scoring at 3.91 runs per game and 10th in wRC+ at 96 and are hitting a combined .226/.317/.382, with all of the slash numbers in the league's bottom four.
This is the first time Machado has ever broken a bone, and at this writing it's not a given that he'll go on the IL, a domain he's avoided since suffering a season-ending right knee sprain in 2014; last year, he dodged the IL but missed nine games in late June due to a sprained left ankle. The Padres are holding out some amount of hope that by Friday, he'll be able to play. Via the San Diego Union Tribune's Annie Heilbrunn:
Manny said the swelling in hand has gone down tremendously. Has more range of motion today. It's a matter of dealing with the pain, being able to grip the bat, etc. Will see how it is in a few days…

To be clear, he is going to do what he needs to do to heal and be able to produce for the team. If that means a stint on the IL, he understands that. But there's no verdict on that for now.
That said, the location of the fracture, in the metacarpal that extends below the middle finger, is right in the middle of the hand. The fact that it's a hairline fracture means it's not displaced and doesn't require surgery, but that doesn't translate to full functionality or a lack of pain. Even if Machado is tougher than a two-dollar steak, that doesn't necessarily mean he can gut this out. Such fractures can take six weeks to fully heal, though it wouldn't be a surprise if Machado tries to return much more quickly than that.
If Machado does miss significant time, the Padres will likely continue the reshuffle of their already rearranged infield by playing Ha-Seong Kim at third base, where he's spent the past two games and has 55 games of major league experience. They could return Jake Cronenworth to second and give Carpenter, their platoon DH against righties, more time at first. On Tuesday and Wednesday, they played Odor at second, but he's hitting just .154/.254/.250 (47 wRC+) and hasn't had a wRC+ above 83 since 2018.
Playing though a hand injury isn't likely to boost Machado's offensive performance, which has been dismal, particularly when compared to last year's .298/.366/.531 (152 wRC+) showing. He's off to a .231/.282/.372 (81 wRC+) start and has been less productive in May (.217/.288/.326, 73 wRC+) than March/April (.236/.280/.391, 84 wRC+). He's not hitting the ball as hard as last year, but then even last year he wasn't hitting the ball as hard as he did in 2021, when his results weren't as good:
Manny Machado Statcast Profile
Season
Events
EV
Barrel%
HardHit%
AVG
xBA
SLG
xSLG
wOBA
xwOBA
2021
473
93.1
13.3%
52.0%
.278
.291
.489
.526
.350
.376
2022
447
91.5
9.8%
49.0%
.298
.264
.531
.447
.382
.338
2023
123
89.1
6.5%
39.0%
.231
.213
.372
.353
.286
.274
Oddly enough, Machado's 2021 Statcast expected numbers match up better to his actual '22 numbers than his actual '21 ones. He was well ahead of his expected numbers last year and is ahead again this year, but it's not amounting to much: His average exit velocity ranks in the 47th percentile, his hard-hit rate in the 42nd, and his barrel rate in the 38th. The 2022 model of Manny is nowhere to be found, except perhaps on defense.
A few things with Machado particularly stand out. Because swing rates are among the first stats to stabilize (starting at around 60 plate appearances), that's one of the first places I look at a hitter who's off to a slow start to see if he's swinging and chasing pitches outside the zone more often — a pattern that suggests a player might be pressing, as Eno Sarris noted a few years ago. But while Machado' 35.6% chase rate is a career high and his 50.4% swing rate is nearly one as well, both are close to where he was last year — 34.2% for the former, a career-high 50.8% for the latter — in much more successful times. Similarly, his 85.1% zone contact rate is a career low, but it's only half a point lower than last year; his 12% swinging-strike rate is a career high, yet just 0.4 points above last year. His 20.6% strikeout rate is just an eyelash below last year's career high. In the aggregate, his swing decisions are similar to last year, so you can understand why he's preaching a commitment to process.
Looking at Machado's rolling chase rate does suggest the outline of a narrative: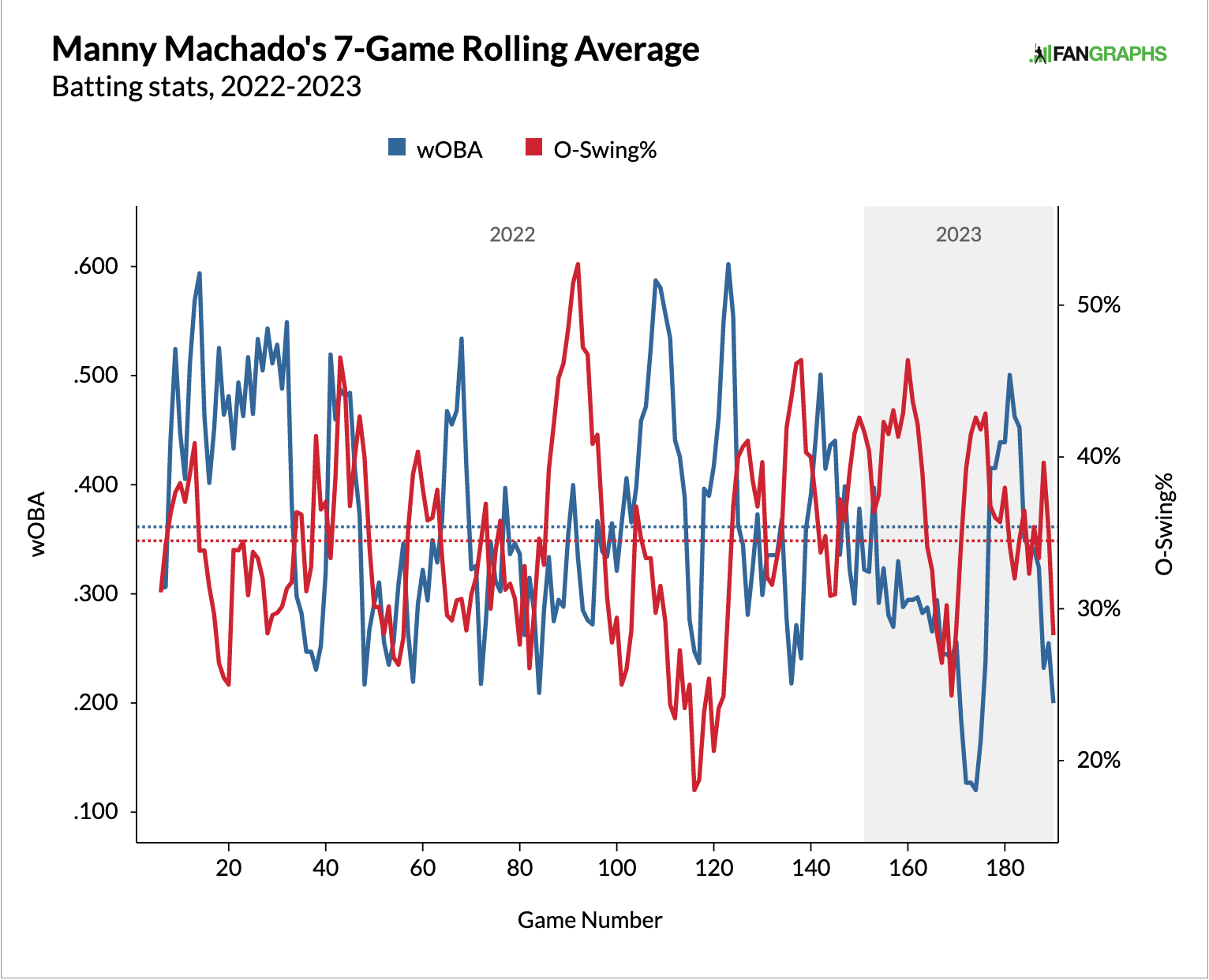 I went with a seven-game rolling average to approximate a week, seeing if we could detect changes. To these eyes, the story is that Machado was very aggressive in chasing pitches early in 2023, but it didn't pay off (note the high O-swing% and low wOBA). He then reined himself in and started swinging less, but that didn't work either, so he went back to swinging more. Things then got as bad as they've been, production-wise, and only briefly did he find some kind of equilibrium before getting injured. By comparison, last year he was much more disciplined early and started hotter and was able to expand his zone and chase his way out of some slumps, but he did have periods where things didn't always work if he got too aggressive or too conservative.
Putting that admittedly subjective interpretation aside, the other thing that really stands out is that Machado's performance against four-seam fastballs has been deteriorating:
Manny Machado vs. Four-Seam Fastballs
Season
%
PA
H
HR
AVG
xBA
SLG
xSLG
wOBA
xwOBA
EV
Whiff%
2019
37.0%
217
54
16
.295
.296
.601
.582
.410
.412
95.1
19.6%
2020
35.5%
79
21
7
.304
.366
.696
.750
.420
.482
93.9
13.9%
2021
33.2%
195
47
8
.281
.309
.503
.588
.367
.415
97.2
16.7%
2022
31.2%
183
36
7
.220
.250
.402
.435
.309
.335
94.5
24.2%
2023
35.7%
47
9
2
.214
.205
.381
.442
.301
.318
93.3
21.7%
SOURCE: Baseball Savant
With the exception of slight rebounds in xSLG and Whiff%, Machado is into his third straight year of decline against four-seamers just about everywhere you look. He wasn't even all that good against them last year, finishing three runs below average in what was otherwise a huge season; by comparison, he was 16 runs above average against four-seamers in 2019, five above in '20, and 13 above in '21. We're in small-sample territory here, but that's an ominous trend considering the Padres just committed $350 million to him over the next 11 years.
If you're looking for an even smaller and more unsettling sample, here's the trend for Machado against four-seamers 95 mph and higher:
Manny Machado vs. Four-Seam Fastballs 95 MPH or Higher
Season
%
PA
HR
AVG
xBA
SLG
xSLG
wOBA
xwOBA
EV
Whiff%
Barrel%
Poor%
2019
11.7%
64
3
.296
.257
.519
.437
.381
.346
89.2
20.8%
9.4%
29.7%
2020
11.0%
23
2
.263
.344
.579
.625
.378
.433
85.0
16.3%
13.0%
34.8%
2021
12.9%
82
3
.324
.339
.549
.632
.394
.432
94.5
15.3%
9.8%
34.1%
2022
12.2%
70
3
.215
.245
.415
.462
.298
.330
91.5
24.1%
8.6%
30.0%
2023
13.7%
15
0
.143
.106
.143
.201
.165
.169
86.7
25.0%
0.0%
46.7%
SOURCE: Baseball Savant
Poor% = percentage of batted balls categorized as Under, Topped, or Weak.
As you can see, such fastballs are taking up an increasing share of the pitches Machado sees. He's struggling to handle them to an even greater degree, with an elevated whiff rate, a lack of barrels, and an increasing percentage of poor contact (balls that Statcast classifies as weak, topped, or under that rarely go for hits).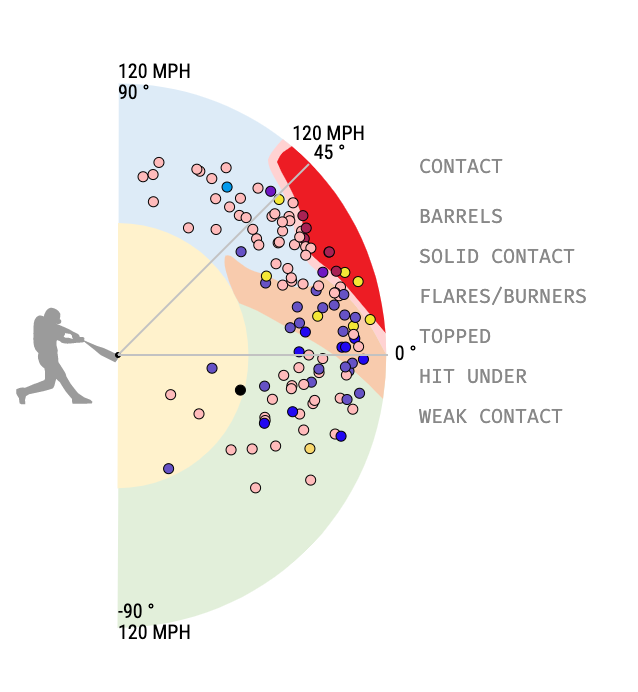 Baseball Savant doesn't offer full definitions of those poor contact sub-classifications, but you can get a feel from the radial graph above: yellow is the weak contact, balls with very low exit velocities; green is topped, balls generally hit downward that have higher EVs than the weak ones; and light blue is under, balls hit in the air but at angles too steep to be very productive, mostly popups and cans of corn (though down a short foul line, the occasional one might get out).
On that subject, for the years covered by Statcast (2015 onward), poor contact accounts for 58.9% of Machado's batted ball events, which is below the major league average of 61.4% in that span (yes, more than half of the batted balls of even good hitter generally land in one of those three buckets). For last year, he was down to 55.9% poor contact, but this year, he's up to 65.1%, including a career high 30.9% in the under category. Last year, he hit .115 (nearly double his .063 xBA on such balls) and slugged .212 with two homers on the 114 batted balls in that category; this year, one-quarter of the way to the season, he's hit .054 and slugged .081 on 38 when getting under one.
Looking at Machado's performance one more way: via Statcat's Swing/Take metrics, last year on pitches in the heart of the strike zone — what Statcast defines as the middle 13.3 inches of the plate, and the middle 16 inches of the zone vertically — he was 16 runs above average. This year, he's five below average. He's gone from five above to five below in the shadow of the zone (the edges on either side) as well:
Manny Machado Swing/Take Runs
Season
Zone
%
PA
H
HR
AVG
SLG
wOBA
EV
Whiff%
Runs
2022
Heart
24.1%
209
86
20
.411
.780
.508
96.8
15.8
+16
2023
Heart
25.6%
58
14
5
.250
.554
.325
94.0
16.9
-5
2022
Shadow
43.5%
310
76
12
.259
.452
.319
89.2
23.6
+5
2023
Shadow
41.7%
77
18
0
.237
.303
.241
85.7
24
-5
SOURCE: Baseball Savant
Long story short, Machado isn't doing enough with the obvious strikes he's being thrown, fastball or otherwise, and he's struggling with the borderline pitches as well.
He's not alone in his frustrations, not on a $249-million payroll team that's studded with stars in the lineup, and that has gotten prticularly subpar work from starters Blake Snell and Joe Musgrove as well. Even with the return of Fernando Tatis Jr. and the recent resurgence of Juan Soto, the Dads have been bad, with just four regulars and a platoon DH who have a 100 wRC+ or better. Only one regular has matched or bettered his preseason projected wRC+:
Padres Actual vs. Projected wRC+
Player
PA
AVG
OBP
SLG
wRC+
Proj wRC+
Dif
Xander Bogaerts
187
.275
.374
.431
128
123
5
Matt Carpenter
107
.209
.340
.395
108
111
-3
Ha-seong Kim
152
.235
.325
.371
97
104
-7
Jake Cronenworth
180
.220
.335
.393
104
115
-11
Trent Grisham
166
.191
.309
.355
90
105
-15
Nelson Cruz
95
.253
.274
.418
87
108
-21
Jose Azocar
45
.244
.262
.293
54
80
-26
Juan Soto
194
.252
.402
.471
142
168
-26
Fernando Tatis Jr.
112
.274
.313
.462
113
159
-46
Manny Machado
170
.231
.282
.372
81
128
-47
Rougned Odor
59
.154
.254
.250
47
94
-47
Austin Nola
102
.151
.263
.209
42
107
-65
I guess that's why you sign Bogaerts for $280 million. If only the Padres were getting anywhere close to what they though they would from the guy they signed for $350 million, they'd be in better shape, but it could be awhile before Machado is able to help turn things around.