What's got four thumbs and is set up for a real doozy of a pitchers' duel in Arlington this evening? That's right, Nathan Eovaldi and Spencer Strider. These two are second and third in baseball in pitcher WAR, and have many things in common besides: They're both right-handed starters with big fastball velocity who are pitching well now after struggling to stay healthy at times… Okay, that's about all they have in common.
It's a bit early in the season for any individual game to be a must-watch, particularly an interleague matchup between two teams with basically no history apart from the Mark Teixeira trade. But if you've got time to kill and no strong preference about which game to scroll down to on MLB.TV, this is set to be the best pitching matchup of the night, and one of the best of the entire season so far.
Strider has become one of the most internet-popular pitchers out there for three reasons. First and most important, he's good. Second, Strider has the vibe of a cool nerd from the early 2010s. He and a friend, inspired by their frustration with Pitchfork's album grades, maintain a detailed Google Sheet where they rank indie rock records. Baseball Twitter is full of lapsed emo kids with too much liberal arts education for their own good (including me), and these folks love nothing so much as a ballplayer who gives the impression of having read a book once.
The young Braves righty is like Ken Griffey Jr. to that crowd. He wears a mustache, an unusual jersey number, and pants so tight you can see the muscle definition in his quads. The latter became newsworthy in his last start in Toronto, when an incredulous Buck Martinez broke several seconds of silence by yelping, "I mean, look at the thighs on this kid! He's got huge thighs, it's like Eric Heiden, the speed skater."
Love an Eric Heiden reference. But there's a lesson; another American hero of the Lake Placid Olympics once said, "the legs feed the wolf." That's as true for pitchers as it is for people who make their living on ice skates; great power pitchers from Nolan Ryan to Roger Clemens will testify at length to that effect. Which brings up the third compelling quality about Strider: He's good in such a way that it's easy to understand.
Strider has three pitches. Well, two and a half. Strider's four-seamer has the fifth-highest average velocity among qualified starters, one spot below Shohei Ohtani and three spots above Gerrit Cole. PitchingBot also credits him with having the fifth-best fastball command among qualified starters. And according to Baseball Savant, Strider's fastball has the seventh-most rise vs. average among 375 pitchers on the leaderboard.
The most important pitch in the game is a well-located fastball, and Strider can throw as hard as any starter out there (obvious Hunter Greene-related caveats notwithstanding), with movement, wherever he likes. That sets up his slider, which comes in, on average, 12 mph slower than his fastball with 27 more inches of vertical drop. That fastball-breaking ball combo is one of the most effective ways to pitch, and reflects an approach that's been around since Candy Cummings. (I wrote about it in the context of David Bednar two weeks ago, and Jordan Romano last September.) Strider's slider has a 55.5% whiff rate, which is 11th out of the 1,389 distinct pitch types on Baseball Savant's leaderboard.
But his most interesting pitch is his changeup, which would be tied for first in whiff rate if he threw it enough to qualify. He barely uses it; he's thrown just 37 this year, with none coming to right-handed batters. Righties have only seen the changeup nine times in Strider's entire big league career.
But this little dribbler, which Jeff McNeil hit into the ground at 74.9 mph, is the closest anyone's come to getting a hit off Strider's changeup this year:
The only extra-base hit off Strider's changeup, ever, was a dying quail off Francisco Lindor's bat that would've been a single had Ronald Acuña Jr. not taken a bad angle to the ball and Roger Dorn'd it into a triple:
Whether Strider is a finesse pitcher depends on how you think of the word. No, he's not a latter-day Zack Greinke, who gets by on guile and tricks. He's an all-gas, no-brakes fastball-slider guy. But it takes a lot of refinement to command the ball the way Strider does, which is why he's an early contender for the NL Cy Young and not the seventh-inning reliever for a fourth-place team.
Eovaldi's got a different secret. Where Strider basically throws two pitches to most batters, Eovaldi has five, four of which he throws between 10% and 40% of the time. Strider has two different movement profiles; Eovaldi has something that moves basically in every direction you can think of: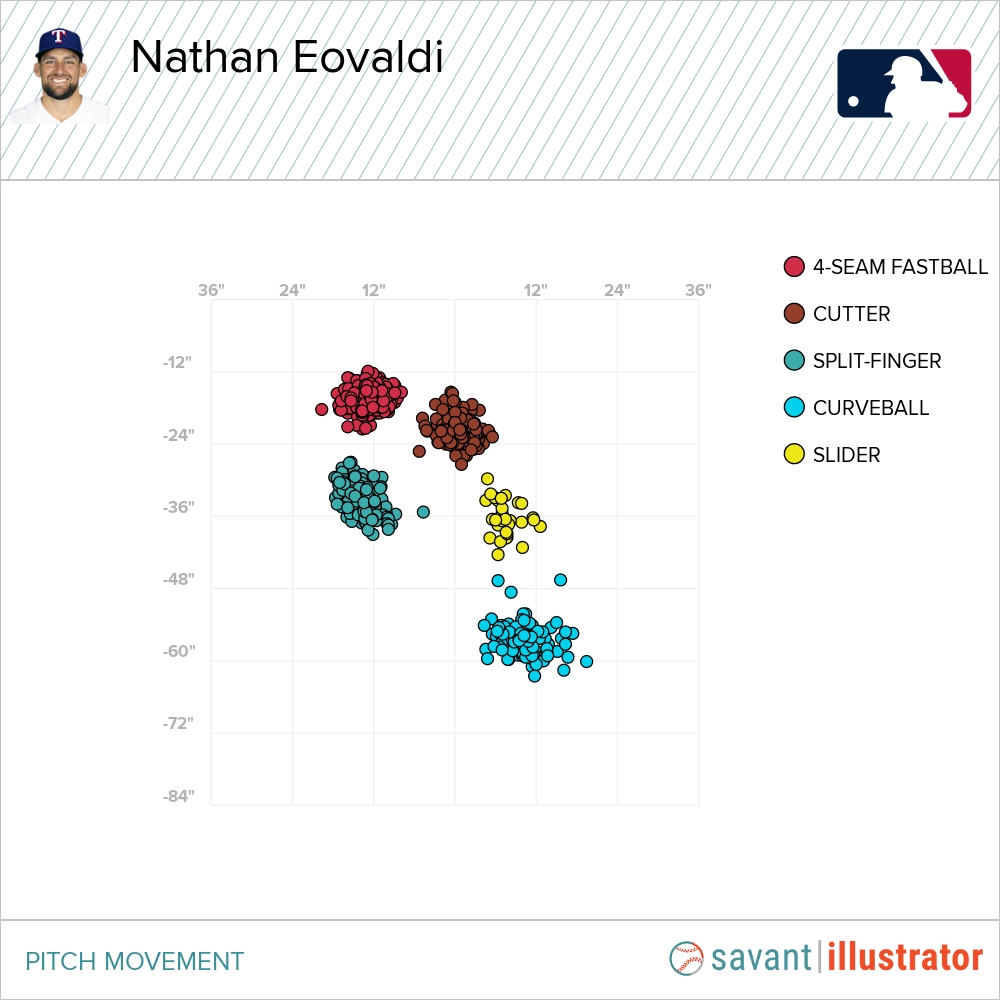 The three-fastball approach doesn't lead to as many swings and misses as Strider's wipeout repertoire. Eovaldi's whiff rate, the best of his career, is 12 percentage points lower than Strider's. Strider gets far more swings and misses than Eovaldi gets whiffs and called strikes put together.
But what that approach does is keep hitters from squaring the ball up. Out of the 241 pitchers with at least 50 balls in play this year, Eovaldi has the 18th-lowest xwOBA. (Strider is ninth.) Eovaldi has the 10th-highest groundball rate among qualified starters, and the third-lowest HR/FB ratio.
It hasn't always worked. Eovaldi gave up at least two runs in each of his first five starts, and the BABIP gods were unkind to him; after a loss to the Reds on April 24, Eovaldi had a seasonal BABIP of .413, and an ERA (5.20) two and a half times as high as his FIP (2.19).
Since then, he hasn't allowed a run. More than that, he hasn't allowed a run while pitching so deep into games you'd think it was 1980 again. Eovaldi has thrown 25 2/3 out of a possible 27 innings in his past three starts. That includes one of just seven complete game shutouts across the entire league this season. His three consecutive starts of eight or more innings and zero runs allowed are the most since Clayton Kershaw's MVP campaign of 2014. Nobody else in the 2020s has even had back-to-back scoreless appearances of eight innings or more.
Will that hold against one of the National League's most dangerous lineups? Or can Eovaldi and Strider trade zeroes all night long? Tune in this evening to find out.