Four players bid farewell to Liverpool fans on Saturday, with the occasion also proving to be the last stand for the Anfield Road End as we know it.
Not only will Jurgen Klopp's squad have a new look come 2023/24, but so will Anfield.
The days of watching the match through a letterbox in the lower tier of Annie Road and wondering what is going on at the Kop end is no more, hallelujah!
While it will remain a two tier stand, the view will improve dramatically – and there was little love lost by those who have experienced what it had to offer:
Last stand for the current Anfield Road end today.

Was like watching football through a letterbox at times,

but the atmosphere was great and we couldn't have cared less when Liverpool were winning. ?#LFC pic.twitter.com/S0T6cu7zc0

— Sam Millne (@sam_millne) May 20, 2023
RIP anfield road end, i'll miss the great views pic.twitter.com/GfMY3YbByz

— lucas (@_lucas037) May 20, 2023
Goodbye old Anfield Road end. #lfc pic.twitter.com/MJz85bqX6S

— Peter (@artsutter) May 20, 2023
Been taking a picture of the progress each home game… Can't wait to see the finished product next season!#LFC #AnfieldRoad pic.twitter.com/3R4cqjX4hO

— Paul McHugh (@baldypaul) May 20, 2023
With Liverpool having played their final home game, it will be full speed ahead with preparing the new stand for its debut season – starting with the removal of the existing roof.
It will mark a significant step towards its completion in time for the 2023/24 season, with the process not to be too dissimilar from the Main Stand back in 2016.
Cranes will move onto the pitch and the existing roof of the Anfield Road Stand will start to be demolished in the coming week.
A total of 7,000 seats will be added to Anfield's capacity, taking the overall capacity to around 61,000 – with work still on schedule to be completed on time.
The club have requested to play their opening game away from home to allow for extra time to put the finishing touches on the new Anfield Road Stand.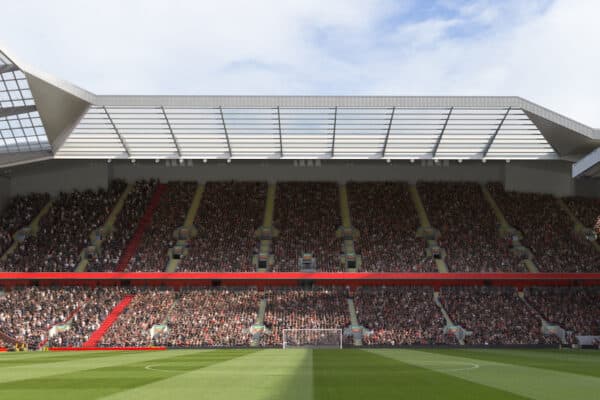 The redevelopment is moving at pace with external work creating a seamless look with the Main Stand, while the concourses and under-cover fan zone area continue to take shape.
Here's hoping those in the new lower Anfield Road End have prime viewing for a return to consistent form for Klopp's men next season!
Anfield Road Stand Expansion Facts
On schedule to be complete for first home game of 2023/24
Anfield's new overall capacity will provisionally be 61,015
Expanded Anfield Road Stand will hold 15,967 supporters
1,000 new season tickets and 3,000 general admission
New young adults section in the lower tier
Estimated cost of £80 million