Only 62 men and 20 women have scored a goal in a FIFA World Cup Final. It's a rare achievement that holds a sacred place in sports history. Being the starting pitcher in a World Baseball Classic final is a bit less prestigious — at least for now, check back with me in 60 years to know for sure — but only 10 people can say they've done it.
Among them, Diamondbacks right-hander Merrill Kelly. "I've said it a million times before, but I'm super grateful I was able to be a part of it. Just the clubhouse in general, the quality of players on that team — by far the best team I've ever been on and it isn't close," he says. "Obviously, we would've liked it to go a different way in the last game."
The circumstances that led to Kelly starting that game are interesting. When Team USA was setting up its rotation for the group stage, Kelly lobbied manager Mark DeRosa for the toughest assignment of pool play: Mexico. That start went to Padres right-hander Nick Martinez, who got crushed in an 11-5 loss. (This result led to Kelly being on the receiving end of some good-natured trash talk when he and Team Mexico center fielder Alek Thomas returned to Diamondbacks camp.)
When Kelly picked up a crucial win in the pool finale against Colombia three day days later, there was a silver lining to not getting his preferred rotation spot.
"One of the things DeRosa told me to console me was if I pitched against Colombia at home, that would line me up for the championship as well," he says.
In that game, Kelly struggled against a loaded Samurai Japan lineup, allowing two of the three runs Team USA would surrender that night, en route to a one-run loss.
It's hard to complain too much about Team USA's performance at the WBC. The United States went to the final, where they lost a one-run game that ended with their best player at the plate representing the tying run. Had the opponent been anyone other than a Japan team that had spent weeks thoroughly dominating its opponents, Team USA would probably have defended its title successfully.
But as good as the American bullpen was, and as much as the lineup represented the best the country could field at almost every position, the rotation left much to be desired. The seven starting pitchers — well, four starters and three bulk relievers, really — who dressed for Team USA weren't bad on the whole. Miles Mikolas was an All-Star last year! Lance Lynn was a Cy Young finalist in 2021! But the very qualities that made them available for selection, such as steadiness and physical resilience against injury, made them ill-suited for the demands of the WBC.
Only, early returns from the 2023 regular season have not done much to support the thesis that these are still good pitchers:
I Regret That I Have But One Arm to Give For My Country
Pitcher
IP
ERA
FIP
K-BB%
Kyle Freeland
53 1/3
3.88
4.49
11.9
Miles Mikolas
54 2/3
4.77
4.55
11.8
Lance Lynn
57 1/3
6.28
4.72
19.0
Nick Martinez*
40 1/3
2.68
3.96
12.3
Adam Wainwright
15 2/3
5.74
4.89
4.2
Merrill Kelly
57 1/3
2.98
3.68
15.9
Brady Singer
45 2/3
7.09
4.78
11.7
*Returned to the bullpen after four starts
So yeah, it's not going great. Martinez has been good, but mostly out of the bullpen (4.01 ERA as a starter, 0.57 as a reliever), Freeland has been decent, and everyone else except for Kelly has dropped onto the bell curve somewhere between "disappointing" and "maybe it's time to hang 'em up."
What is Kelly doing differently?
A few things. His strikeout rate is up four percentage points to a career-high 26.0%. His walk rate is up from 7.6% to 10.1%. There isn't really such a thing these days as major league starting pitcher who walks a ton of batters and still gets the ball frequently enough to qualify for the ERA title. Standards of command league-wide are just too good, and the margin for error is that thin.
Still, that 7.6% was just 38th-best out of the 45 qualified starters in the majors last year. And Kelly has expanded his walk rate by a third on top of that. His FIP (3.68 this year, 3.65 last year) remains essentially unchanged. Why is he walking and striking out more batters? Well, after extensive investigation, it's because he's throwing the ball in the zone less, while getting batters to swing and miss more:
See Merrill Kelly, Swing Away*
Year
Zone%
O-Swing%
Whiff%
2022
49.3
29.9
23.6
2023
43.6
34.7
26.8
SOURCE: Baseball Savant
*I know I've made this joke before; it's still funny.
Kelly says he didn't make any kind of conscious decision to eschew the zone, it's more just how things have shaken out after about a third of a season.
"Obviously, everyone strives for more strikeouts, and the more strikeouts the better," he says. "A lot of it might come from, like you said, the fact that they have to honor one more pitch. As far as metrics and stuff like that, things have probably picked up a little bit this year so far. That could be a reason as well, either that or game planning. I'm really studying hitters."
All plausible explanations, but, wait, what was that he said about honoring one more pitch?
Let's go back to the WBC. In that start against Colombia, Kelly broke out a slider, which Jorge Alfaro fouled off. It was the only slider he threw in the tournament, and followed a mere six others he'd thrown in his entire major league career.
Now, he's throwing a slider 5.6% of the time. That only adds up to 52 of them so far this season, but the early returns are promising. Behold: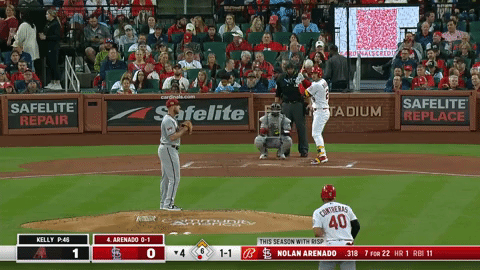 It's a pitch with mostly vertical movement that doesn't come in particularly hard, doesn't move that much, doesn't spin that fast. But the way the slider fits into the rest of Kelly's repertoire has made it play up. Where Kelly's using it — low and away to right-handed hitters, mostly — it's been effective. The 52 he's thrown have resulted in 24 swings and 13 whiffs:
Merrill Kelly's New Slider
Avg. MPH
Avg. RPM
Horiz. MVA
Vertical MVA
Whiff%
Value
85.8
2334
-3.6
-1.2
54.2
Rank
102 of 255
102 of 255
263 of 302
199 of 302
9 of 270
SOURCE: Baseball Savant
Kelly's not entirely happy with it.
"It's getting there," he says. "I'm starting to trust it more in games. My brain is starting to see it as a recognizable pitch. As far as pitch calling, I've found myself going to it more than I had. I'm starting to see the shape that I want. Some days, I think it's really good. Some days, it's OK. In my mind, that's still not 100% as far as feel goes, because one pitch will feel a certain way, and then the next one will feel different."
That's to be expected, as the pitch is still in its prototype stage. Having thrown fewer than 60 of them in anger, Kelly would obviously still be figuring it out. Still, if you were making a list of guys who needed to beef up their repertoire, Kelly isn't the first one who would come to mind. Last season, not counting the six stray sliders, he threw five distinct pitches, none more than 29.1% of the time and none less than 13.5% of the time. He threw multiple fastballs, a changeup, and a curveball. And unlike lots of pitchers with a changeup and breaking ball, he could throw both to hitters on either side of the plate.
Still, he sensed a deficiency.
"I've always thought about [throwing a slider]," he says. "I've messed with it a couple times in my career, but it just never really came to fruition. The reason I started throwing it is I've gotten beat a little bit down and in to righties, and I think that's partly because I didn't really have anything to make them honor something down and away."
So the slider isn't just valuable for its own sake, it's supposed to be the kind of pitch that solves problems elsewhere for Kelly. And so far, it has. Right-handers are swinging and missing at his changeup 41.3% of the time this year, compared to just 29.3% last year. They're making contact with his cutter more, but it's worse contact: a .077 average and .122 xBA this year, down from .167 and .191 in 2022. Kelly thinks he's got a particularly good handle on that pitch at the moment.
"Especially in the last couple games, I think it's probably been some of the better cutters I've thrown since I started throwing it," Kelly says. "The shape on it, the life on it is a little better than it has been the past couple years. But honestly, any time you add another pitch hitters have to think about, they have to honor it. They have to guess more."
Even before this season, few pitchers kept hitters guessing with a kitchen sink approach more than Kelly did. Now, with the slider, it's even more difficult to tell what's coming.