Farewells loom and changes beckon, but Liverpool are emerging from their fog and Leicester proved another step forward on the road to Reds 2.0.
Three aesthetically pleasing goals plundered without reply at the King Power, three more points gained, and our dislikable hosts ushered closer to the Premier League exit door; it was another good day at the office on Monday for the improving and steadily healing Reds.
With just two games to go, the mission for Jurgen Klopp and his squad is to condition themselves to be able to hit the ground running for next season. Lingering hopes of either Newcastle or Man United fumbling a place in the top four is merely useful shadow puppetry.
While it would be wonderful if Eddie Howe and/or Erik ten Hag's players went full-on rabbit in the headlights across the span of the next 12 days, it's the bigger picture that is more important than the short-term gain of obtaining a seventh successive season of Champions League football.
Should Liverpool gatecrash the top four at the finishing tape it would, of course, be joyous, but I don't think that is what is fuelling their current run of results and form.
To me, this simply looks like a set of players who are loving football again, where Champions League qualification would be a bonus rather than the ultimate goal.
Start of something new
That post-match togetherness displayed by the players in red, in front of the away alcove at the King Power, was telling.
Suddenly, we are a danger to other teams once more, having spent much of this season as a lore unto ourselves.
This win, just like the six wins that preceded it are all a part of the healing process, and they are vital components in positioning ourselves to go for it again next season, whether the Champions League forms part of our landscape or not.
I've preached for much of this campaign that 2022/23 has been the hangover to 2021/22. Even at our most dysfunctional, I've never felt this was suddenly a poor set of players, and now, at something approaching our best nor is this a squad that doesn't need fresh impetus.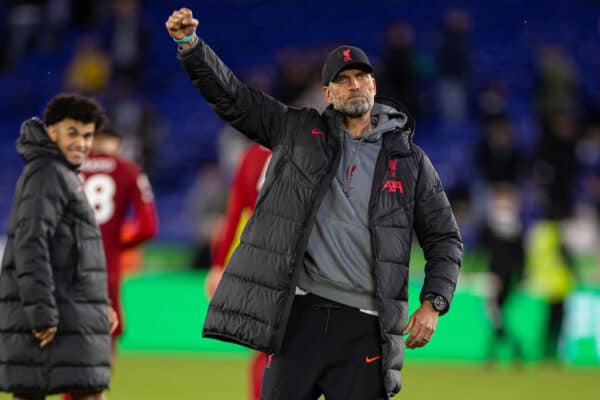 Change is undeniably required, but Klopp isn't at the helm of a squad that needs raising to the ground and rebuilding, as some had suggested during the dark days of what seemed a never-ending winter of discontent.
This has been a run-in that has given us clear signposts to where we can take ourselves again, and we already have much at our disposal that will propel us toward these new goals.
Without a perpetually open chequebook, for Klopp, it is all about being inventive and thinking ahead of the curve, before a summer when our intelligence will need to be massively on-point during the transfer window.
Change is here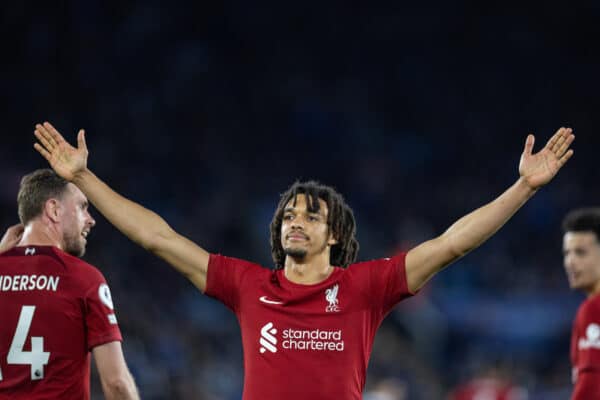 A tweak of the role of Trent Alexander-Arnold here, trust placed in Curtis Jones there, the return from injury of Luis Diaz and Diogo Jota, the emotion engendered by the impending departure of Bobby Firmino; for the most bi-polar football club on the face of the planet, each element plays a part in the healing process.
We swing from the pits of despair to mentality monsters, a journey we have made back and forth many times over the last seven years.
As a squad, we have a goalkeeper we wouldn't swap for any other, a set of defenders that are generally calm as you like, plus a collection of attacking talent that will score bucket loads and always leave two or three teammates sat disgruntled on the bench – when have a clean bill of health.
This summer, midfielders will come and midfielders will go. We'll say goodbye to James Milner, Alex Oxlade-Chamberlain, and Naby Keita, maybe even Thiago too.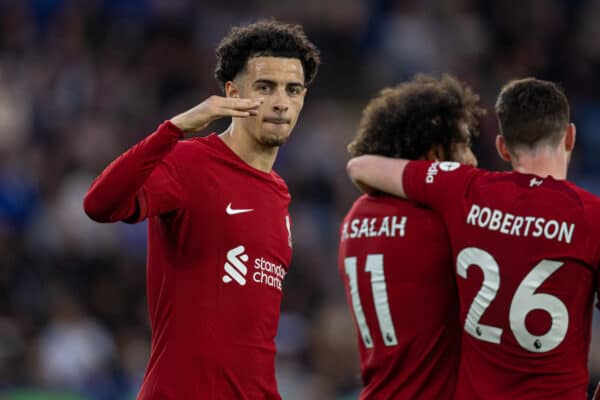 You can take your pick of who we'll say hello to, dependent upon which rumours you choose to pin your hopes on.
While two or three names regularly bubble to the surface, I'll pay absolutely no heed whatsoever to the name game until the Liverpool media department have decided upon their summer 2023 theme for transfer reveals – a cursory Google search of midfielders linked to Liverpool comes up with 56 names.
From what we already have at our disposal however, Alexander-Arnold morphing into Xabi Alonso is a game-changer and takes so much pressure off that summer recruitment drive.
If only we could find a new Rob Jones to allow us to let Trent go completely free-range, permitting him to be our Luka Modric or Kevin De Bruyne.
Jones has thrown his wonderful hat into the ring, his performance at Leicester arguably being his best yet, while Stefan Bajcetic impressed most of us before succumbing to injury.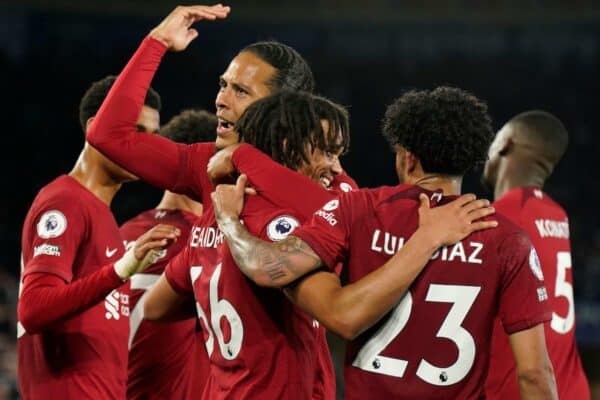 Fabinho and Jordan Henderson were both excellent at the King Power, the latter surely moving forward as our Milner-elect, the former to face up to the challenge of Bajcetic. Harvey Elliott will take another run at it too.
Bring in tribute acts to Philippe Coutinho and Gini Wijnaldum and we'll have all the midfield bases covered, yet the simple math means just five players will make contributions of 25 games and upwards to the Liverpool Premier League midfield of 2023/24.
Within this, any recruits will need to be ones who can make a profound difference, rather than coming in to be part of the furniture, as has been the case with Keita and Thiago.
Foundations and farewells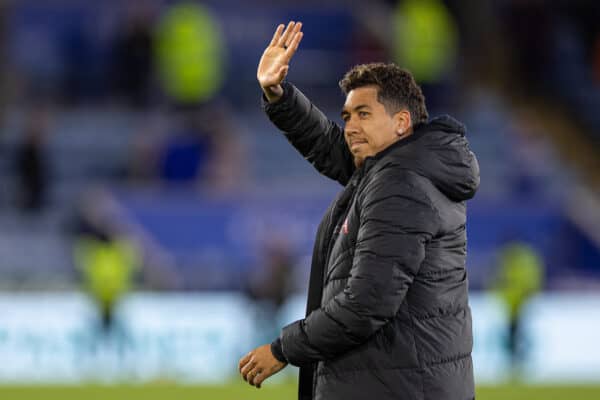 In broader terms, timing is everything in football, and this is an invaluable period for Klopp where he can draw out the shapes of his much-debated version 2.0. Where we have encountered difficulties this time around, the hangovers will belong to other teams next season.
Arsenal won't find their title capitulation easy to assimilate, while Man City will need to take a breather of a season sooner or later.
City winning the title again this time will make it harder for them to do so again in 2023/24, as no team has been champions of England four successive times. They will be up against not only their rivals but football history too.
Added to this, Newcastle will have to cope with a European campaign that they haven't had to juggle this time around, and Man United will have to show their hand on whether they can be the real deal under Ten Hag or the bluffers I believe them to be. Tottenham, meanwhile, will still be Tottenham.
For Liverpool, it's about being primed and in top condition to take advantage of the landscape that might just develop. These games represent the foundations for that.
One club that are looking likely to be absent from that landscape is Leicester; good riddance and all that but they can maybe do us a favour at St James' Park next Monday before they do go?
Next up, some emotional Anfield farewells, and the visit of Aston Villa on Saturday.