On June 3, Aaron Judge made a spectacular running catch that ended in a clash with the right field wall at Dodger Stadium. The play safeguarded what was ultimately a 6–3 victory that brought the Yankees' record to 35–25 and their playoff odds to 80.1%, but both sides of the collision — wall and player — suffered tremendous damage in the process:
The fence wasn't supposed to open in that direction, but Judge's right foot wasn't supposed to bend that way either; no amount of Spike Lee celebrations could change that.
The resulting injury to the towering right fielder's big toe kept him out until July 28, and when he returned, expectations had diminished for both him and his team. The Yankees had gone just 19–23 in their captain's absence, dropping their playoff odds to 32%. And there was no guarantee that the diminished version of Judge, who just three weeks earlier disclosed that the toe might never feel the same, would prop the Bombers back up.
As it happens, the diminished version of Judge is still pretty powerful. His wRC+ has dropped by 31 points, and his barrel rate and baserunning have worsened, but the former still leads the league since his return, and he's made up for the drop-off with a four-point increase in walk rate and a one-point decrease in strikeout rate:
Aaron Judge, Pre- and Post-Injury
Speed Score
BB%
K%
Barrel%
Slash
wRC+
Pre-Injury
3.6
16.4
29.6
30.4
.291./404/.674
185
Post-Injury
1.1
20.4
28.6
24.0
.222/.381/.538
154
So even getting this version of Judge back has been a big boon to the Bombers, right? Well, despite winning eight of their last nine, they've gone a middling 16–21 (including a nine-game losing streak) since his return, dropping their record to a game above .500 and endangering their all-time-record streak of 30 consecutive winning seasons.
As crucial as he is, it seems that the team's fortunes aren't entirely intertwined with Judge's. But the slugger does provide a team-wide boost in the form of lineup protection. When he's been in the starting nine, the rest of the lineup has put up a .307 wOBA, compared to a .291 wOBA when he's ridden the pine. That's due in part to getting more pitches to hit: non-Judge Yankees see a 50% zone rate when he's hitting alongside them against a 49% rate when he's not. These may seem like small differences, but they have made themselves apparent over thousands of pitches.
On the other hand, the Yankees' lineup has been a carousel of oft-injured veterans and Quad-A players this season, so to discern the true impact that Judge has had, we need to control for who has played alongside him. For games that Judge appeared in, I took a weighted (by number of plate appearances) average of the season-long wOBAs of the team's other hitters, excluding hitters with fewer than 100 total plate appearances on the season.
Without Judge, the other hitters underperformed this weighted-average wOBA by 10 points, .291 to .301. With Judge, they overperformed by six points, .307 to .301. We can split up the with-Judge category further into pre- and post-injury: with pre-injury Judge in the lineup, that overperformance was .307 to .300, but with post-injury Judge, it's been just .307 to .302.
Does that two-point wOBA difference mean the Yankees built a slightly better lineup to roll out around Judge upon his return? Not necessarily. They've given a lot of playing time to rookies since they fell out of the playoff picture, and a number of those youngsters haven't reached the 100 plate appearance threshold yet, boosting that post-injury weighted-average wOBA. In fact, between the cadre of rookies and continuously declining veterans like Giancarlo Stanton and DJ LeMahieu (despite the latter's recent hot streak), the non-Judge Yankees look more vulnerable than ever.
Post-injury Judge looks a bit more vulnerable, too, but he's still easily the best hitter on the team. He also has more of a leg up on his teammates than any other star: in terms of collective wOBA, he has outperformed them .419 to .305 on the season, with that 114-point difference outpacing even Shohei Ohtani's 106-point measure. Since Judge's return from injury, he's "only" outperformed his teammates' wOBA by 87 points, which still ranks as the 13th-highest disparity among hitters with at least 100 plate appearances in that span.
Even if Judge is weaker, the weaknesses of his teammates (and the Yankees as a whole) have been even more apparent to opposing teams since his injury. Though he isn't outpacing his teammates to the same extent, he seems to stand out on this Yankees' team more than ever before. Accordingly, while teams were initially skeptical of the captain's ability to rebound from his toe injury this season, pouring in more strikes at the beginning of August than Judge had seen at any point in the last three years, they've returned to approaching him with a more typical amount of shyness: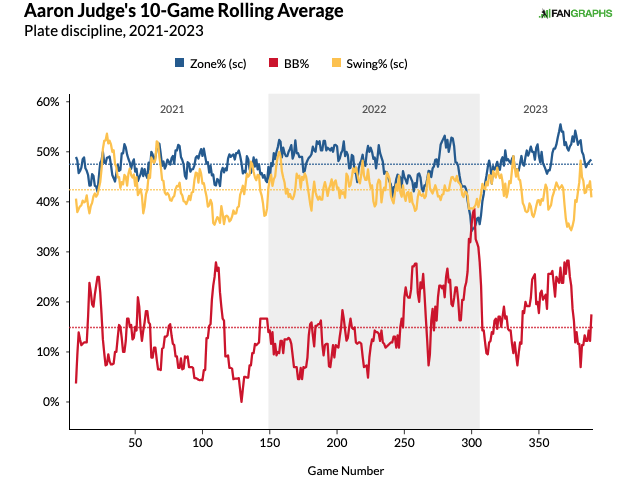 That massive crater in zone rate signifies the desire that just about every pitcher had at the end of last season to avoid becoming an answer to a trivia question. At the same time, while the crater corresponded with an equally gigantic surge in walk rate, the second-largest jump in walk rate in this graph aligns with that period of pitchers attacking the zone right after Judge's return from injury.
Judge has always been willing to take his walks, and maybe he was even more inclined to do so when he was still unsure about the stability of his toe. But that blip represented the largest divergence between Judge's swing and zone rates on the graph, and he has yet to close the gap, resulting in a noticeable decline in his swing-decision value: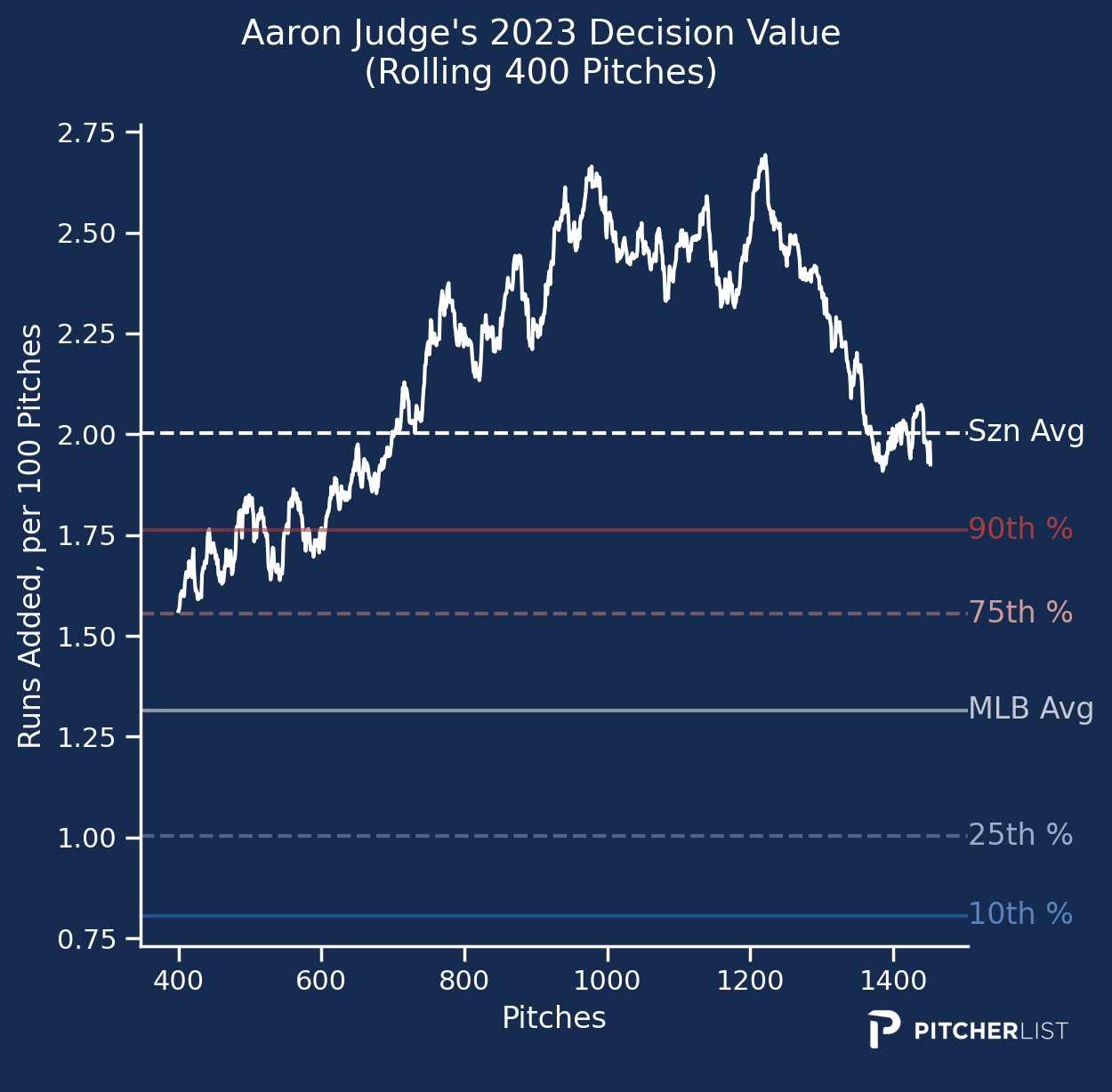 Judge's swing decisions are still well above average, so it's probably nothing to worry about. Yet this goes to show how an injury-driven change in strategy can have lasting effects. If the Yankees had sold at the trade deadline and opted to shut Judge down for the year, maybe this adjustment wouldn't have even happened. Given how their fortunes hinge on their star, salvaging the 2023 narrative at the cost of his future is an extremely risky proposition. Then again, their recent run of success with the captain and the kids has made for good TV down the stretch and a shot at keeping their winning-season streak alive, even if a playoff spot is still a miracle away.