Players the caliber of Juan Soto are rarely available via trade, so when the Padres acquired him via trade last summer from the drowning Nationals, it made a huge splash on the level of dropping a Sherman tank into your neighborhood swimming hole. But rather than continue his previous level of superstardom, he struggled to meet expectations in San Diego. His .236/.388/.390 line was still enough for a solid wRC+ of 130, but relative to his normal level of excellence, it's hard to call that line anything but a disappointment.
Soto's start in 2023, though, pales even next to his post-trade performance last year. April 17 may be the nadir of his career in San Diego: the Padres were shut out for the second game in a row, and he put up his fifth consecutive hitless game, leaving him with a triple-slash of .164/.346/.361. For the calendar year ending on that day, he was hitting .230/.391/.435 and had compiled 3.5 WAR — good enough for mere mortals, but not entities made of sterner stuff.
Around this time, Harold Reynolds talked a bit on MLB Network about Soto's swing and the changes he was making. While I've criticized Reynolds plenty for his general analysis when it crosses into the jurisdiction of analytics, I bookmarked this video at the time, as the analysis rang true to me. He believed that Soto's tinkering would pay dividends, and whether it's a coincidence or not, he's looked a lot more like the Soto we love over the last month. In 23 games since then and through Sunday's action, he hit .321/.447/.571 and amassed 1.2 WAR, the kind of MVP-level production we've expected to see from him in mustard and brown and largely have not.
Some have attributed Soto's problems with being too pull-happy, but I don't think that's really accurate. For one, he's been even more pull-happy over the last month. Heck, his nine pulled groundballs for hits — thank you, shift ban — are already more than halfway to his career high of 17 in 2019. For another, his relative struggles were present before he started pulling the ball a lot more; Statcast's xBA uses just launch angle and exit velocity, and there was clearly something not quite right with him even before the trade: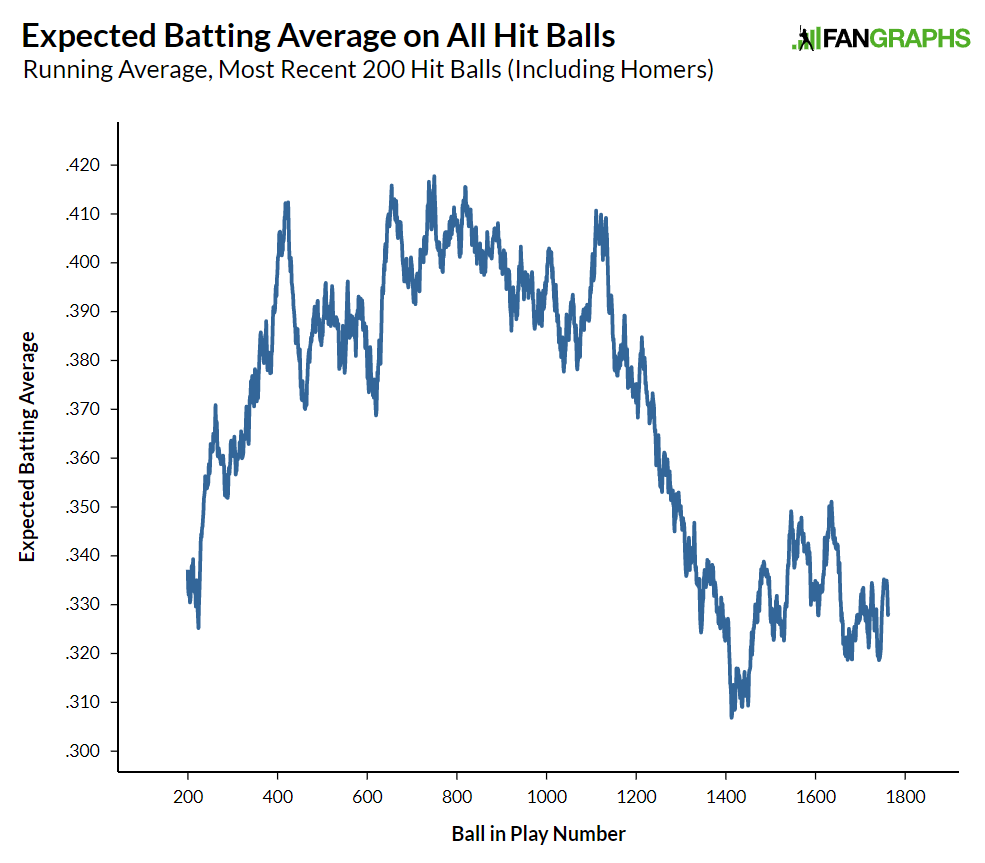 See that lowest dip around Soto's 1,400th career ball in play? That's not from this year or post-Padres trade; that covers from the end of 2021 to June 2022. His pull rate was actually lower than his career average at this point.
One of the big reasons Soto's numbers were crashing is that his exit velocities were trending down: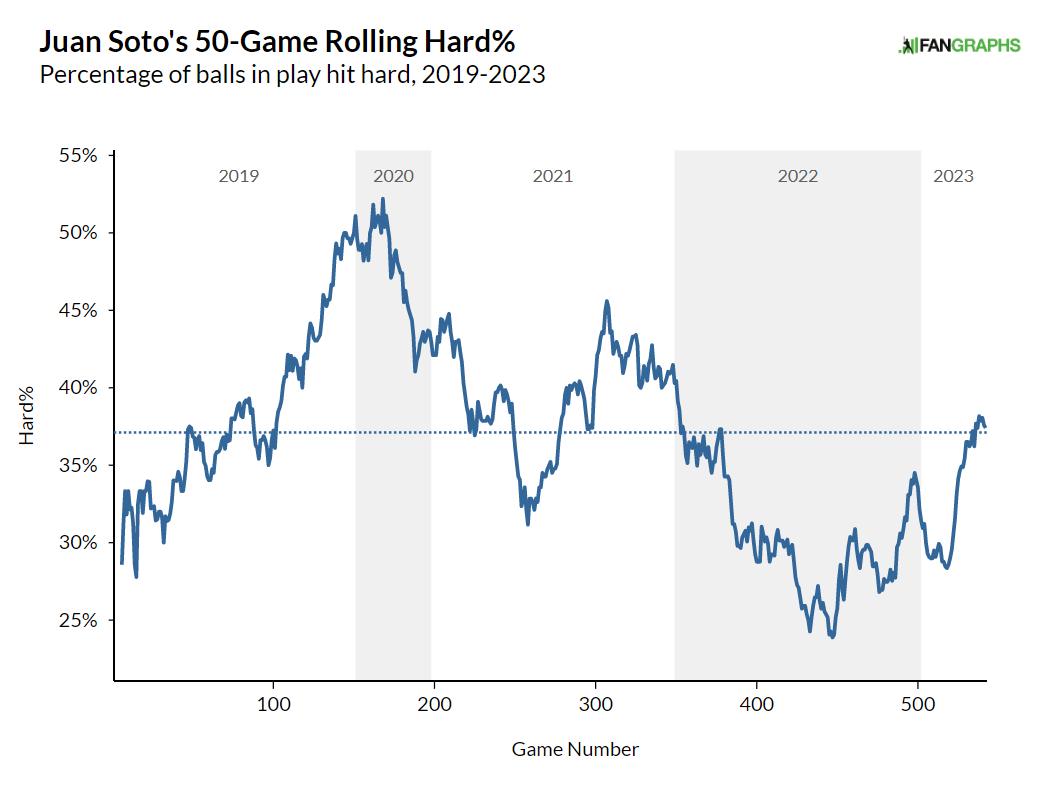 By the end of the season, these numbers were actually recovering. I would submit that pulling the ball more has been part of his approach to his issues, not the cause of them. To me, the 2022 and 2023 struggles are different; I think that the problem early on this year stems from his passivity at the plate, a trap that I call Ben Grieve Syndrome (or Jeremy Hermida Syndrome). There's an invisible threshold out there where plate discipline becomes a drag — when you're waiting too long for the pitch you can crush. Soto's zone-swing percentage hit a career low in 2022 and, for the first three weeks of the 2023 season, was down around 55%; meanwhile, his out-of-zone swing rate, while still in the healthy low-20s, was a little on the high side for him.
Historically, Soto has swung at 70–75% of fastballs thrown in what Statcast defines as the heart of the plate. Naturally, he's punished those; coming into the season, 44 of his career homers had come on those pitches, with a collective .951 slugging percentage:
Juan Soto vs. Heart Fastballs
Year
Heart Fastballs
Swings
Percentage
2018
171
129
75.4%
2019
200
139
69.5%
2020
64
48
75.0%
2021
284
204
71.8%
2022
234
166
70.9%
2023 (Through 4/17)
29
15
51.7%
2023 (Since 4/17)
36
28
77.8%
Based on his career average, Soto's passivity here cost him six total bases through April 17 — a pretty big number considering that at that point of the season, six bases was worth about a hundred points of slugging percentage. And since that inflection point, he's started going after these pitches with gusto once again. His overall in-zone swing rate has rebounded up to 65% over the last month, and his out-of-zone swing rate has gone the opposite direction, back down to just under 19%. In other words, he's swinging rather than looking at the right pitches more often, and his exit velocities have jumped to an average of 95.3 mph.
It's important he stays aggressive on these pitches, because pitchers are more and more careful not to give them to him. The rate at which they throw into Soto's three best Gameday Zones (high-middle, middle-middle, middle-inside) has dropped almost in half this year, making it even more important to take advantage of the opportunities.
Juan Soto in Three Favorite Gameday Zones
Year
Soto Preferred Zones
% Pitches
Swings
Percentage
SLG
HR
2018
353
17.4%
250
70.8%
.860
15
2019
417
15.0%
313
75.1%
.878
16
2020
123
14.9%
90
73.2%
1.171
7
2021
393
15.0%
274
69.7%
.844
15
2022
465
16.8%
320
68.8%
.737
17
2023 (Through 4/17)
54
7.1%
32
59.3%
.333
1
2023 (Since 4/17)
69
9.1%
53
76.8%
.714
2
It's not surprising to see Soto make adjustments in his game. This has been the longest slump of his career, and he doesn't have a great deal of practical experience struggling at any point professionally. It's easy to forget, given that he came up in 2018 and COVID makes that seem like it was 100 years ago, but he's still very young in baseball terms; he doesn't even turn 25 until sometime during the World Series. Seventy-four players have made their major league debuts so far in 2023; only 20 of them are younger than Soto. If anything, learning how to fail — so long as the lesson is learned — might be beneficial to him in the long-term. Baseball is a game of adjustment, and how do you learn to adjust if you've never had to before? Baseball history is full of stars who peaked in their early 20s and never got any better.
There's one other wrinkle in this slump to note. Over on Baseball Prospectus a couple weeks ago, Robert Orr talked about Soto's struggles with pitches with a good bit of lateral movement. That remains a problem, and it may continue to be one going forward and ultimately lower his overall ceiling somewhat. While he's not outright fooled that easily and still makes contact with these pitches, as Orr notes, Soto looks out of balance and awkward when he does hit them. Here are three more examples of him looking a little out of sorts, all coming from the period in which he's been an offensive force.
While that's certainly not a good thing by any stretch, there are a couple of mitigating issues that make me worry about this not quite as much. Soto has never actually been good against these pitches; in his career, he's .188 hitter with a .245 slugging percentage against sliders and sweepers from lefties. But the rate he's seeing them is not that much increased, the equivalent of about 20–30 extra sliders/sweepers per season. His plate discipline is a saving grace here: for his career, he's only swung at 21.1% of those pitches thrown outside the zone, so it's not like he's constantly getting rung up Jeff Francoeur-style. Your average lefty throwing a slider may simply not have good enough command to take full advantage of Soto's weakness. He's only actually swung and missed at those pitches seven times this season, and only twice in the last month. So while he's not doing damage on these pitches, he's also living to face the next pitch more often than not.
Fixing a longstanding issue like this probably requires a lot more work than a simple approach or stance change. I think Soto's apparent approach — getting his strength back to the level where nobody cares about his weakness — is probably the route to the most gains. Now the question is: can it last?
Soto's run is certainly good news for the Padres, who have been struggling to put together any offense and now rank 13th in the National League in runs scored. Even Xander Bogaerts, who was blazing hot in the opening weeks of the season, has only hit .223/.324/.330 over the last month. There are enough offensive problems that San Diego can't afford to not get offense from Soto.