It's officially hot start season. Now is the time when we write about players who have rocketed out of the blocks, then hope beyond hope that they don't tumble to the track immediately after our articles get published. Today I'm looking at Jonah Heim, the Rangers' switch-hitting catcher.
Heim has started off the 2023 season in a big way. Then again, maybe that's not news, as Jonah Heim just has a tendency toward bigness. He's 6-foot-4, which really should be too tall to be a catcher. Seriously, here he is (crouched!) next to Nick Madrigal just over a month ago: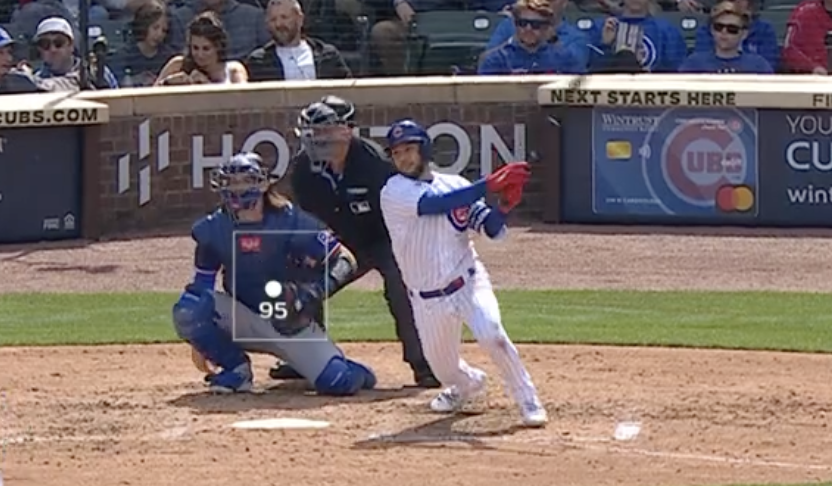 I would pay good money to watch Heim pat Madrigal on the head and address him as "Scout." Last year, the Rangers backstop accrued 2.8 WAR, which made him a top-10 catcher in baseball. It's now May 17, and he's already put up 1.9 WAR, ninth among all position players and second only to fellow-former-Athletic Sean Murphy among catchers. He's slashing .313/.368/.519, up from .227/.298/.399 in 2022.
Last week, Esteban Rivera included Heim in an article about hitters who had improved after adding some movement to their swings this season. At that point, I was also interested in Heim's breakout, but while I was watching him I got distracted by one of his very twitchy teammates. Heim's production at the plate has improved in every single season of his career, and that trend will almost certainly continue this year. Even if his production were to fall off a cliff starting today, he's already banked 144 plate appearances with a 144 wRC+.
When we talk about player breakouts, we look for reasons to believe that whatever changes they've made will stick around. We look for skills and tendencies that they haven't demonstrated before, specifically the underlying metrics that tend to stabilize more quickly. Toward that end, I'm going to show you an extremely busy graph. Feel free to give it a quick glance and move on. Its purpose is to show you that almost nothing Heim is doing right now is completely without precedent: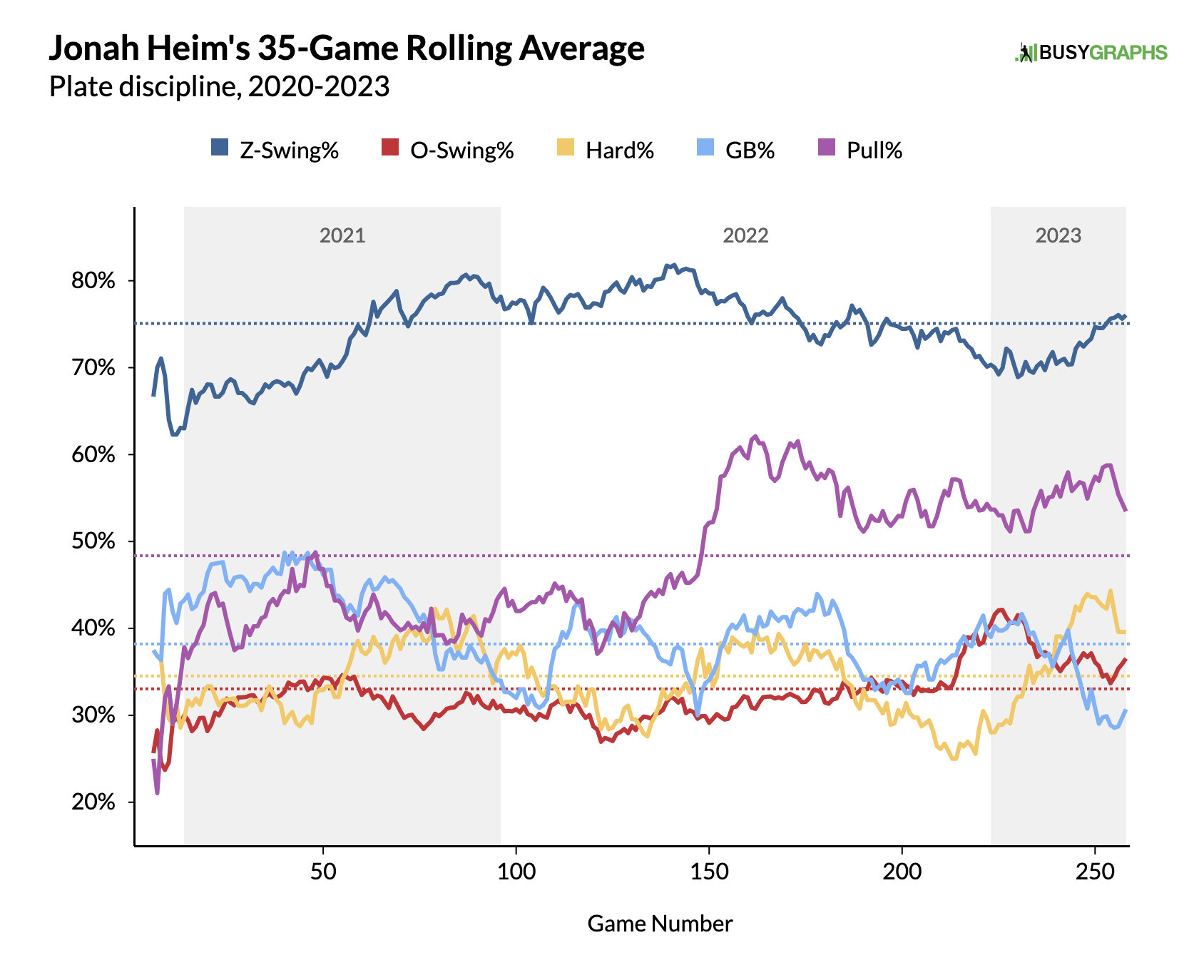 Heim is at a career high or low in these metrics, but it's worth keeping in mind that over the course of his young career, he's already logged stretches at or near his current rate in all of them. If you're looking for something in the numbers that says Heim is a completely new hitter, you're likely to come up empty.
As a note, in this article I won't spend much time separating out Heim's approach or results from the left and right sides, because he's only had 36 plate appearances as a righty. Almost all of the trends I'll mention are true on both sides of the plate, but there's just not enough going on from the right side to draw separate conclusions.
Let's start with Heim's approach. He's been more aggressive at the plate, but he's also been taking the first pitch more than ever:
Jonah Heim's Swing Percentage
Year
First Pitch
After First Pitch
Overall
Chase
Zone
2022
38.6
55
50.6
29.3
70.8
2023
33.8
61.3
53.5
31.3
74.8
SOURCE: Baseball Savant
If you ignore 0-0 counts, his swing rate on the pitches over the heart of the zone is four points higher than it was last year. Overall, his swing rate on pitches that Baseball Savant classifies as meatballs is up more than 10 points.
This increased aggression has lowered Heim's contact rate just a tiny bit, so his walk rate has dropped by a tick while his strikeout rate has held steady. However, it's worth noting that Heim's contact rate has dropped significantly on pitches outside the zone and risen on pitches inside the zone. A couple weeks ago, I noted that Randy Arozarena was doing the exact same thing: "He's making more contact in the zone and whiffing more when he chases. I don't know how repeatable that is, but it's a neat trick if you can pull it off." The trick was not, in fact, repeatable for Arozarena. Since then his zone contact rate has crashed, and it's now to five points beneath its 2022 level. That's definitely something to keep an eye on for Heim, but I'll also note that he's seeing an elevated number of pitches on the edge of the strike zone, and that's likely the kind of statistical noise that could be affecting these numbers.
As I'm sure you've surmised, if Heim's walk and strikeout rates haven't changed much, then his newfound success must be driven by what happens when he puts the ball in play:
Jonah Heim's Balls in Play
Year
wOBACon
xwOBACon
EV
LA
Barrel%
HardHit%
2022
.338
.319
89.3
16.8
6.9
39.6
2023
.443
.453
90.5
18.2
11.9
41.6
SOURCE: Baseball Savant
Well that definitely looks much better. Although Heim has not yet touched his max exit velocity from either 2022 or 2021, he's hitting the ball harder, and he's also barreling it up more often. Both his wOBA and his expected wOBA are more than 100 points better than they were last year. From both sides of the plate, Heim is hitting the ball in the air more, which is good, but we're not just talking about average launch angle. We're also talking about launch angle tightness. Take a look at his launch angle charts: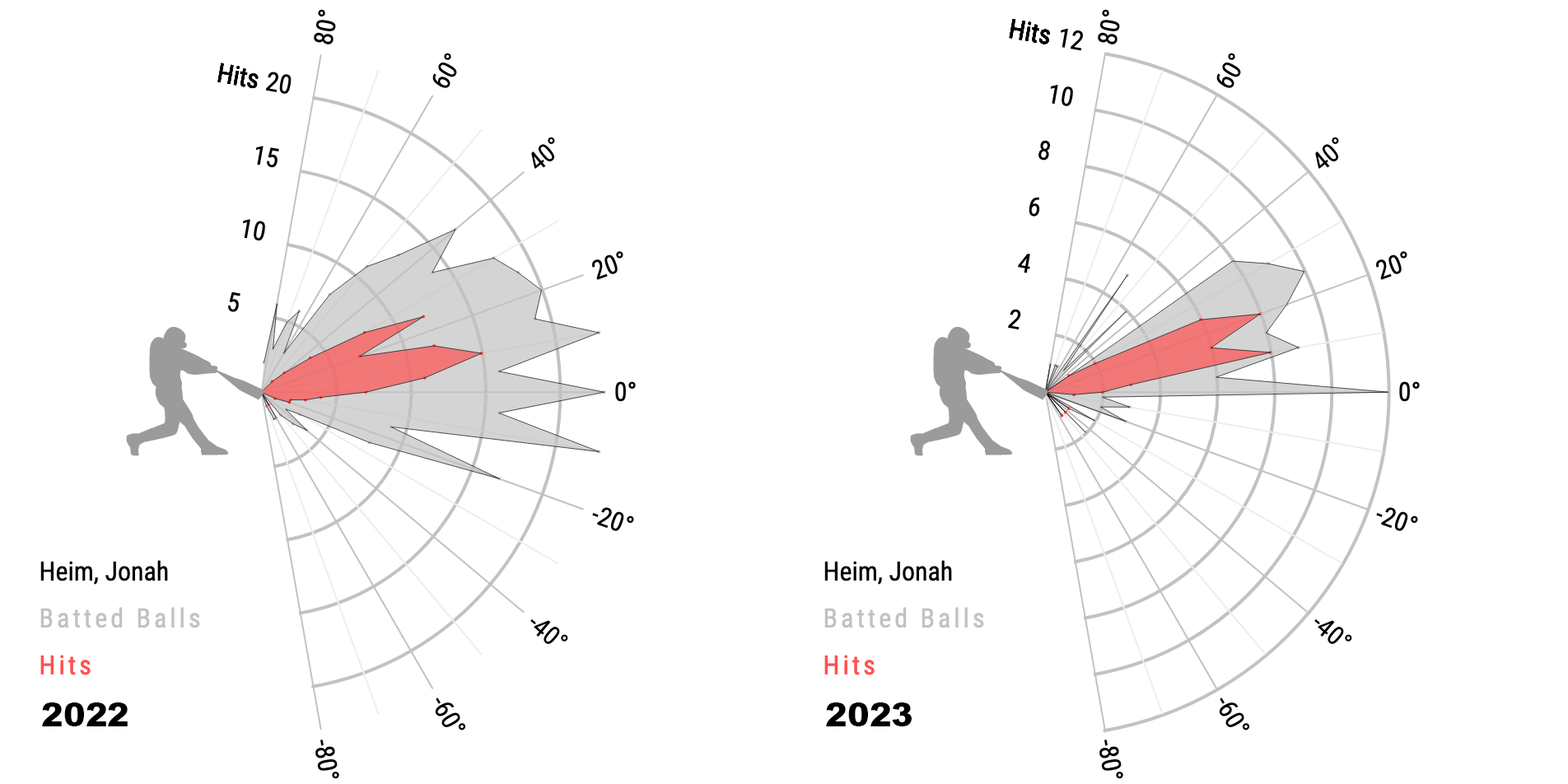 Heim has dropped the standard deviation of his launch angle by nearly six degrees, which is a huge amount. His popup rate is down 3.6 percentage points and his groundball rate is down 7.5. See the red area on the left, where all of Heim's hits came in 2022? In 2023, that's pretty much the only place he's hitting the ball. In 2022, 55% of Heim's batted balls came off the bat between 0-45 degrees. In 2023, it's 73%. Jonah Heim is actually building the whole plane out of the black box.
It's not just that Heim is hitting the ball in the air. Heim was already a pull hitter, but he's increased his pull rate to 53.3%, eighth highest in the league. If you refer back to the busy graph at the beginning, you'll note that his pull rate really took off early last summer. However, when it came to fly balls and line drives, he pulled the ball just 20% of the time last year. This year he's at 52%. When he does pull the ball in the air, Heim's performance is roughly the same as it was last year (although his expected stats are improved). It's just that he's doing that a lot more often.
As Esteban noted in his article, Heim's swing adjustments have helped him reach pitches lower in the zone, which would help explain why he is missing less often against breaking stuff and hitting those breaking pitches 6 mph harder than he did last year. Here's what that looks like in a heat map. Lots more contact at the bottom of the zone, even though his swing rate down there hasn't changed nearly as dramatically: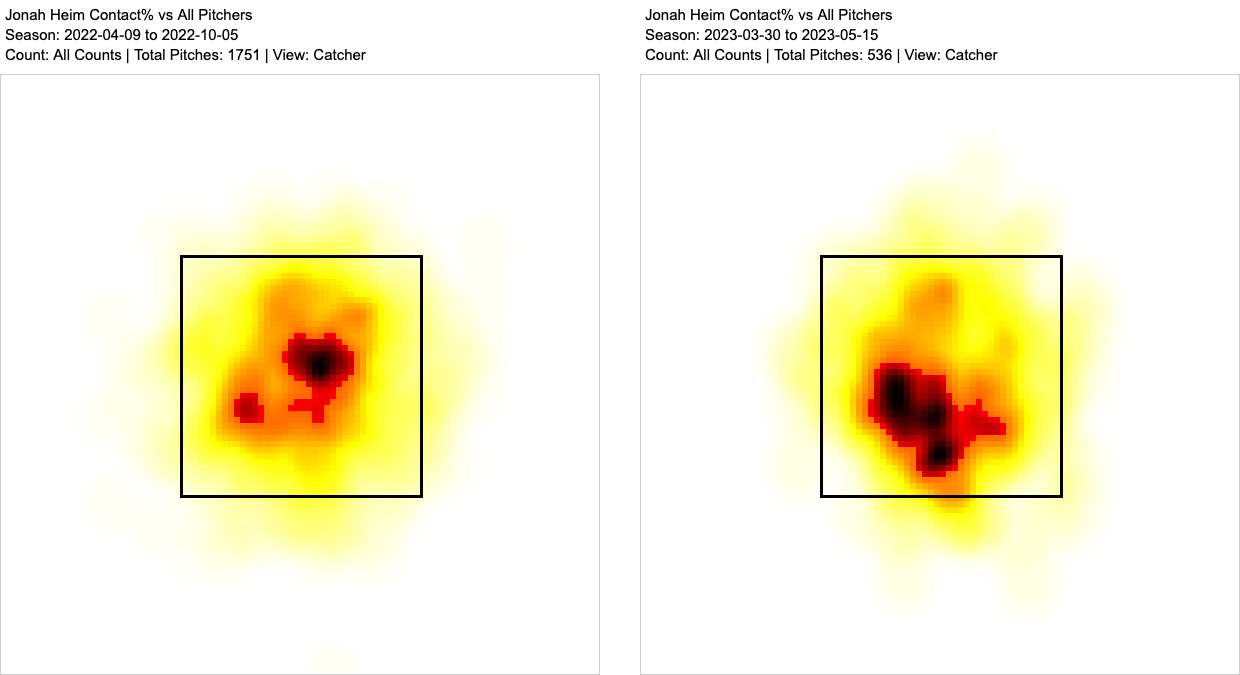 Here's one thing I find really interesting. So far I've been grouping Heim's air balls together, but here's what happens when you separate out his fly balls and his line drives:
Jonah Heim's Fly Balls and Line Drives
Year
LD EV
LD wOBA
LD xwOBA
FB EV
FB wOBA
FB xwOBA
2022
96.5
.607
.653
89.9
.460
.321
2023
90.5
.707
.630
95.5
.494
.564
SOURCE: Baseball Savant
Last year, Heim's line drives were scorched at 96.5 mph, while his fly balls were hit at 89.9 mph, right around his average EV. This year, that trend has been completely reversed.
That's probably a good thing. First, players hit a lot more fly balls than they do line drives. Second, as long as they're not hit softly, line drives are always valuable. Despite dropping 6 mph, Heim's line drives have only shed 23 points of xwOBA. Fly balls are more dependent on exit velocity to make it past outfielders and over the wall, so Heim's xwOBA on them jumped more than 200 points. For both reasons, Heim has benefitted from allocating his EV where it can have the most impact.
Between this chart and his launch angle graphs, it seems reasonable to assume that Heim's swing is geared more toward elevation than it was in the past. Last year, when he really got hold of a ball, he was hitting it at about 18 degrees. This year, his hardest hits have come anywhere between 16 and 34. However, his soft hit rate is also the lowest it's ever been. Maybe it's just that he's just adding some liners by muscling a few more pitches over the infield than he used to, pitches that he might previously have popped up or rolled over. As I said at the beginning, most of Heim's underlying metrics show him doing things that he's been able to do before. Being aggressive while still walking and striking out at the same rate, pulling the ball in the air with power. Only time will tell whether he can keep them going at the same time.