Win Probability Added isn't a great measure of true talent – it's influenced by too many factors outside a player's control – but ultimately, the best players tend to have the highest WPAs. Last season, AL MVP Aaron Judge led all position players in WPA, while NL MVP Paul Goldschmidt finished on top in the Senior Circuit. The year before, it was AL MVP Shohei Ohtani who finished first overall and NL MVP Bryce Harper who paced the National League. Even in the early days of the 2023 season, the WPA leaderboard is a veritable who's who of superstars and MVP contenders. Yordan Alvarez leads all position players with 2.42 WPA, while Ronald Acuña Jr. leads the NL with 2.18. Following closely behind in the AL is Vladimir Guerrero Jr., with 2.12 WPA to his name.
After those three, only one other hitter has a WPA above 2.00 this year, and his name is rarely listed among the likes of Alvarez, Acuña, and Guerrero. In what will be his first full season, 27-year-old Jake Fraley has already notched 2.10 WPA for the Cincinnati Reds.
Making Fraley's accomplishments all the more impressive, he isn't a one-hit win probability wonder. His best game by WPA (0.58 WPA on April 29) was only the 23rd most valuable of the season; 37 other players have had a game in which they came within one-tenth of a win of Fraley's strongest performance. In other words, his best game wasn't some ridiculous outlier. Instead, he has come through in the clutch on numerous occasions. Fraley has six games with more than 0.2 WPA (tied for second in the majors), four games with more than 0.3 (tied for first), and three games with more than 0.4 (first). He is one of a small handful of players to have earned at least 0.1 WPA in more than 10 games this season, and everyone else in that group is a bigger name than the Reds outfielder:
Players with 0.1+ WPA in 10+ Games
SOURCE: Baseball-Reference
I'm not here to suggest Fraley has the mythical clutch gene. WPA isn't a predictive stat, and even if it were, we're talking about a guy who posted a negative clutch score over the first four years of his career; his clutch skills are highly suspect, and his timely hitting is almost certainly unsustainable. Nevertheless, Fraley has been one of the most valuable players in the sport through the first seven weeks of the season, and he deserves his flowers.
The Reds aren't contenders, but they've scored more runs than half the teams in the National League, and they couldn't have done so without Fraley and his well-timed contributions. He leads the club with 29 RBI, 11 more than anyone else in Cincinnati. Overall, Fraley is tied for 21st in baseball in terms of RBI, and he ranks sixth among qualified players in RBI per plate appearance. As you can see, he is in excellent company next to the five sluggers atop that particular leaderboard:
Runs Batted In per Plate Appearance Leaders
Player
PA
RBI
RBI/PA
SLG
ISO
Adolis García
181
46
0.254
.541
.283
Yordan Alvarez
160
39
0.244
.551
.265
Nolan Gorman
148
33
0.223
.583
.299
Sean Murphy
155
34
0.219
.575
.307
Rafael Devers
184
40
0.217
.524
.265
Jake Fraley
136
29
0.213
.448
.172
Fraley's biggest moment this year was a bat-breaking, go-ahead double down the line. He found himself in the situation every kid with a Wiffle bat dreams about: ninth inning, two outs, bases loaded. He came through, driving in the tying and winning runs, and he celebrated accordingly. This is the face of a man who just earned .636 WPA with a single swing of the bat:
Fraley entered that particular game as a pinch hitter, taking his first hacks to lead off the eighth. Indeed, pinch-hitting plays a pivotal role in this story. You see, Fraley has the benefit of being utterly unplayable against left-handed pitchers. In his career, he has a .138/.247/.200 slash line against lefties; this season, he has a grand total of one hit and one walk in 21 PA. As such, manager David Bell keeps him far away from southpaws whenever possible.
Fraley has only started 29 games this year. In his other 10 games played, he's come in off the bench after the left-handed starting pitcher's day was done. He is tied for the league lead in pinch-hitting appearances among qualified batters, and he leads all players in the percentage of his plate appearances that have come as a pinch-hitter. This means he steps to the plate less often in the early innings, when game leverage tends to be lower. Indeed, Fraley leads qualified batters in the percentage of his plate appearances coming in the sixth inning or later, which helps to explain why he has the third-highest average leverage index in the sport. Unsurprisingly, high-leverage opportunities become more and more plentiful as the game goes on:
High Leverage Plate Appearances by Inning
Inning
High Leverage PA
Total PA
High Leverage%
1
136
5617
2.42%
2
243
5484
4.43%
3
294
5567
5.28%
4
384
5614
6.84%
5
435
5620
7.74%
6
515
5525
9.32%
7
653
4847
13.47%
8
830
5597
14.83%
9
933
4241
22.00%
Or to put that in graph form: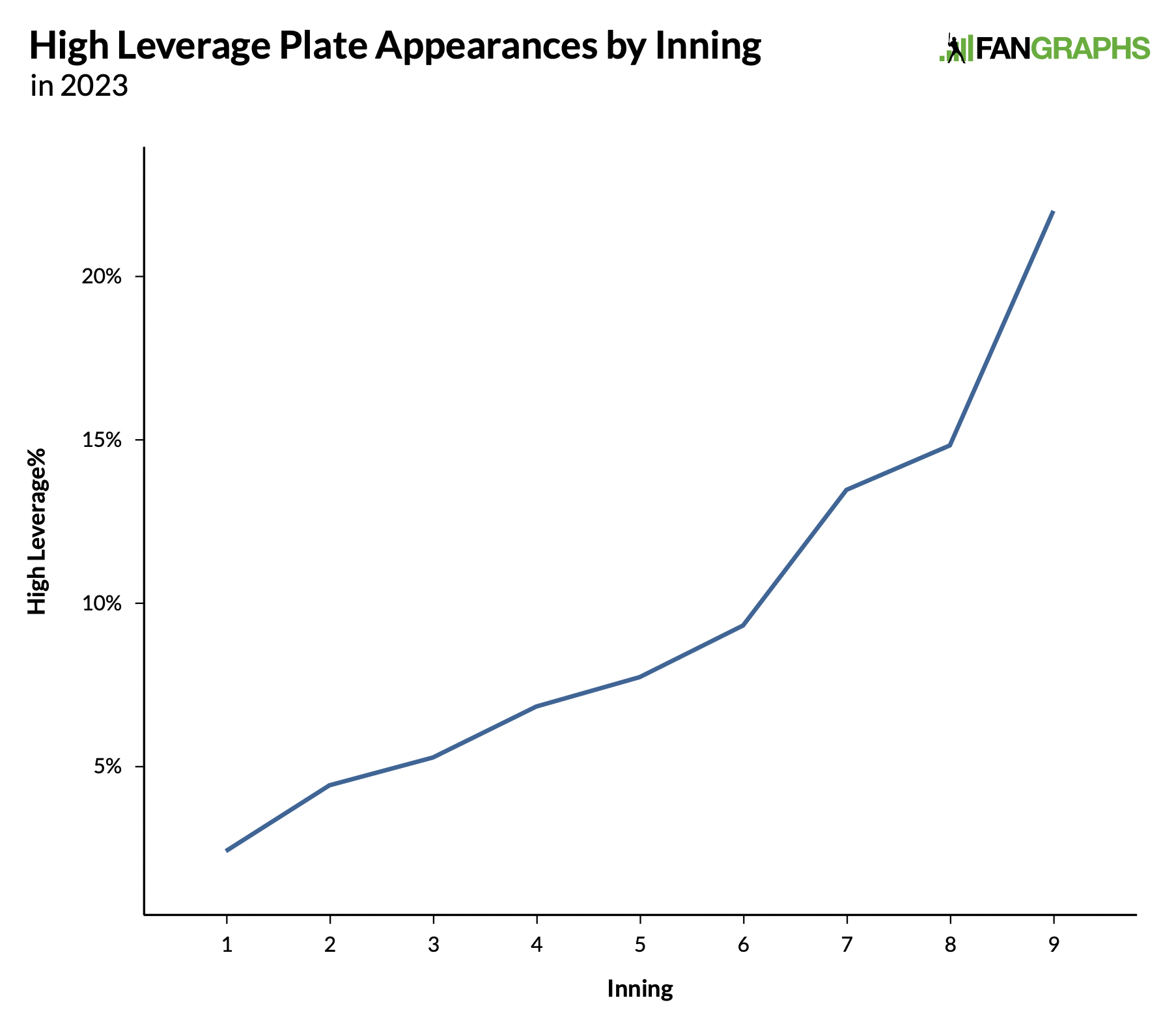 To be fair, more high-leverage opportunities also mean more chances to fail, but a big hit has the potential to boost a batter's WPA more than a big out can tank it. On Opening Day, a month before his go-ahead double, Fraley struck out looking to end the ballgame with the tying run in scoring position. The WPA hit was severe (-0.152), but it's a drop in the bucket compared to what he's earned with his most meaningful extra-base hits. Overall, Fraley has racked up 0.77 WPA in his 10 games as a pinch-hitter, compared to 1.33 WPA in his 29 other appearances.
In addition to his work at the plate, Fraley has come through for his team in ways WPA can't measure: with his glove and his arm. His best defensive plays have come at some highly opportune times. He's only made two grabs with a catch probability below 75%, but each one saved the Reds a good deal of anguish. In a mid-April contest with Tampa Bay, Fraley laid out to make an inning-ending catch. The bases were loaded, and the Rays could have cleared them if the ball had dropped. Instead, Fraley saved the day and kept the Rays off the board:
Two weeks later, he made another diving stop. The Padres had a runner in scoring position, and if Fraley hadn't made the catch, San Diego would have taken an early lead:
Finally, Fraley picked a perfect moment for his first and only outfield assist of the season. The Marlins had tied things up in the seventh, and a single from Peyton Burdick gave them a 4-3 lead. However, on the very same play, Fraley made a strong throw to nab Bryan De La Cruz at third, ending the inning and stopping the bleeding. The Reds went on to win by a one-run margin, and there's a good chance Fraley's throw made all the difference:
If there's one aspect of his game where Fraley hasn't been so clutch, it's baserunning. He's a quick mover, with 79th-percentile sprint speed, 0.7 BsR, and five steals in six chances. Per Baseball Reference, he is tied for eighth with a 67% extra bases taken (XBT) percentage; the league average is 42%. Despite all that, only one of his stolen bases led to a run, and he is scoring less than you'd expect given how often he reaches base. The average runner this season has scored about 37% of the time they've reached base, while Reds hitters have scored 35% of the time they reach base. Fraley, however, has only scored in 31% of his opportunities. He should be able to score more often going forward, hopefully helping to compensate for his inevitable decline in RBI.
Thanks to some timely hits, sizable splits, and success with the mitt (was the third rhyme too much?), Jake Fraley has been one of the most productive players in baseball. It's hard to believe he'll find himself on any leaderboards with Alvarez, Acuña, and Guerrero by season's end, but there's no denying he's been a spark plug so far.