Anyone feel up for a rousing game of "Guess the Player from the Anonymized Stat Line?" I usually don't like this game; it was a fun way to kill time on Twitter 10 years ago, but it feels kind of hacky anymore. But this one's a real doozy, a fun enough set of anonymized stat lines that I'm willing to set aside my distaste and dive right in.
Here are three players from the NL West. They are all in the top five in the majors in walk rate among qualified hitters. They play for different teams, and for the most part they play different positions. Nevertheless, all three are within a couple tenths of a run of each other in terms of baserunning and defensive value — the bat is the important thing:
Name These Mystery Players
Player
BB%
K%
AVG
OBP
SLG
wOBA
xwOBA
wRC+
WAR
A
17.5%
28.1%
.217
.363
.558
.385
.396
146
1.3
B
20.1%
21.2%
.258
.407
.483
.384
.396
147
1.6
C
18.8%
18.1%
.278
.435
.513
.415
.416
166
1.4
Through 5/16
Just based on the teams and the walk rate, you should be able to guess that two of these players are Max Muncy (who is indeed Player A) and Juan Soto (Player B). You wouldn't think it was possible to walk that much in a country as hostile to pedestrians as ours, but those guys manage to do it every year.
The interesting person on this list is Player C: LaMonte Wade Jr.
Hardcore Wadeheads, like myself, have been on the bandwagon since (yes, I'm going to talk about his college career, you can't stop me) his days at the University of Maryland, where he shared an infield with Rays slugger Brandon Lowe and Royals reliever Jose Cuas, then a third baseman. In Wade's draft year, the Terps made a surprise run to the Big Ten Tournament final, where they upset an Illinois team that had gone 21-1 in conference play. That was good enough for an NCAA tournament berth, where they pulled off an even bigger upset of no. 1 overall seed UCLA before falling to eventual national champion Virginia in the super regional.
As a prospect, Wade looked like a good on-base guy who could maybe play center in the pros and maybe grow into a little power. That's about the player he'd become when most people heard of him for the first time, his first season in San Francisco. That year, playing mostly as a platoon corner outfielder, Wade came up big again and again in key situations.
In 2021, Wade hit .415 in 60 high-leverage plate appearances and .407 in 31 plate appearances with two outs and runners in scoring position. He led the league in Clutch, which measures how much a player elevates his game in high-leverage situations. He was 11th in WPA, which undersells his contributions because he only batted 381 times, while everyone ahead of him registered at least 526 plate appearances that year. These exploits — heroics conducted mostly on the West Coast, at the tail end of the day's slate of games — earned Wade the sobriquet "Late Night LaMonte," which if that's not the best nickname in baseball right now, it has to be near the top of the list.
I ask you now: What if it were always Late Night, 24 hours a day? If the midnight oil were always burning? If every meal were Fourthmeal?
Wade is living in just such an environment. Yeah it's only about seven weeks' worth of baseball, but he's hitting like Juan Soto. That's a big deal. So what's he doing differently?
For comparison, let's ignore 2022 — when Wade spent more than two months on the IL over multiple stints with a knee injury — and compare his hot start to his best season in the majors, 2021.
First of all, he's being used differently. With Brandon Belt now in Toronto, Wade has been San Francisco's primary first baseman (though he's also made seven starts in left field and three in right, through Tuesday). That means that rather than being platooned, as he was in 2021, he's playing every day. Wade has appeared in 40 of San Francisco's 42 games and started 33. He's still being shielded from left-handed pitching — several of those appearances have been late-inning defensive replacements — but to a lesser extent than in 2021. And that platoon structure has become less rigid as the year has gone on.
And it's easy to see why:
LaMonte Wade Jr.'s Platoon Numbers By Year
Year
Opponent
% of PA
BB%
K%
AVG
OBP
SLG
BABIP
wRC+
2021
LHP
11.0
4.8
33.3
.135
.200
.189
.217
10
2021
RHP
89.0
9.1
22.1
.268
.341
.518
.297
129
2023
LHP
17.8
11.5
26.9
.286
.375
.524
.385
147
2023
RHP
84.2
20.3
16.3
.277
.447
.511
.294
169
Through 5/16
I wouldn't let that guy on the top row hit against lefties either. Now, he's hitting everyone, though his numbers against lefties are rife with small sample alarms — the .385 BABIP, obviously, but also a walk rate half what it is against right-handed pitching and a strikeout rate 10 points higher against lefties than righties.
You'll notice that Wade's batting average and slugging percentage against righties are eerily similar in 2021 and 2023. His overall numbers in those categories are up this year as well, but not by that much, and that can be explained by his (seemingly) mostly BABIP-driven improvement against lefties.
In the playing time Wade has accumulated against lefties this year, the difference between his 2021 rate stats and his 2023 rate stats comes out to about three hits and seven total bases. Take those away from his overall line and his average drops from .278 to .252, and his SLG drops from .513 to .452. In 2021, he hit .253 and slugged .482.
And honestly, if the only thing different about Wade was a couple dozen points of batting average due to a leveled platoon split, I would not care even a little. I wouldn't even think about writing about it.
But larger forces are at work. This is all about walks, as you probably surmised when Wade ended up in a triptych with Muncy and Soto a couple hundred years ago. Very little has changed about Wade as a hitter since 2021, apart from his swing behavior, which has changed profoundly. Here's his swing map from 2021: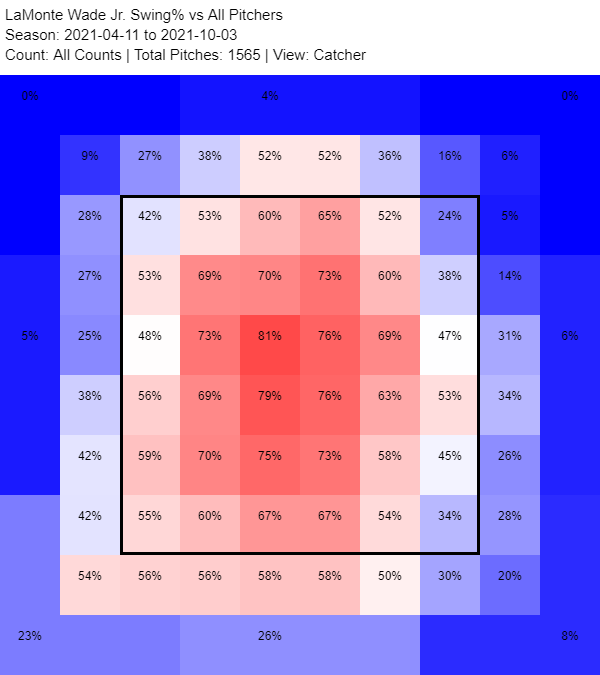 Wade was never a particularly aggressive hitter to begin with, but this year he's stopped swinging at pitches at the edge of the zone, particularly low and away: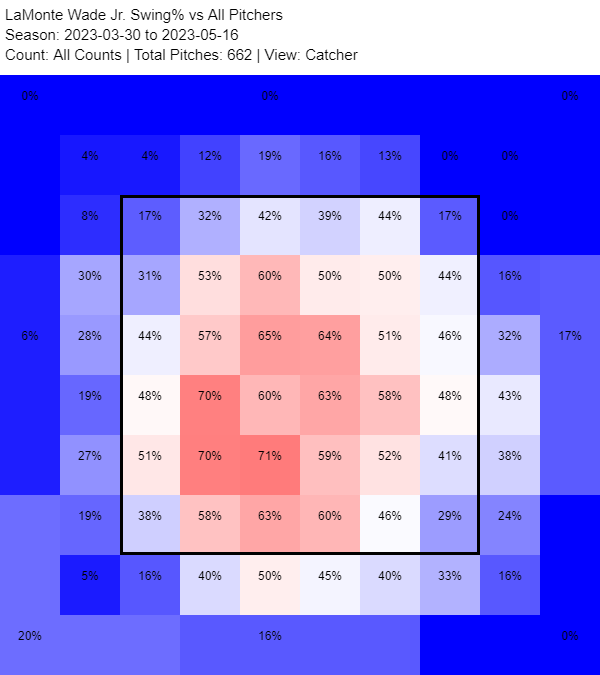 Wade now has, according to Baseball Savant, the second-lowest chase rate out of 172 qualified hitters. And if you never swing at anything outside the zone, you're going to walk a fair amount.
This approach has its drawbacks. Wade also has the 20th-lowest swing rate on pitches within the strike zone. Using Baseball Savant's attack zone-based metrics, he has been the 16th-best hitter (out of 300) in the "Chase" zone, but the 119th in the "Shadow" zone. In layman's terms, that means he's not taking many ill-advised swings at pitches outside the zone, but he's taking some unnecessary strikes on borderline pitches.
Should a player who's currently third in the majors in on-base percentage give a tinker's damn about the odd unnecessary called strike? Probably not. What he's doing now is working. Wade's walk rate has more than doubled from 2021 to 2023, and his OBP has risen from a respectable .326 to a Troutlike .435.
What's the lesson here? Well, if you can, stop swinging at pitches that aren't strikes. Seems simple enough.