It seems like all of our coverage of the 2023 Diamondbacks here at FanGraphs has focused on the pitching, and it's not hard to see why. Zac Gallen has looked phenomenal (at times historically so), Madison Bumgarner was abominable (eventually too abominable to roster), and the D-backs have given some intriguing young arms the chance to prove their worth in the big league rotation.
Yet all that being so, the real story of the 2023 Diamondbacks has been the offense. They lead the National League in hitting and rank third with 257 runs scored. They're fourth in OBP, fourth in slugging percentage, and fifth in wRC+. By and large, the pitching staff has performed as expected – Gallen good, MadBum bad, everyone else somewhere in between – but the offense has been more potent than anyone could have envisioned.
It's been a team effort in Arizona; among the nine Diamondbacks hitters with at least 100 PA, seven have been above-average at the plate. Corbin Carroll is off to the races. Lourdes Gurriel Jr. has taken a massive step forward. Ketel Marte and Christian Walker have been predictably solid, while Gabriel Moreno and Pavin Smith are holding their own. Leading the way, however, has been none other than Geraldo Perdomo, who is pacing the club in OBP, wRC+, and WAR. What?
Perdomo is slashing .315/.413/.519. I'm a sucker for a .300/.400/.500 batting line; like a good pressure washing video, there's just something so satisfying about those three numbers in a row. Moreover, slashing .300/.400/.500 is a difficult task, and even at this early point in the season, only a select few hitters are in the club (minimum 100 plate appearances): Ronald Acuña Jr., Randy Arozarena, Yandy Díaz, Will Smith, and Perdomo. That's an excellent group to be a part of, and it reflects particularly well on Perdomo that he's a member. Indeed, in 38 games, his 153 wRC+ ranks seventh in the National League (again, min. 100 PA), and his 2.0 WAR ranks eighth. By wRAA and BsR, he has been the best shortstop in the NL, and he's within striking distance of Bo Bichette's crown as the most productive offensive shortstop in the game. That's all the more impressive considering he ranks just 27th at his position in plate appearances.
If you're not especially familiar with Perdomo, you might presume from all this information that he's a young hotshot and a recently graduated top prospect – and you'd be correct! He ranked 83rd overall on our 2022 Top 100 list and made his big league debut at just 21 years old. However, if you're a little more familiar with the D-backs shortstop, you'll know he was always a defense-first prospect, and power was never a part of his game. Last year, in his first full season, he slashed .195/.285/.262 with a 58 wRC+ in 500 PA. He hit so poorly, in fact, that he had nearly as many sacrifice hits as extra-base hits; if only sacrifice hits were actually hits, he might have finished with a batting average above .200.
Long story short, it's beyond surprising to see Perdomo playing this well, and the surprises just keep coming when you look at his Statcast page. The first two rows of sliders are a sea of blue, from his fifth-percentile average exit velocity to his first-percentile hard-hit rate. There is a massive gulf between his .402 wOBA and .285 xwOBA, easily the largest such gap in the league. If Perdomo keeps this up (highly unlikely, but more on that later), he'll set a Statcast-era record for wOBA-xwOBA in a season:
wOBA-xwOBA Leaders (min. 100 PA)
SOURCE: Baseball Savant
Without a doubt, Perdomo is due for some serious regression. For one thing, a driving force behind his success this year has been a .370 BABIP. As a soft-contact merchant with an average sprint speed and groundball rate, he won't be able to maintain that forever (RIP .300/.400/.500 slashline). As a matter of fact, his BABIP has been steadily declining since the first week of the season. Truth be told, it seems to have overcorrected — his BABIP in May has become unsustainably low: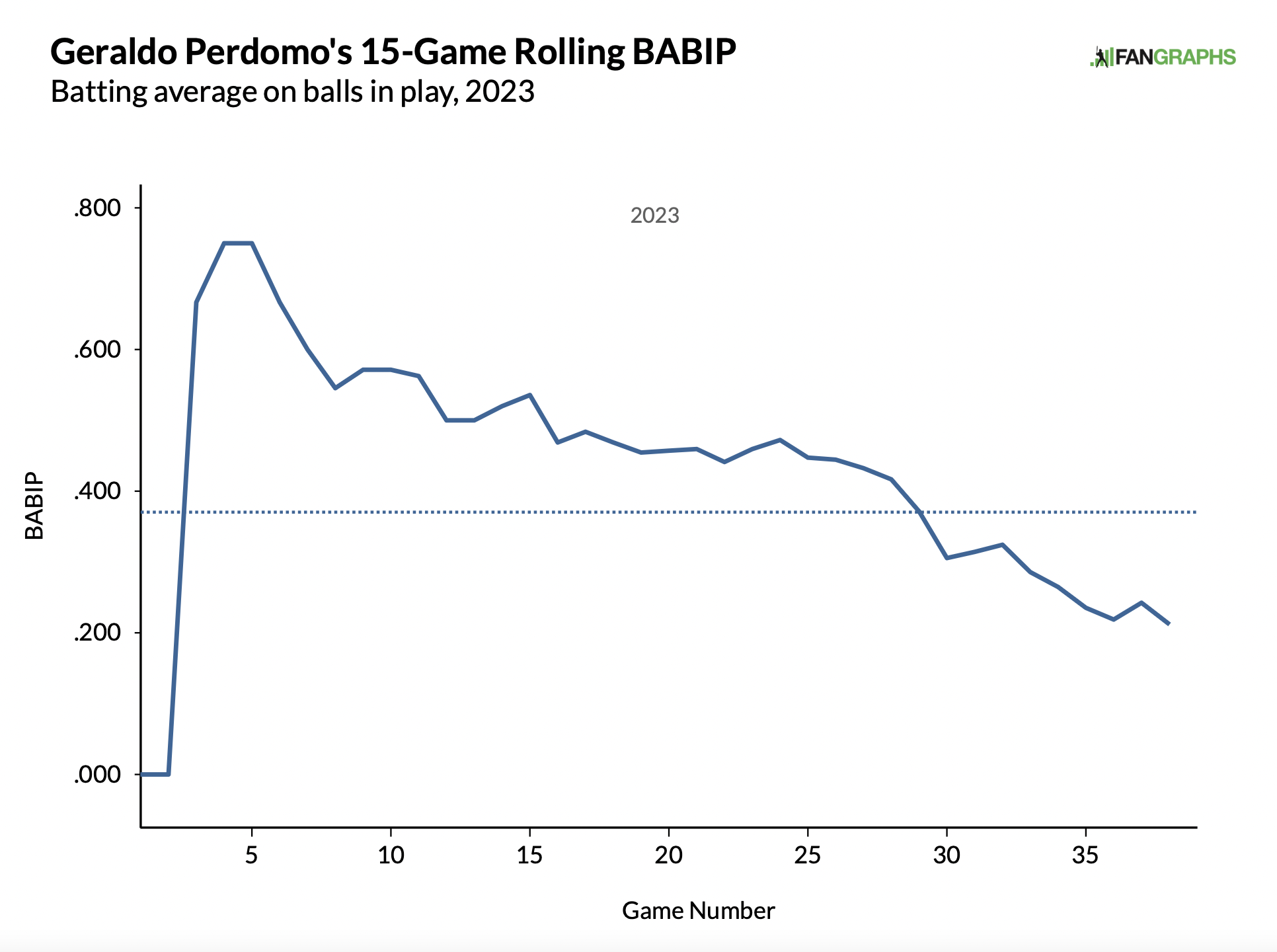 Hitters experience peaks and valleys every year, and fluctuations in BABIP are rarely newsworthy. Instead, what interests me most about Perdomo is his power. Even over his last 15 games, in which his BABIP sits at .212, he had managed to maintain a perfectly respectable .326 wOBA. That's due in part to his high walk rate and low strikeout numbers, but also his four extra-base hits. While his BABIP has been on the decline, his isolated power has stayed relatively consistent all season: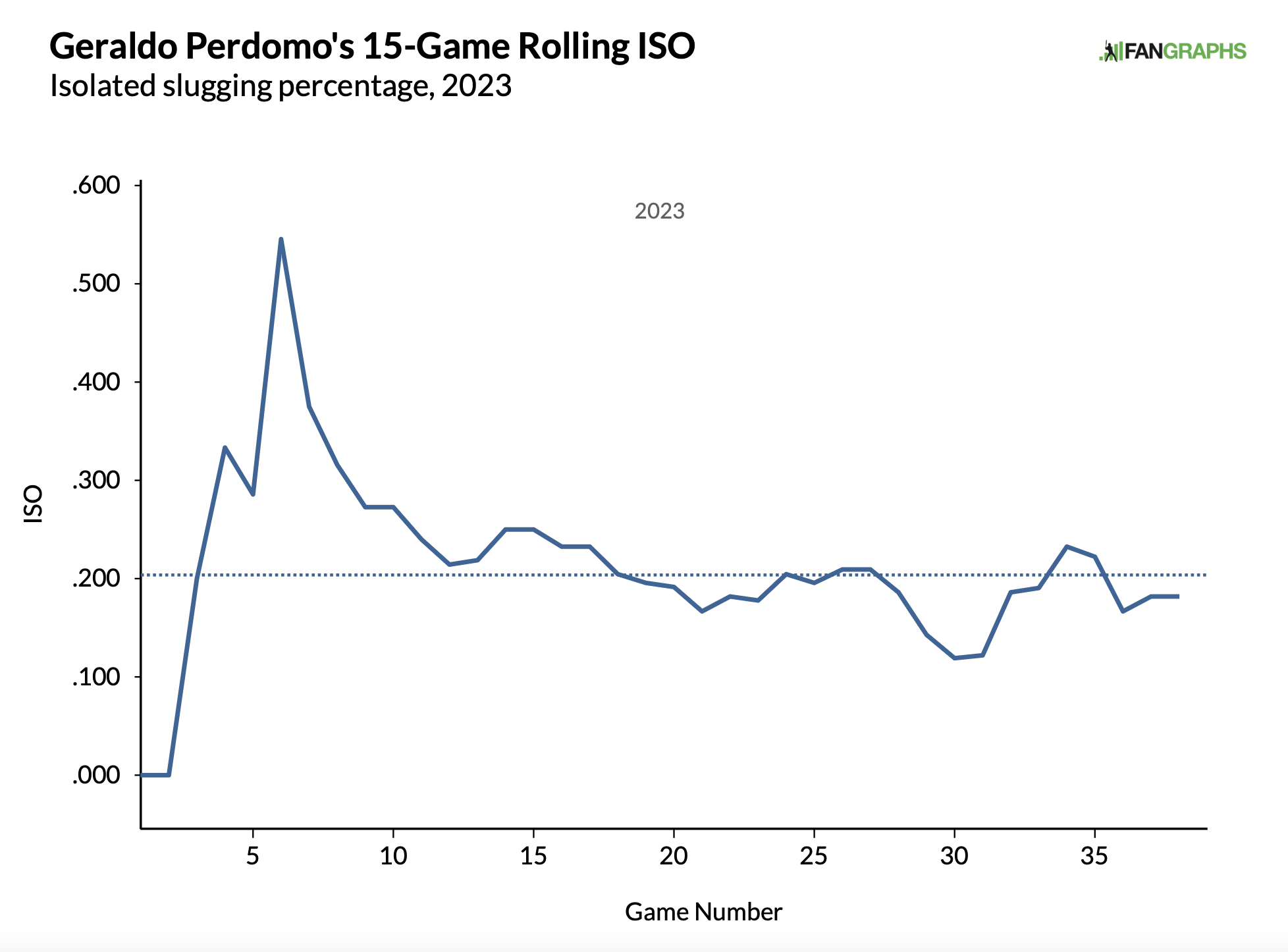 Power is harder to fake than batting average, especially for a player whose average exit velocity could be confused with a residential speed limit. Yet Perdomo already has 13 extra-base hits in 130 PA this year (Patrick Dubuque broke them all down as part of his look at Perdomo for Baseball Prospectus yesterday). He's on pace to triple his extra-base hits from last year, but his quality of contact numbers have barely changed. So how the heck is he pulling it off? Well, by pulling it off.
In 2022, Perdomo had a league-average pull rate of 40.9%. This year, that number is up to 47.2%. That's a meaningful improvement, especially for a player who makes as much contact as Perdomo. His pull rate is 15% higher than league average (115 Pull%+), while his opposite field rate is 27% lower (73 Oppo%+). Even better, all of that extra pull contact is coming on balls in the air, which is where it's actually going to lead to more hits and extra-base knocks. His pull rate on groundballs is essentially unchanged, but his pull rate on balls in the air is up from 30.8% to 43.8%. Better still, his opposite field rate on fly balls and line drives is down from 34.9% to 25%. That means he's already hit six more pulled balls in the air and five fewer opposite field shots than he would have last year. That's not an insignificant difference.
Pulled balls in the air are much more dangerous, even when adjusting for exit velocity and launch angle. Consider, for instance, that pulled barrels have an ISO of 2.240 this season, while opposite field barrels have an ISO of 1.419. Similarly, pulled balls classified as solid contact have a .754 ISO, while opposite field solid contact has a .358 ISO. In other words, all else being equal, it's better to pull balls in the air. Therefore, pulling the ball is a great way to maximize one's strength. You don't need to hit quite as hard if you can make consistent pull contact.
What's more, Perdomo has also been optimizing his launch angle. His sweet-spot percentage (launch angle between eight and 32 degrees) is up from 28.1% to 34.8%. If you remove his six bunt attempts from the calculation, it's even higher; 37.3% of his batted balls have been hit in the sweet spot. That puts him in the 75th percentile, meaning he makes contact at an optimal launch angle more often than three-quarters of the league. This makes a real difference, because the softer a batter hits the ball, the more important launch angle becomes. Think about it this way: A ball hit over 116 mph can be classified as a barrel with a launch angle anywhere from eight to 50 degrees. Conversely, a ball hit under 100 mph can only be classified as a barrel if it has launch angle between 25 and 31 degrees. Thus, by optimizing his launch angle, Perdomo has found another way to make the most of the minimal power he possesses.
That all sounds great, but now, of course, we need to ask the million-dollar question: Can Perdomo continue to optimize his launch and spray angles to compensate for his limited power? The boring answer is that it's too soon to say. Stats like pull tendency and average launch angle don't stabilize nearly as quickly as average exit velocity, and Perdomo's 130 PA is a pretty small sample to work with. Thankfully, however, I also have a more fun response. What if Perdomo is using his excellent bat-to-ball skills and sharp eye at the plate to help to optimize his quality of contact? Directional hitting, after all, is largely about timing.
Perdomo has always been a disciplined hitter, but he's been more disciplined than ever this season, and that's a good indication that he's seeing pitches well and feeling more in control at the plate. He's striking out just 17.7% of the time and walking at a 12.3% clip. His chase rate is in the 96th percentile, and his in-zone contact rate also ranks among the best in the league. What's more, Perdomo has been especially selective on the first pitch this year, swinging only 16.4% of the time. He only takes a rip if he likes what he sees, and that approach has worked well. His 54.6% first-pitch strike rate is significantly better than his 61.4% mark last year. Consequently, he has been much more likely to start his at-bats ahead in the count. That, in turn, allows him to maintain his selective approach throughout the at-bat.
As further evidence that Perdomo's eye is helping him thrive, he has improved tremendously against breaking pitches this season. In 2022, breaking pitches were his biggest weakness. Be it the curveball, slider, or sweeper, Perdomo fell into the same traps again and again. He posted a .151 wOBA, .195 xwOBA, and 20.2% put-away percentage against breaking balls. This year, those numbers are much improved: a .496 wOBA, .323 xwOBA, and 10.5% put-away rate. He is chasing less and swinging at more breaking balls in the zone. When he makes contact, he hits 'em harder, and he's more likely to pull breaking pitches and hit them in the air:
There's an old saying around the game – one re-popularized by Aaron Judge on his quest for 62 – that most home runs are thrown, not hit. By that logic, it stands to reason that a batter could maximize his power by using a sharp eye to identify the pitches he can hit and by knowing how to hit them. So far in 2023, that appears to be the secret to Geraldo Perdomo's success. Indeed, none of his four home runs this year were crushed, but they were all well-deserved. They came on pitches that missed their spots and which Perdomo proceeded to pull into the seats.
Will Perdomo continue to hit this well all year long? Almost certainly not. There are some things you just can't do without a bit of brute strength, and maintaining a .400 wOBA is definitely one of them. But can he continue outperforming his expected stats, even by just a little, and keep contributing to the Diamondbacks' surging offense, even just here and there? I'm optimistic he can pull it off.
All stats and rankings through May 25.