I'm going to say this bluntly because it's something that most should agree with: Harrison Bader's defense in center field is special. Unfortunately for Bader and baseball fans, he has never totaled above 430 plate appearances in a single season, so we've never had the privilege to see him run around the outfield for a traditional full season and rack up defensive value. But even with this limitation, he's still at or near the top of just about every aggregated defensive metric leaderboard for the last few seasons. If you watch him roam the outfield — and I mean really watch him — you realize that this is a player who does everything correctly out there and has an unflappable baseball IQ. If you could write a script on how to be the perfect outfielder, all you would need to say is "be Bader."
Let's start by addressing where Bader ranks next to his peers this season in terms of defensive metrics. I'm only going to focus on Outs Above Average (OAA) for this piece. Defensive metrics are a great starting point to a conversation like this, but they are a complement to video analysis that will show us the details of a player's fundamentals and decision making.
Here are the leading outfielders in terms of OAA this season:
One of these is not like the others! Given that OAA is a counting stat, a player with at least 16 fewer games played (usually more) should not be on this list, but Bader only trails Robert this season in OAA, and that is mainly due to his Success Rate Added. That gives some more insight into how valuable he has been in his limited sample this year.
Typically, I'd say it's a little too early to rely on this number, as Bader has only played in 22 games, but it's not like this is out of the ordinary for him. He has been a clear cut 80-grade fielder for the last few seasons and is always one of the most valuable defensive players on a rate basis. Last year, he accumulated 7 OAA despite dealing with plantar fasciitis that either kept him out or kept him limited to 86 games. Being an elite defender with lower body ailments is very impressive.
But now it's time to address some of the incredible plays Bader has made this season:
May 2
May 17
Any volleyball players out there know how important it is to protect your body when you dive. Depending on the angle at which you're making your dive, you need to contort your body to make sure you're not folding over a wrist or buckling a knee in a weird direction that can compromise your health. I'm not sure I've ever seen anybody do this better than Bader. In the first play, he comes zooming in head-on. This is probably the most dangerous play for an outfielder to dive on, but as he approaches the ball, he scoots his right leg under him so he can smoothly slide and protect his upper body. In the second play, since he took a lateral angle to the ball as he sprinted in from right center, he instead uses his shoulder as a buffer.
When you can dive like this without compromising your body, you can make the nail-biting plays that other outfielders might pull up on. The Expected Batting Average (xBA) on the liner from Josh Bell was .860; on Whit Merrifield's liner, it was .700. These are not plays anybody should make, but Bader does.
Now let's move to plays where Bader is running toward the fences:
May 14
May 23
Randy Arozarena's specialty is driving the ball to the opposite field. As a center fielder in Yankee Stadium, you have to weigh that knowledge with left-center being the biggest part of the park. This fly ball had an xBA of .430 and was a crucial play for Bader to keep the Yankees in the game; if it drops, it clears the bases and puts a runner on second base (at least) with less than two outs. The catch is incredible; that hardly needs to be said. Where my admiration comes from is Bader getting up and throwing the ball to second base. On a long fly ball like this, the runner on second can see that Bader has a good shot at catching the ball, trails back to second base, then tags up. The runner on first waits right before second base to make sure it's caught; if it drops, you better get your tail home. Bader knows this, and so he immediately fires the ball into second rather than hitting Anthony Volpe for the cutoff. It helps that he has 97th-percentile arm strength.
The catch on Ryan Mountcastle's .500 xBA fly ball is slightly different. Here's the route taken: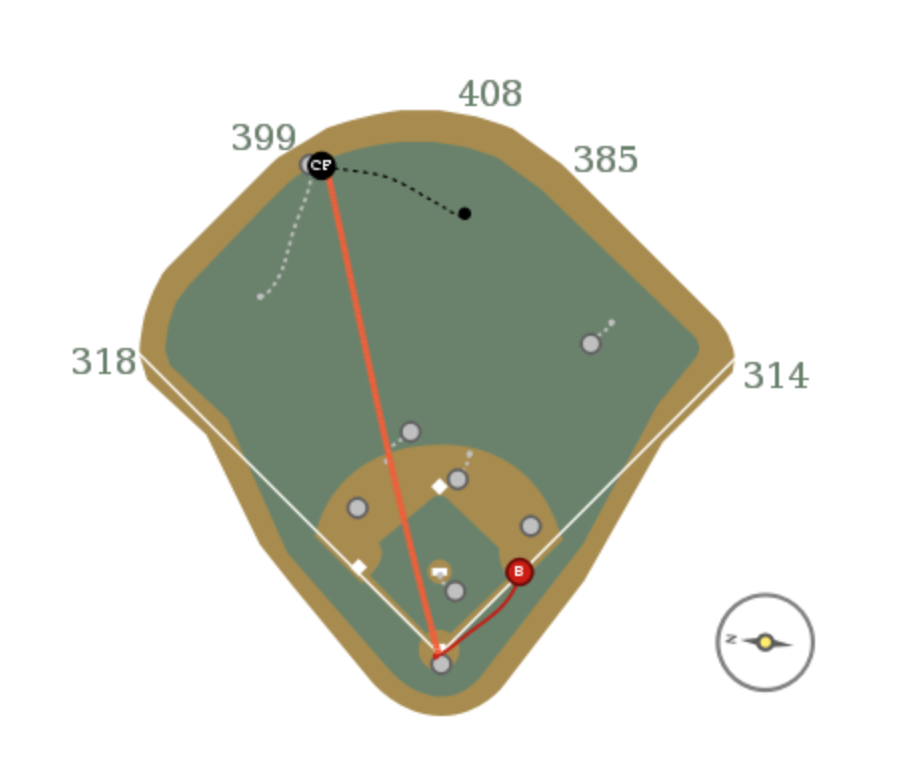 Bader was shaded toward right-center field and took a rounded route to the ball. When you take this route as opposed to a straight diagonal line, you move your momentum away from the wall and instead along the warning track. This takes spatial awareness, a great read, and fantastic body control. Running full speed into a wall is dangerous, but running full speed along the warning track gives you the chance to make a perfect slide and avoid Oswaldo Cabrera. Once again, Bader's slide direction is perfect. This time around, he uses his right side to pirouette while on the ground as he keeps his glove pointed toward the air. By sticking his glove straight up, he makes sure it never hits the ground; that contact is what can force some outfielders to drop the ball on plays like this.
Each of those plays shows the exceptional skills that allow Bader to make improbable catches and boost his OAA even in a small sample. The difference between making these plays is often whether you can put your body in a position to lay out, and Bader proves time and time again that he can do this while protecting himself. Add that to his arm strength, 83rd-percentile jumps, and 99th-percentile bursts, and you have yourself a player who can go get anything in the air. If you get a chance to watch Bader anytime soon, you should do it. It will be an absolute delight.