Adam Wainwright rose to the occasion. Summoning vintage form to pitch like the staff stalwart he's been for the better part of the past two decades instead of the palooka he's been for most of this season, the 42-year-old righty tossed seven shutout innings against the NL Central-leading Brewers at Busch Stadium. Thanks to a solo homer by catcher Willson Contreras and two more scoreless innings from his bullpen, Wainwright collected the 200th win of his career, and provided some long-awaited cheer and relief for the Cardinals and their fans in an otherwise dismal season.
If you haven't been paying attention, most of what you need to know about how hard-won this milestone was is right there in Wainwright's ERA: his seven scoreless frames lowered his mark from 7.95 to 7.40. You're not going to notch many victories allowing runs at that clip, and in most organizations, you wouldn't get many opportunities to keep trying, particularly when the underlying numbers do nothing to mitigate that ugly top line. The Cardinals, now 67-83 and en route to their first sub-.500 season since 2007, have continued sending him out there nonetheless, at times seeming to do so out of a sense of loyalty to a player who's been a vital part of 10 playoff teams, two pennant winners and one champion rather than a clear-eyed judgment of his current abilities.
For one night, all that was put aside. Facing a team that began the day 18 games ahead of the Cardinals in the standings, and lacking even the pedestrian fastball velocity he could summon earlier this season, Wainwright nonetheless kept the Brewers off balance while working into and out of trouble in the majority of his innings. His one-out, first-inning walk to William Contreras was erased by a 4-6-3 double play off the bat of Carlos Santana. After retiring the side in order in the second, he induced Contreras to hit a slow chopper to Paul Goldschmidt to escape a two-on, two-out jam to end the third. In perhaps his most impressive sequence of the night, after serving up a two-out double to Willy Adames, he struck out Rowdy Tellez to end the fourth via a well-placed 87-mph sinker, that after the slugger had fouled off three curveballs and a cutter. He ended the sixth erasing another single by Contreras with another double play at the expense of Santana, who hit a 98.8-mph hot shot straight up the middle but right at shortstop Masyn Winn, who stepped on second and threw to first. After Mark Canha smacked a leadoff single on an 87.6-mph sinker — his fastest pitch of the night — then took second on a grounder and stole third with two outs, Wainwright stranded him, as Lars Nootbar chased down Josh Donaldson's fly ball into the left-center gap.
John King relieved Wainwright in the eighth, gave up a single to pinch-hitter Andruw Monasterio and then erased him via a double play one pitch later. After allowing a single to Sal Frelick, he was pulled in favor of closer Ryan Helsley, who struck out Contreras, then worked a spotless ninth for his first save of more than three outs since May 17.
Wainwright averaged just 85.8 mph with his sinker and 81 mph with his cutter; both are around 1 mph slower than his seasonal average and 3 mph slower than last year. He survived thanks to impeccable command and sequencing, and his avoidance of hard contact. He netted first-pitch strikes against 18 of 25 batters faced; his 72% rate of doing so was his highest since his May 6 season debut. He induced just five swings and misses, but he got 23 called strikes, including seven apiece from his sinker, curve, and cutter, and so his 30% Called Strike and Whiff percentage (CSW%) was his second-highest of the season. His 85.8 mph average exit velocity tied for his sixth-lowest in 21 starts, well below his season average of 89 mph; crucially, while he allowed seven hard-hit balls, he didn't allow a single barrel for the second straight start and only the fourth time all season.
The outing stood in stark contrast to the rest of his season. Via MLB.com's John Denton:
"For at least a night, I was a real pitcher and the guy I still want to be," said Wainwright, who admitted to pitching with arm pain and tape protecting his aching back. "That's my first scoreless outing [this season], and certainly my longest.

"And, you know, for tonight, I was me."
Moved to tears to the point of "gasping-for-air crying" after Helsley secured the final out, Wainwright compared the moment to his 2006 NLCS-clinching strikeout of Carlos Beltrán:
"That first year [2006], I thought, 'Oh gosh, we're going to win the World Series every year and I'll close it out, and it'll be great. I'll do this 20 times, and we'll call it a career,'" Wainwright joked. "The Beltrán moment is something I get asked about probably more than closing out the World Series.

"But tonight, for me, this is tied for first."
It was a joyful, cathartic moment in what's otherwise been an arduous and dispiriting season for a pitcher who's been one of the majors' least effective. After helping the Cardinals win the NL Central last year, Wainwright bypassed the opportunity to retire alongside Yadier Molina and Albert Pujols at season's end, and in late October announced that he would return for one more. "He and I started talking about this in early September, and obviously, the September didn't go as he wanted it to, but we really do feel like there's something left in that tank," said team president John Mozeliak.
"If I tell you it's the last one, then I've got to go through a bunch of stuff… My main focus of playing next year is to go out and win and help this team win," said Wainwright at the time. With 195 career wins to that point, he had his sights set not just on 200 but on 212, which would match the total of close friend John Smoltz; to do that, he would need 17 wins, matching his 2021 total.
Entering the season, there seemed little to worry about. Wainwright pitched very well in 2021, notching 206.1 innings (his highest total since 2014) while delivering a 3.05 ERA, 3.66 FIP, and 3.9 WAR; he even received down-ballot support in both the NL Cy Young and MVP races. Though a late-season slump, which he blamed on mechanical woes in the wake of taking a comebacker off his left knee on August 28, pushed his ERA to 3.71 last year, his FIP was an identical 3.66. While falling short of his preseason goal of 200 innings, he finished with 191.2, the largest workload for a pitcher in his age-40 season or older since 2015, and 2.9 WAR. For the first time since 2013-14, he made 32 starts in back-to-back seasons.
Wainwright split this spring between Cardinals camp and Team USA, for whom he made strong starts in the World Baseball Classic Pool C opener against Great Britain on March 11 and against Cuba in the semifinal on March 19, allowing just two runs in eight innings. He wasn't scheduled to pitch again in the tournament, but suffered a groin strain while doing split squats in a weight room workout on March 21. That forced him to the injured list to start the season and scrubbed plans for him to make his seventh Opening Day start; instead, he sang the national anthem. He began a rehab assignment with Double-A Springfield on April 19, made two starts there and one for Triple-A Memphis (striking out nine in 5.2 innings), and finally took the mound for the Cardinals on May 6. Facing the Tigers, he yielded just two hits over four scoreless innings as the Cardinals built a 3-0 lead, but then allowed three runs on four hits in the fifth, and then two hits and one run before departing without retiring a batter in the sixth.
The pattern continued for the next six weeks. Wainwright would pitch well early, but falter during his second or third time through the order. Through his first eight starts, he posted a 3.94 ERA and 4.26 FIP in innings 1-4, but a 10.32 ERA and 6.26 FIP thereafter. He notched his first quality start of the season in the last of those turns, allowing three runs in 6.1 innings to the Mets in New York on June 17. That gave him his third win of the year and 198th of his career.
The milestone seemed within easy reach, but Wainwright's season quickly went south. From June 24 through September 7 — a span interrupted by a 19-day stay on the injured list in July due to a minor shoulder strain — he made 11 starts totaling just 45.1 innings and was torched for a 10.72 ERA and 7.76 FIP while going 0-10. Batters pounded him relentlessly, hitting a combined .387/.448/.672 with 14 homers (2.78 per nine) against him in that stretch while barreling the ball 13.6% of the time. He generated first-pitch strikes against just 54% of hitters, made them chase out of the zone just 20% of the time, and netted a meager 4.1% swinging strike rate; he struck out only 10.7% of hitters while walking 9.9%. Even for a neutral observer, it was brutal to watch.
It didn't help that the Cardinals supported Wainwright with just 2.4 runs per game during that span, but sending him out there during that run bordered on managerial malpractice, because far more often than not, his performance was noncompetitive. In his first two innings of those 11 turns, batters hit a combined .424/.477/.657 and scored 30 runs, forcing an already-struggling team to dig out of a hole nearly every time. Only on July 24, his first start off the IL, did he depart with a lead, and in a five-start streak within that larger span, St. Louis trailed by an average of five runs when he left. The Cardinals, already 15 under when Wainwright won on June 17, won just one of those games.
Wainwright finally broke his fall on September 12, with five innings of two-run ball against the Orioles. He departed with a 3-2 lead, the bullpen held, and the offense added a couple of insurance runs to help him pick up win no. 199. Now, at last, he has no. 200 as well — and look, whether or not you or I put stock in the stat, it clearly meant something to the pitcher, his team, and his fans. Wainwright joined Hall of Famers Bob Gibson (251 wins) and Jesse Haines (210) as the only pitchers to win 200 games with the Cardinals. He's the 118th pitcher to reach 200 wins, and if he doesn't win another, he'll join Chuck Finley (2002) and Jon Lester (2021) in the club of pitchers whose 200th and final win came as a Cardinal.
Given the evolution of pitcher workloads, 200-win pitchers are in short supply, though many of us have been spoiled by recent decades. Dan Szymborski was kind enough to tally the annual number of active 200-win pitchers just as he did for 2,000-hit batters in Monday's Freddie Freeman piece: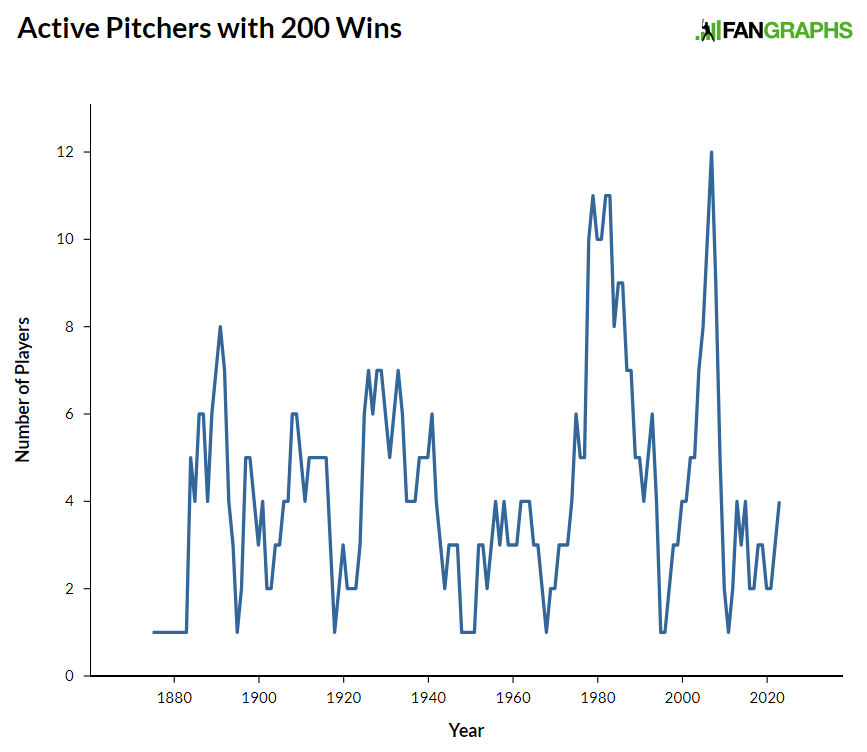 From 1942–74, no more than four active pitchers had 200 wins at any time, but in 1978 alone, the year this scribe first started following baseball, four players surpassed the mark, running the active total to 10; four of them, and three others nearing the mark, would go on to surpass 300 wins for their careers, distorting Hall of Fame elections for decades. In 2007, the total spiked to a record 12, but currently only four other active pitchers besides Wainwright have 200 wins under their belts, namely Justin Verlander (255), Zack Greinke (224), Max Scherzer (214), and Clayton Kershaw (209).
They're all going to the Hall of Fame, but as I noted a couple of months ago, I don't see Wainwright as joining them despite his four top-three finishes in the Cy Young voting and his stardom for a perennial contender.
Some of that is volume. Wainwirght has pitched just 2,661.1 innings, missing all of the Cardinals' 2011 championship season due to Tommy John surgery, all but seven appearances in '15 due to surgery to repair a torn Achilles tendon, and all but eight appearances in '18 due to elbow inflammation. While he's banked four seasons of at least 6.0 WAR, his other three seasons rounding out his seven-year peak score feature WARs of 4.0, 3.5, and 3.0 (including offense). He's at -2.1 WAR this season, and while three Hall of Famers have surpassed that (Jesse Burkett -3.0 in 1890, Bob Feller -2.9 in 1952, and Roy Halladay -2.8 in 2000), they're all well ahead of him in S-JAWS. Wainwright ranks just 134th with 40.6 S-JAWS, between two low-scoring Veterans Committee choices with huge postseason credentials (Chief Bender and Herb Pennock) but also below the likes of Jamie Moyer, Carlos Zambrano, Dennis Martinez, Bartolo Colon, Javier Vazquez, and Brad Radke. He has just three All-Star appearances, and while his postseason record is respectable (4-5 with four saves and a 2.83 ERA in 114.1 innings), it's not Smoltz-like.
Still, Wainwright is a legend as far as the Cardinals are concerned, and will certainly don the signature red jacket as he's inducted into the team's Hall of Fame one day soon. Whether as a broadcaster, coach, or singer-songwriter, we haven't heard the last of him. But like the pitcher himself, we can finally be relieved he's reached his milestone.