I don't know about you, but I was very excited about the Blue Jays' outfield coming into this season. In December, the team signed veteran defensive wizard Kevin Kiermaier to take over in center field, pushing incumbent George Springer to right. Just a few weeks later, they sent catcher Gabriel Moreno to the Diamondbacks so that young defensive wizard and all-around rising star Daulton Varsho could play left. If you're keeping score at home, that makes one George Springer and two defensive wizards. Most teams don't have two defensive wizards. There just aren't that many wizards running around, and the ones who play baseball tend to prefer the infield. The Blue Jays had three center fielders, two of whom were well-respected veterans with long track records on successful teams, two of whom were coming off four-win seasons, and two of whom could reasonably claim to be, when healthy, the best defensive outfielder in all of baseball. That's a pretty exciting Venn diagram.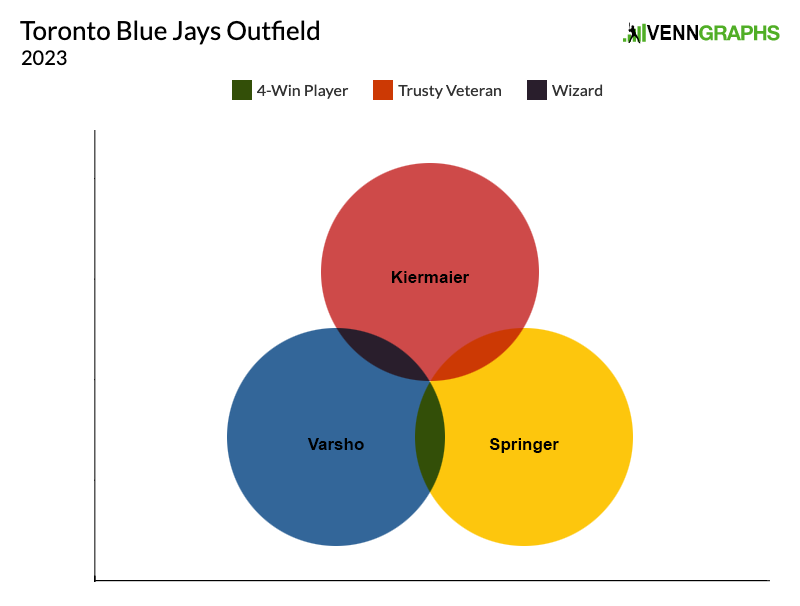 That's not to say that this plan was foolproof. Kiermaier has always struggled to stay in the lineup and has always been a shade under league average at the plate. Springer has also dealt with his own share of injuries. The move to right was made partly to get him to a less challenging spot before his defense became untenable in center, and partly to keep him from getting so danged banged up. Varsho came at a considerable cost, and after a breakout 2022 season in which he posted a 106 wRC+ on the back of a wOBA 25 points above his xwOBA, he was considered a regression candidate.
Still, even after pricing injury risk into the depth chart projections, our Positional Power Rankings had the Toronto outfield ranked seventh overall: seventh in left, 10th in center, and sixth in right. The outfields ahead of them boasted names like Judge, Trout, Soto, Acuña Jr., and Alvarez, but the Blue Jays were one of just two teams projected for at least 3 WAR in all three outfield spots (the Padres being the other).
That was a lot of preamble to tell you that Toronto's outfield is currently tied for eighth in WAR, right where they're supposed to be. But things aren't shaking out quite how they expected, and many teams are bunched up in the middle. The Blue Jays are one of 10 teams with between 2.5 and 2.9 outfield WAR. Let's take a look at what's going right and what's going wrong.
The first thing that's been going right is health. Neither Springer nor Kiermaier has hit the IL yet (though Kiermaier missed a couple games earlier this week due to an illness). That's very much by design, as the team has found ways to get them both some rest. Springer has played in 48 of Toronto's 50 games, but he's been the DH six times and only started 39 games in right. Kiermaier has been given frequent off days, starting 37 times and appearing in 40 games total.
The next thing that's been going right is the defense. It turns out that adding two of the game's best defenders can do wonders for your run prevention. Here's a quick table to show you where the Jays rank in each of the major defensive metrics:
They're Really Running Them Down
DRS thinks they've been the best outfield in the league. OAA likes them the least, but it still has them at number eight. Exactly as advertised, Kiermaier has led the way defensively. DRP has him at 28th, but the other three metrics have a him as a top 10 fielder — not just in the outfield, but in all of baseball.
That part's not a surprise. The surprise has come at the plate. Kiermaier, the defensive specialist, is currently running a 134 wRC+, and all three components of his .313/.363/.478 slash line would make for career bests by at least 25 points. He credits his success at the plate to two things. The first is having surgery on his left hip, which had bothered him for years and finally grew so painful that it cut his 2022 season short after just 63 games. The second is wearing contact lenses. You know those piercing green eyes that could see the catcher's signs from way out in center field? They've now got astigmatism, and they've dropped from a Ted Williams-ian 20–15 to a merely perfect 20–20.
Upgrades aside, Kiermaier is running an unsustainable .373 BABIP, and his wOBA is 52 points higher than his xwOBA. Things are going to even out. DRC+, which measures batter contributions, not just results, has him at 94; that's better than he's been in several years, but still below average. His 19.7% strikeout rate, his lowest since 2016, is genuinely encouraging, especially since it's backed by improved chase and contact rates. He's also swinging less at pitches in the zone, and his hard-hit rate and exit velocity are down some, so it will be interesting to see what happens if pitchers start challenging him in the zone more often.
The next thing that's gone right is a symptom of the things that have not gone so right. Kiermaier leads the Jays outfielders with 1.4 WAR. Neither Springer nor Varsho is next on the list. Next is Whit Merrifield, who has logged just over 160 outfield innings, primarily in left while Varsho covered either center or right. It's not a good sign that Merrifield, who has spent 71% of his career innings in the infield, is Toronto's second-most valuable outfielder. It's great that he is having a delightful, BABIP-aided bounce back season, with a 103 wRC+ thus far. But it's also a symptom of the struggles Springer and Varsho have had at the plate.
Varsho & Springer 2023 Stats
Player
G
PA
HR
AVG
OBP
SLG
wOBA
wRC+
WAR
Varsho
49
204
7
.217
.284
.375
.289
83
0.5
Springer
48
211
7
.250
.318
.380
.309
96
0.3
Varsho's defense has been as advertised. Although playing left field leaves him with fewer chances to shine (he's yet to see a single ball with a catch probability between 10–55%), all four defensive metrics see him as a net positive, and DRS and UZR see him as one of the best outfielders in the game.
At the plate, it's an entirely different story. Let's start with the good news. Remember when I said earlier that Varsho's wOBA outstripped his xwOBA last season? He is striking out less, and his xwOBA has jumped 19 points to .317. His wOBA, though, has dropped to .289. He's probably getting a bit unlucky, but there are some genuinely concerning things in his profile. Here's a big one: Varsho leads all qualified batters in soft contact at 27.1%. That's not great. His hard-hit rate has crept up to 37.9% — still below average but better than last year, when he launched 27 home runs.
So what else is going wrong? Take a look at his batted ball makeup:
Daulton Varsho's Batted Ball Breakdown
Year
GB%
FB%
LD%
PU%
2022
42.7
29.8
19.6
7.9
2023
37.1
22.9
27.1
12.9
SOURCE: Baseball Savant
It's great that he's hitting more line drives, but that's not the change that matters the most. In fact, his rate of air balls (line drives and fly balls) is nearly identical to last year. Varsho has effectively traded five percentage points of groundballs for five percentage points of popups. Quick reminder: This year groundballs have a wOBA of .227; popups have a wOBA of .016.
As Leo Morgenstern noted last month, Varsho succeeded last year by making the most of his hard-hit balls, lifting them and pulling them into right field for homers. Last year, not a single one of his 27 home runs was hit anywhere to the left of dead center. This year, he hasn't been able to stick to that plan as closely, pulling 41% of his air balls, compared to 51% last year. On Varsho's hard-hit balls, his average exit velocity has increased from 101.5 mph to 102.3, but 72% of them have been line drives or fly balls, compared to 79% last year. Varsho is lifting the ball as often, but when he does, he's not hitting it quite as hard and he's not hitting it where he can do the most damage.
That brings us to Springer. First of all, he does not seem to care that the move to right field was supposed to keep him from getting banged up. It seems like every time you turn on a Blue Jays game, you see something like this:
Springer's defense has graded out roughly around average (although the metrics differ quite a bit), and he's currently sitting at a 96 wRC+. For a hitter of his caliber, an average bat represents a significant step back.
How's this for a run-on sentence? Springer is swinging much less, but he's also walking less, largely because he's making more contact, especially on pitches outside the zone, which is usually a small sample size phenomenon that corrects itself over time. It's okay if you didn't follow all of that; that was the point. As I wrote back in February, Springer's underlying metrics have shifted many times over the years, but he's always managed to be an excellent hitter.
Right now, Springer's plate discipline stats look almost identical to the ones he put up in 2021, except he's making more contact than he ever has, especially outside the zone. Pitchers are still generally attacking him down and away, but he's still generally swinging at pitches middle-up and doing his damage on pitches up and away. But the results look different.
If you were hoping a fully healthy Springer (thanks to the removal of a bone spur so big that he could feel it under the skin) to jump back in and rejoin the ranks of the game's greatest hitters, you're in for a disappointment. His hard-hit rate and average exit velocity are the lowest they've ever been, which is definitely worrisome. He's hit five balls over 110 mph this season, including one at 115.9, so it's not as if his bat speed has disappeared. It's just a matter of making better contact.
Springer is hitting the ball on the ground more and pulling it less, which might be a smyptom of the next problem:he has been terrible against sliders this year. According to our pitch value leaderboards, he's been worth -5.5 runs against them, fifth-worst among all qualified batters. In fact, if you remove sliders from the equation, Springer's 2023 stats look a whole lot like his 2022 stats. Pitchers have taken notice and are throwing them more often. It's not that he is whiffing on sliders; he's making more contact against them than ever. But he's hitting them much, much softer.
It could be that Springer has gotten too selective and needs to be a bit more aggressive in order to do damage. He's swinging at 77% of pitches over the heart of the plate, way down from last year. Or maybe he just needs to figure out how to lay off the slider. He went 4-for-5 with a home run and a triple as recently as Tuesday, so I'm not prepared to count him out just yet. The power is clearly still there. Maybe it's just a matter of time before he starts connecting.
As always, before we part ways, we need to note that it's still early in the season. Springer wasn't the only Blue Jay who had a big game on Tuesday. Toronto beat down the Rays to the tune of 20–1. In the past two days, the Jays raised their ranking in outfielder WAR from 20th to tied for 14th to tied for eighth. They seem primed to keep making plays in the outfield. They've been just as exciting with the glove as we could have hoped. If they're going to help the Blue Jays make the playoffs in an AL East that is somehow even more competitive than usual, Varsho and Springer will need to figure things out at the plate.