Carlos Correa has foot problems. No, we're not talking about the concerns that scuttled his preliminary agreements on a pair of contracts in excess of $300 million this past winter. Those centered around the risk of future problems with his right foot, a legacy of the fractured fibula he sustained in 2014. Correa, who was scratched from the lineup for Tuesday's game against the Giants and sat out Wednesday as well, is currently dealing with issues in his left foot and is likely to wind up on the injured list, stalling his recovery from a very slow start to his second season with the Twins.
On Monday night at Target Field, Correa roped a double to left field off the Giants' Sean Manaea. He came into second standing up, but as he explained on Tuesday, he took an odd step rounding first base, whereupon his left heel began to bother him. He gutted out the remainder of the game but was in more pain the following morning and, after undergoing an MRI that revealed inflammation in his heel, was scratched from Tuesday's game.
On Wednesday, Correa was diagnosed with a muscle strain in his left arch as well as plantar fasciitis, the inflammation of the thick band of tissue that connects the heel bone to the toes. The team has not decided whether he'll be placed on the IL, and at least as of Tuesday, he harbored hopes of returning for this weekend's series against the Blue Jays. Manager Rocco Baldelli was less sanguine, telling reporters, "I think we get to Friday and some of our decisions might be made for us."
Even leaving aside the strain, plantar fasciitis isn't something that's going to dissipate in a couple of days. The Baseball Prospectus Recovery Dashboard contains 13 instances of players going on the IL for plantar fasciitis since 2016 (though none for 2020). Those 13 stints averaged 35 days, with a low of 12 (John Lackey in 2016), a median of 30, and a high of 85 (Harrison Bader last year).
Again, this is the opposite foot from the one that led the Giants and the Mets to pull their respective offers — 13 years and $350 million for the former, $12 years and $315 million for the latter — due to concerns that emerged during his pre-signing physicals this past winter. Those concerns could be traced back to 2014, when as a 19-year-old prospect at High-A Lancaster, Correa caught his cleat in a base as he slid, fracturing his right fibula, damaging ligaments, and requiring the surgical insertion of a plate in his ankle. Though he's never missed a major league game traceable to those injuries, both teams got spooked. Once the Mets backed away, Correa returned to the Twins, with whom he spent 2022, via a six-year, $200 million deal that has vesting and club options that could reach a maximum value of $270 million over 10 years.
While Correa's current woes aren't related to those previous concerns, the fact does remain that he's had a hard time staying on the field. He's topped 150 games only once, playing 153 as a 21-year-old in 2016, and averaged just 116 games in the five non-pandemic seasons since. What still appears to be a Hall of Fame career in the making thanks to his excellent play at a young age — early in his age-28 season, he's already tied for 34th in JAWS at the position, 10 spots ahead of Omar Vizquel, and could pass the likes of Miguel Tejada and Nomar Garciaparra by the time he's 30 — can only withstand so many roadblocks on the way to Cooperstown.
If Correa winds up on the IL, he'll fall short of 150 games again. Even if he misses a comparatively short amount of time — six of the 13 stints were 20 days or fewer — that's a blow to the Twins, who at 26–24 lead the AL Central by three games but have been in a slide lately. After going 17–12 in March and April, they're 9–12 this month and had lost three in a row and five out of six before beating the Giants, 7–1, on Wednesday. Kyle Farmer started at shortstop, as he had done on Tuesday and April 9–12, when Correa missed four games due to back spasms. Even with those outages, Correa entered Thursday tied with Byron Buxton for the team lead in plate appearances (192) and 41 innings ahead of any other Twin in defensive innings (376.1).
That said, Correa has been off to a slow start, hitting just .213/.302/.396 with six homers and a 94 wRC+, though lately he had been trending upwards, with a .227/.326/.453 (114 wRC+) line in May after a dismal .202/.283/.351 (77 wRC+) line in April. His numbers have improved notably since the point just over two weeks ago when he had a .185 batting average and conceded, "I'd boo myself, too, with the amount of money I'm making if I'm playing like that and I'm in the stands."
Correa's .244 xBA and .410 xSLG suggest his overall numbers should be at least a bit better. On Monday, Esteban Rivera examined the shortstop's early-season struggles, pointing out that his Statcast percentile rankings — 67th for hard-hit rate, 80th for barrel rate, 94th for maximum exit velocity, with only a 50th percentile for average exit velo out of the ordinary — offer reassurance that he's still hitting the ball hard. He's hitting to the opposite field more often (32.8%, well above his career 27,1%), though Rivera was able to tease out of the data the likelihood that a flatter swing and contact deeper within the strike zone are contributing to less impactful contact even when pulling the ball — a matter of timing, but probably a transient one.
The whole piece is worth a read. One thing I will note is that Correa's oppo/pull imbalance was really an April thing (30.8% pull rate, 45.8% oppo) that had disappeared this month (47.2% pull, 15.1% oppo). Here's a look at his rolling 15-game rates over the past two seasons: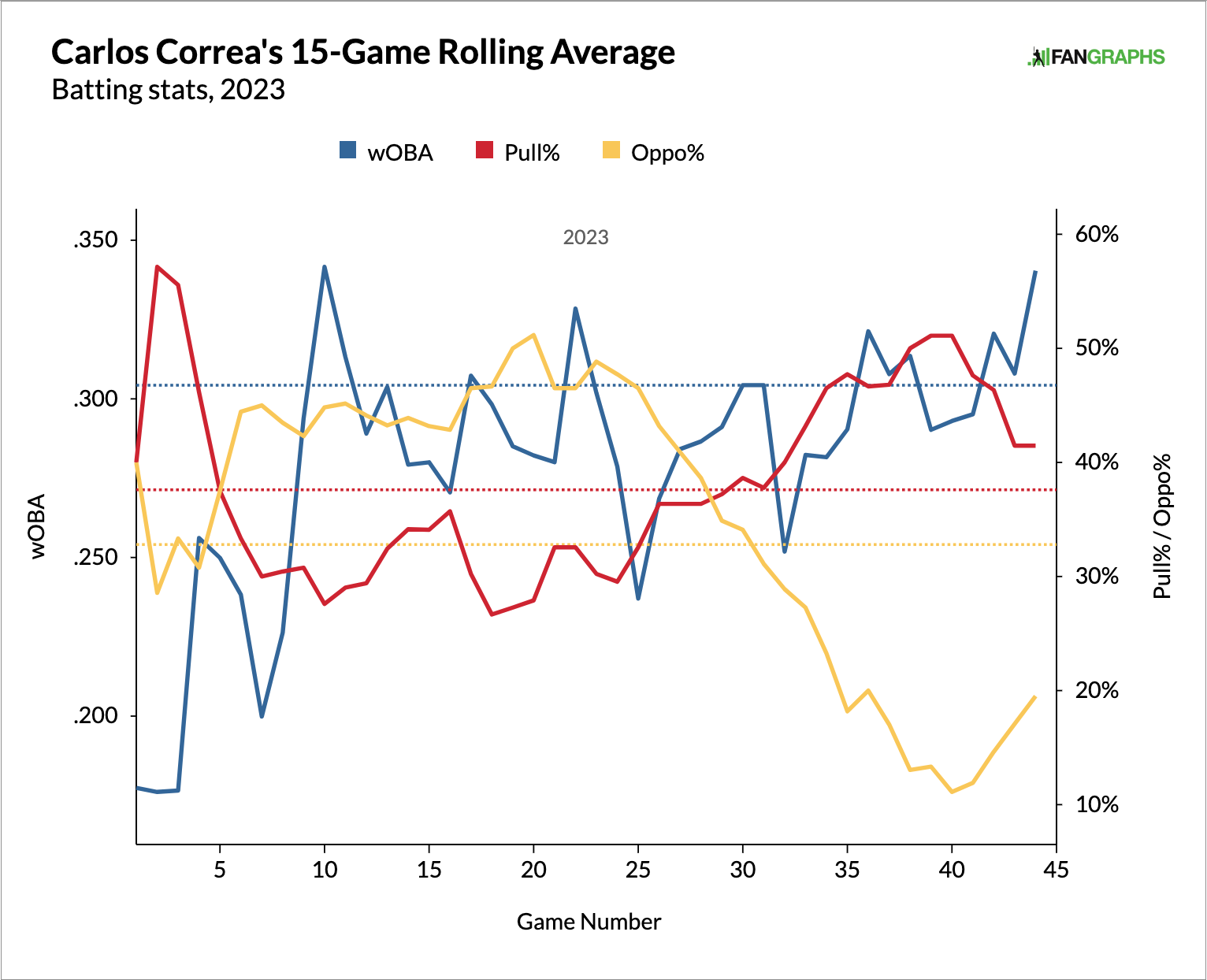 And here's a look at his rolling xwOBA: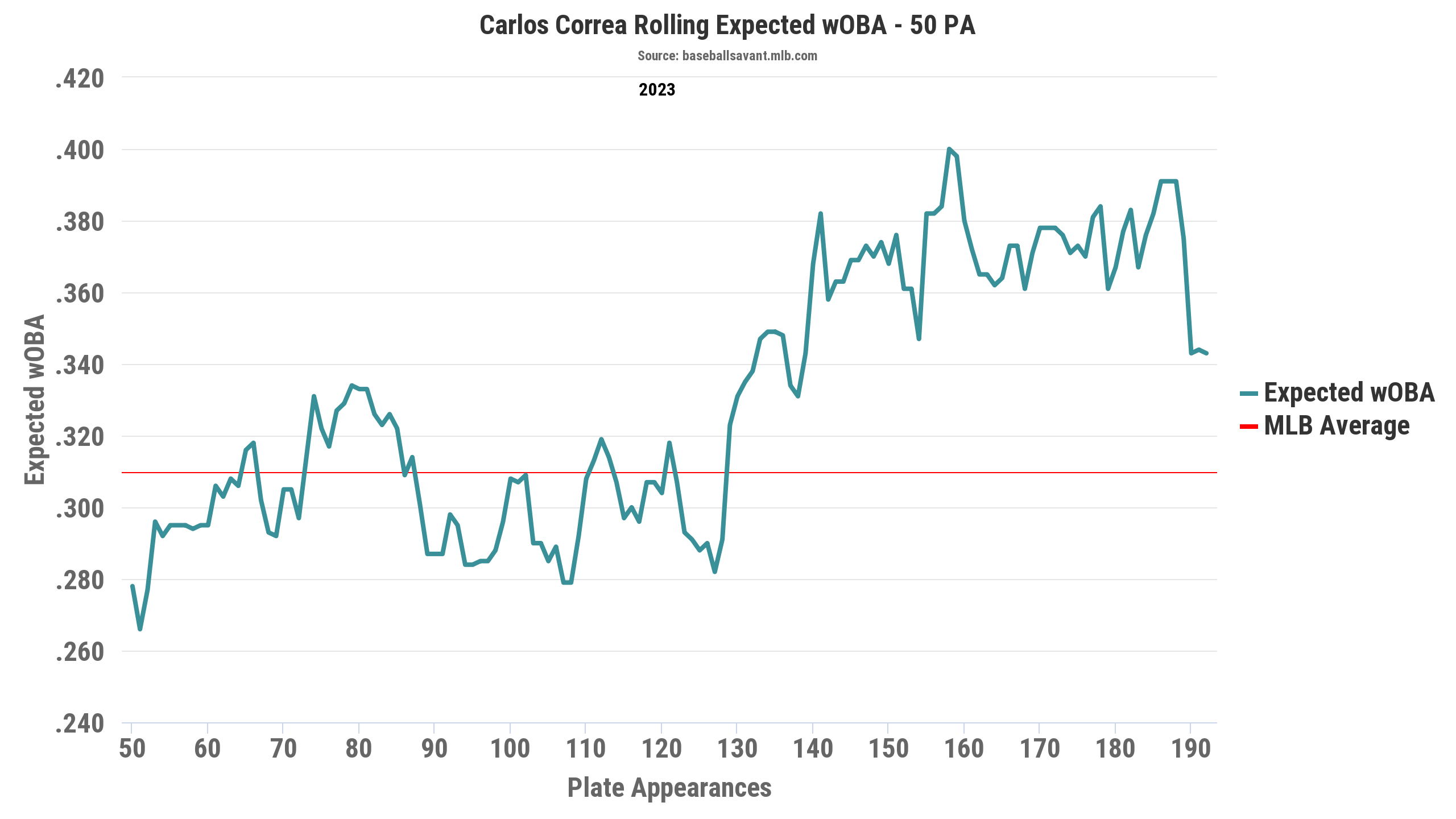 Beyond his performance, Correa's injury comes at a particularly inopportune time for the Twins. Second baseman Jorge Polanco, utilityman Nick Gordon, and corner outfielders Trevor Larnach and Max Kepler are all on the 10-day IL, and none has a clear timetable to return. Kepler and Polanco both have left hamstring strains, though both are considered mild. Larnach is battling pneumonia. Gordon is out with a fractured right tibia sustained when he fouled a ball off his leg and will be down for quite awhile. Additionally, Joey Gallo missed Wednesday's game due to left hamstring soreness but is hoping to avoid an IL stint.
In Correa's absence, the Twins are likely to continue rolling with Farmer, who's currently hitting .274/.326/.405 (105 wRC+) and has split his time between third base, second base, and shortstop. The Twins acquired the versatile 32-year-old from the Reds with the belief that he would be their shortstop this year after Correa opted out of his contract, one year into the three-year, $105.3 million deal he signed shortly after the lockout ended in March 2022.
Given the slew of injuries, it's worth noting that as of next Monday, Royce Lewis will be eligible for activation. The first pick of the 2017 draft tore his right ACL for the second time in a year and a half last June, just 12 games into his first stint in the majors (and three innings into his first major league appearance in center field), during which he hit an impressive .300/.317/.550 in 41 PA. While it's tantalizing to imagine the Twins taking the wraps off of a player who placed 55th on our Top 100 Prospects list this spring, Lewis has just eight games of his rehab stint under his belt, the last six at Triple-A St. Paul, and while he's hitting .333/.375/.700 through 32 PA, the Twins don't sound inclined to rush him back. "We'll see what he's doing when the rehab assignment comes to an end and we have to make a decision, or whenever that time is when he's physically and repetition-wise ready," Baldelli said. More, via TwinCities.com:
"If Byron Buxton goes on the IL, the first day Byron Buxton is ready to come back, he'll be back — and he'll be hitting second or third or fourth. Correa, something similar," Baldelli said. "But Royce, I can't put Royce or any young player in that same type of conversation.

"He's playing well right now, I think he's swinging the bat well. He's physically doing just as we would have hoped."
If Correa does require an IL stint, obviously that increases the likelihood of Lewis turning up in the near future. In the meantime, the Twins have a difficult stretch of games ahead of them, with five of their next six series against teams with winning records: the Blue Jays (six games), Rays, Astros, and Brewers. The other is against the Guardians, who are just 21–28 and 4.5 games out of first in the AL Central but are probably the biggest threat to Minnesota in the division. If they're lucky, the Twins will have Correa's help for at least some of that.