For the 2023 Red Sox, the starting rotation was always going to be about who could stay healthy. They entered the year with seven main rotation contenders in the organization: Chris Sale, Corey Kluber, Nick Pivetta, James Paxton, Garrett Whitlock, Brayan Bello, and Tanner Houck. With Paxton back from the injuries that have kept him out for over two years and Whitlock possibly eyeing a late-May return, the Sox could end up with all seven healthy for the first time by the end of the month. This would be great news for Boston, which has been struggling to find the right permutation of pitchers to make up a consistent starting unit. It wasn't the best news for Pivetta, whom Alex Cora announced on Wednesday night will be moving to the bullpen. If all are still healthy when Whitlock returns, the Sox could have another tough decision on their hands.
Frankly, in terms of production, starting pitching has been a bit of a mess so far for the Red Sox, and Houck has been among those struggling. Through eight starts, he has a 5.48 ERA despite a 4.10 FIP and 3.96 xFIP; he's allowed five home runs in 42.2 innings after giving up just eight in 146 career innings before this year. There are some indicators that bad luck is at play: his 13.5% HR/FB rate is nearly twice his rate from last season, and his 59.2% LOB% is far lower than his 75.5% rate in 2022. But since 2021, when he was last regularly starting, he's fallen from the 85th percentile to the 54th in xwOBA/xERA, the 82nd to the 23rd in average exit velocity, and the 87th to the 38th in strikeout percentage.
Red Sox SP Percentile Rankings
Player
xwOBA
xBA
xSLG
EV
Hard%
K%
BB%
Whiff%
Garrett Whitlock
23
15
15
72
66
17
88
49
Brayan Bello
24
21
18
16
3
49
68
59
Chris Sale
63
73
63
55
70
79
70
57
Nick Pivetta
7
12
4
3
4
50
28
50
Tanner Houck
54
47
48
24
36
37
52
63
Corey Kluber
13
31
8
24
16
23
52
27
SOURCE: Baseball Savant
Blue = Top quartile, Red = Bottom quartile
Aside from his struggles in the rotation, Houck's pedigree as a reliever makes him a candidate to be bumped to the bullpen. (The same could be said of Whitlock, but the front office gave him the nod to start over Houck during the offseason.) After his final start of last year on May 8, Houck settled into a relief role quite nicely, first in a multi-inning capacity and then taking over the closer role from mid-June until he was shut down with a back injury late in the summer. In those 25 appearances, he allowed just six earned runs, posting a 1.49 ERA, 3.17 FIP, and 3.39 FIP. This is the run that might tempt Cora and his staff to slot him back into a relief role, despite Houck's own wishes.
But the glaring point for moving Houck to the bullpen is his struggles as the game goes on. Facing a batting order the first time, he has held hitters to a .109/.194/.125 line and a .159 wOBA with just one extra-base hit in 72 plate appearances. But the second time, opponents are hitting a scalding .369/.408/.523 with a .402 wOBA; the next time through, it's .313/.361/.656 with a .420 wOBA in 36 PA.
Tanner Houck's Trips Through the Order
Time Through Order
PA
AVG
OBP
SLG
wOBA
1st
72
.109
.194
.125
.159
2nd
72
.369
.408
.523
.402
3rd
36
.313
.361
.656
.420
Baseball Reference uses a statistic called tOPS+, which measures a player's performance under the conditions of a certain split compared to his overall performance using OPS, with his overall OPS set as 100. In other words, for a pitcher, a tOPS+ for a given split would measure how much better his OPS against is under those conditions than it is in any other situation. Houck's tOPS+ the first time through is -4; the second and third time through, it's 170 and 185, respectively. And while he has only made 28 starts in his career, this disparity is present throughout those outings: his career tOPS+ is 47 the first time through, 139 the second, and 229 the third, albeit against only 66 batters faced. That is a clear pattern, and moving him into a bullpen role could render the point moot.
Houck is well aware of the issue. "If I had an answer, I think we wouldn't be talking about it," he told the press after his start against Seattle on Monday at Fenway, dismissing the idea of a mindset shift. "No, the mindset all throughout the game is, 'Go out there, strike one, strike two. Get ahead of hitters and go right after them.'"
So what's happening between roughly the first three innings, during which Dr. Jekyll has a 0.75 ERA/2.43 FIP/3.76 xFIP, and the rest of the game, when Mr. Hyde takes over for an 11.57 ERA/6.25 FIP/4.22 xFIP? Well, the first clue is in those FIP and xFIP values; it's probably not quite as bad as it looks, and a quick look at his contact profile bears that out to some degree. So far, Houck has been somewhat unlucky after the third inning: his expected line of .327/.370/.571 from that point forward isn't all that pretty, but it's better than his .381/.413/.631 actual line. Then again, he's also been a bit lucky before the end of the third, with a .115/.205/.128 line instead of his .154/.239/.216 expected line. Let's not sugarcoat anything: the gap between his expected stats is still massive. But the split between his early wOBA and his later wOBA is 83 points worse than projected.
Houck's Stats – xStats
Stat
1st-3rd
4th-7th
BA – xBA
-.039
.054
OBP – xOBP
-.034
.043
SLG – xSLG
-.088
.060
wOBA – xwOBA
-.047
.035
SOURCE: Baseball Savant
This is thanks in part to a bonkers .403 BABIP after the third inning, compared to a .164 mark in the first three frames. Again, he is getting hit much harder after the third, with a 91.8 mph average exit velocity compared to 88.2, but that shouldn't yield a BABIP that high. Batted balls with exit velocities between 91–92 mph have a BABIP of .211 across the league this year.
Aside from some unfortunate luck, what's going wrong for Houck once he reaches the fourth inning? Most of the damage is happening in the zone: he's throwing strikes slightly more often but getting punished on those pitches. Opposing hitters are swinging at just 60.8% of strikes in the first three innings and have a .144 wOBA when they do; starting in the fourth, that swing rate spikes to 68.4%, with a .483 wOBA on those swings. On all pitches in the zone, Houck has amassed a run value of -9.5 in the first three innings; after the third, it's +7.
Houck goes right at hitters the first time through the order, even over the middle of the plate, and his stuff is strong enough to get weak contact. But once hitters have seen it, they seem to get much more comfortable. On Houck's first pitch of a plate appearance through the first three innings, hitters are swinging at 35.6% of pitches in the zone and 20.0% of pitches outside the zone, leading to a .089 wOBA and a -2.8 run value. After the third, they're swinging at 49.0% of first pitches in the zone and just 4.7% outside the zone, and posting an incredible .860 wOBA (on an absurd .818 BABIP) and a +4.7 run value, despite Houck getting a few calls: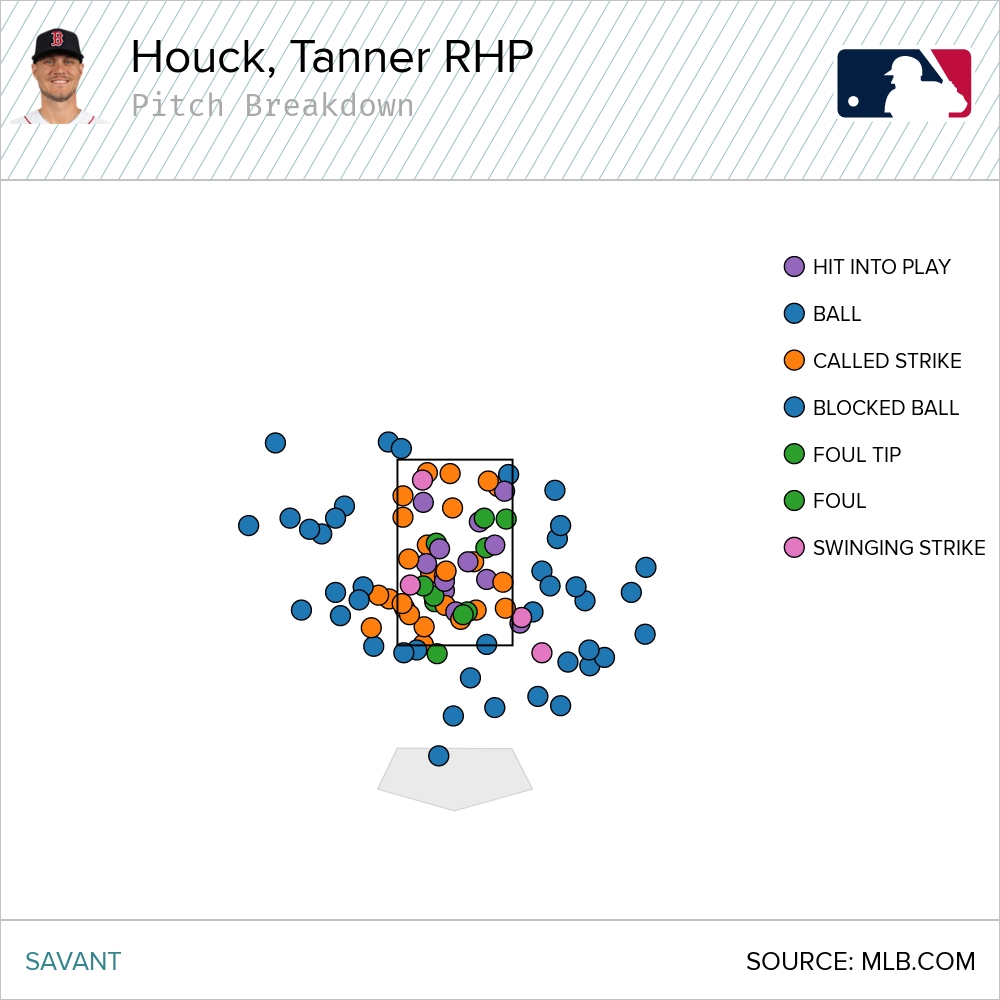 The damage on those swings hurts, but let's not understate hitters laying off, either: they've posted a .217 wOBA off of Houck after falling behind 0–1 and a .368 mark after getting ahead 1–0, and more of them are getting into that favorable count after the first three frames. There's a cascading effect to Houck's struggles later in his starts, and that's part of what makes the difference so stark.
It's frustrating for a pitcher whose stuff grades out strongly enough to suggest that he's capable of better results. Among 92 pitchers with 40-plus innings so far this year, Houck's 59 botOvr rating from PitchingBot ranks 13th, thanks to the sixth-highest rated sinker and ninth-best cutter in the majors. Stuff+ is less confident, ranking him 37th in the overall Pitching+ metric at 102, but it loves his sinker (112) and his slider (115) and grades his four-seamer as average, so it seems to think that his arsenal is capable of bigger and better things.
Let's take a look at one of these problem starts. On May 2, Houck had kept the Blue Jays hitless through three innings at Fenway before allowing a double in the fourth and then six earned runs on five hits in the fifth. Here's how that outing looked pitch-by-pitch from a velocity standpoint: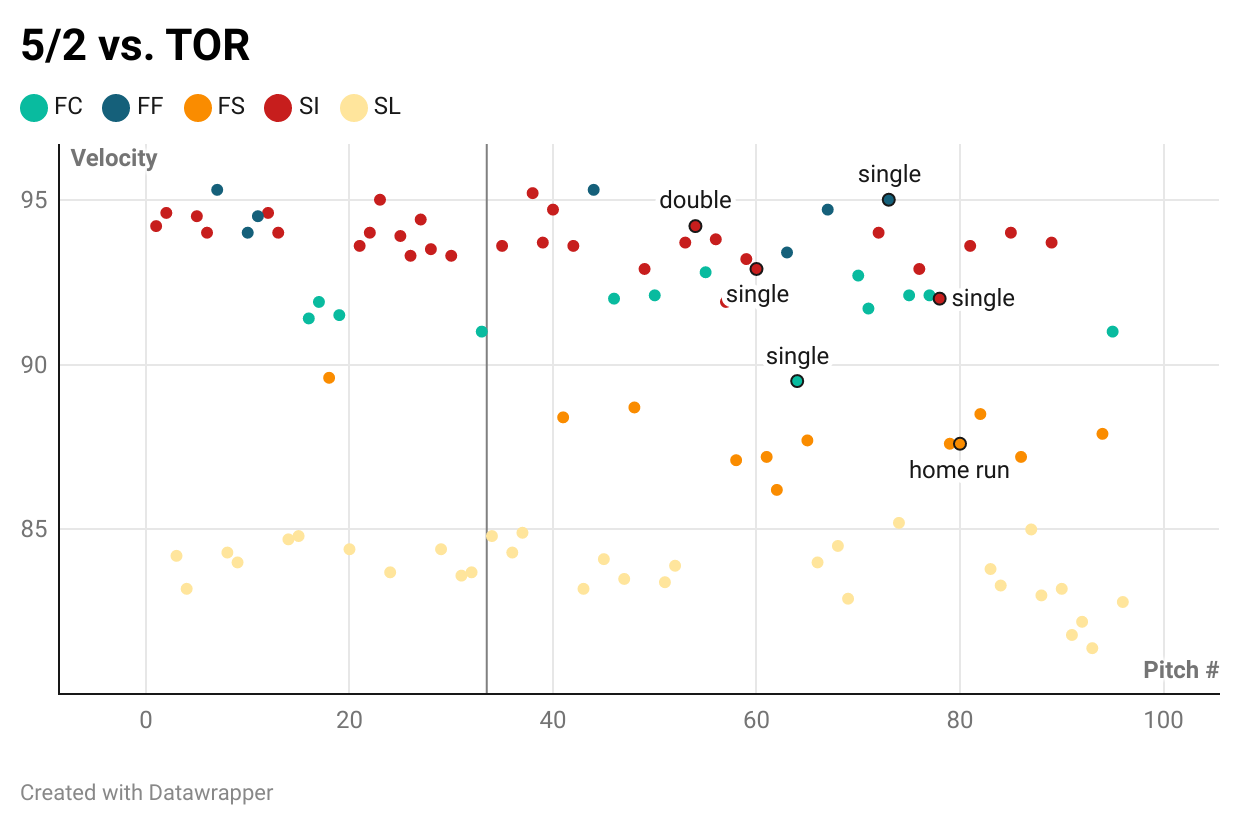 He starts off with really crisp and repeatable velocity for each of his pitches, doing most of the work with the sinker and four-seamer at their peak velocities and the slider a full 10 mph slower. About when the lineup turns over (indicated by the vertical line), things start to get muddled: the sinker and four-seamer lose some velocity and start blending in a bit with the cutter and looking a lot less consistent, and more cutters and splitters get added to the mix. Here's how that slight deterioration looks from the perspective of horizontal break, with the cutter not cutting quite as much and the slider not sliding quite as much: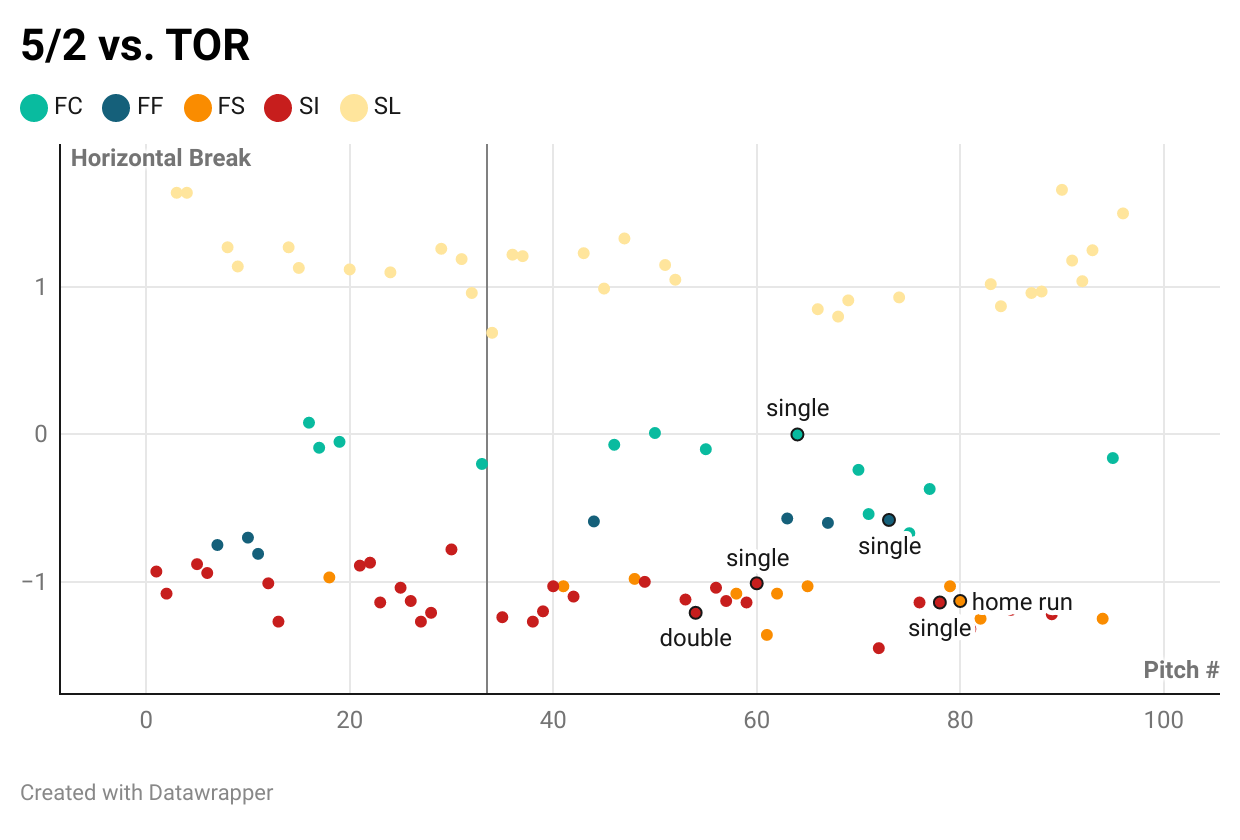 It's not a night-and-day difference, but your pitches losing some definition — your fastballs losing some zip and your breaking pitches flattening a little — can make a huge difference in terms of how hittable they are.
Here he is again on Monday night against the Mariners, when, after being perfect through the order the first time, he allowed five hits and a walk to his final 10 batters: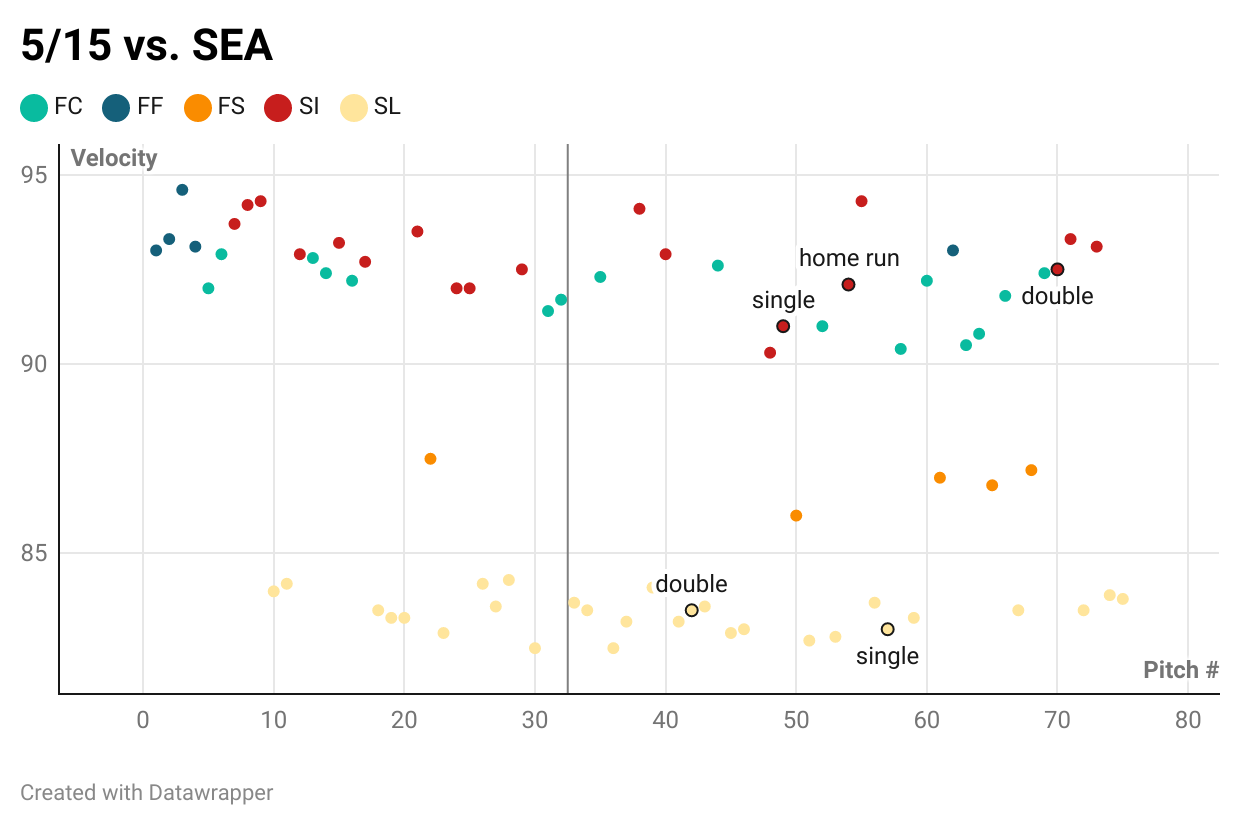 Again, you see strong velo from the jump with the slider keeping hitters off balance, and then the consistency starts to fade toward the end of the first time through the order. He starts to rely more on sliders, but the slower sinker with less-sharp break is getting him in trouble, and some of those sliders are catching too much of the plate:
This is a pretty cursory look at his issues at the specific game level, but it suggests that instead of (or in addition to) hitters starting to recognize his arsenal, part of the issue could be that Houck's stuff itself is deteriorating over time. Again, the effects are cascading into a sort of circular catch-22: he doesn't have his best stuff, so he can't go right at hitters early in counts, so he's falling behind, and then he doesn't have the stuff to get out of it. All the while, everything is falling in for a hit, every fly ball leaves the yard, and everyone who gets on base finds his way home — or so it must seem.
Houck has a fair bit to figure out as the game goes on, if the Red Sox are willing to afford him the patience. On the one hand, it's early to throw in the towel on the idea of Houck as a starter; a version of him that can sustain that early-start success is worth a lot more to the Red Sox than one who's confined to the bullpen. But as we've seen through Cora's managerial tenure, he loves to have a multi-inning weapon in the bullpen capable of wiping out the better part of three innings a couple times a week. That could be Houck, or it could be Whitlock, but over the offseason, it was the latter to whom the front office gave its vote of confidence. (There's also the presences of Josh Winckowski and Kutter Crawford, both of whom are starters who moved to the bullpen this season and can get multiple outs.) Bello, meanwhile, could be optioned back to Worchester as he was last month, leaving spots for both Houck and Whitlock. The odd man out could even be Paxton, who came out of the bullpen during one of his rehab outings for the first time at any level since his major league debut (though it did not go well). The club has options, in other words. As for Houck, he wants to start; to do so, he'll have to find a way to stay sharp longer, and hope that better luck and some friendly regression follow.
All stats and rankings through May 16.