On Thursday night, Drew Rasmussen baffled the Yankees, holding them to just two hits in seven scoreless innings and only getting to a three-ball count once; he didn't walk anybody while striking out seven. Within 24 hours, however, the Rays all but announced that the 27-year-old righty's season was in jeopardy, placing Rasmussen on the 60-day injured list with a flexor strain and putting yet another damper on the team's hot start.
Indeed, it was just about a month ago that the Rays lost another starting pitcher. Jeffrey Springs had allowed just one run in 16 innings over three starts while striking out 24 before he was sidelined by what was initially identified as ulnar neuritis and then diagnosed as a flexor strain, though it turned out he needed Tommy John surgery as well, knocking him out for the remainder of the 2023 season.
That progression is notable, as Rasmussen himself has already had not one but two Tommy John surgeries, both while at Oregon State. Via the Tampa Bay Times' Marc Topkin, the pitcher said on Friday "[A]nything dealing with the forearm/elbow is terrifying for me." He explained that he felt something wrong with his right elbow "like nerve sensitivity, not any real pain" while facing Gleyber Torres, his final batter of the night, and his velocity had tailed off. On Friday morning, he underwent an MRI, and the good news is that so far there hasn't been any indication of further damage to his ulnar collateral ligament:
Rasmussen said the initial imaging "looked OK" regarding the UCL, and the initial diagnosis from team orthopedist Dr. Koco Eaton, who happened to be in New York for the weekend, was that surgery was not initially recommended. Rasmussen will get further evaluation next week by specialist Dr. Keith Meister.
The list of pitchers who have come back from a third TJ is a very short one, consisting of Jason Isringhausen, Jonny Venters, and (possibly) Jose Rijo — a list I spent some time ironing out a few years ago, and not one that any pitcher wants to land on.
Rasmussen's first Tommy John surgery was in March 2016, the second in August '17, after he was drafted in the first round by the Rays (31st overall); he didn't sign before the July 7 deadline, as the Rays noted "discrepancies" in his predraft and postdraft MRIs. The Brewers chose Rasmussen in the sixth round in 2018, signing him for a $135,000 bonus, a fraction of what he would have received as a first-rounder.
The Rays finally acquired Rasmussen as part of the Willy Adames trade in May 2021, and it's on their watch that he's progressed from late-inning reliever to top starter. After transitioning to the rotation in late 2021, he pitched to a 2.84 ERA and 3.26 FIP in 146 innings last year. His performance had taken a step forward this year, via a 2.62 ERA and 2.56 FIP in 44.2 innings; the former ranks ninth in the league, the latter sixth, and for good measure his 2.80 xERA is fifth. He had already totaled 1.4 WAR (ninth in the league), compared to last year's 2.9.
Rasmussen has taken a step forward by increasing both his strikeout rate (from 21.4% to 26.6%) and his groundball rate (from 46.6% to 52.6), which puts him in something of a sweet spot. I'm a big fan of pitchers who can generate groundballs and miss bats, as those are a couple of very good ways of preventing big damage. A few years ago while writing about the emergence of Luis Castillo, I used our Plus Stats — specifically league-indexed strikeout and groundball rates, where 100 is league average, 120 represents a performance 20% above average, and so on — to create a junk stat called KGB+, the sum of those two indexed rates. Here's what last year's leaderboard looked like, using a 120-inning cutoff:
KGB+ Leaders, 2022
KGB+ = K%+ plus GB%+
As you can see, everybody on there — including Castillo, the pitcher who led me to create this metric — did a better-than-average job at preventing runs; in fact, the median ERA- of the group above was 73, while that of their FIP- was 76. This year's samples are small enough that we don't get quite the same consistency within the top 20:
KGB+ Leaders, 2023
Pitcher
Team
IP
K%+
GB%+
KGB+
ERA-
FIP-
Shohei Ohtani
LAA
46.0
158
111
269
63
82
Framber Valdez
HOU
53.0
118
149
267
56
72
Spencer Strider
ATL
46.2
192
73
265
57
38
Jacob deGrom
TEX
30.1
171
90
261
62
37
Kevin Gausman
TOR
48.0
149
110
259
79
53
Logan Webb
SFG
52.0
118
137
255
82
89
Edward Cabrera
MIA
35.1
134
120
254
128
118
Sonny Gray
MIN
45.1
134
116
250
33
45
Zach Eflin
TBR
34.0
113
133
246
72
78
Logan Gilbert
SEA
40.1
137
107
244
93
65
Nathan Eovaldi
TEX
53.1
119
124
243
63
45
Zac Gallen
ARI
57.1
144
98
242
54
42
Drew Rasmussen
TBR
44.2
116
125
241
64
63
Alex Cobb
SFG
47.2
94
146
240
40
71
Kodai Senga
NYM
37.0
118
121
239
103
117
MacKenzie Gore
WSN
41.0
129
109
238
76
82
Marcus Stroman
CHC
47.1
106
131
237
53
79
Shane McClanahan
TBR
50.0
129
108
237
58
94
David Peterson
NYM
34.0
114
122
236
191
120
Pablo López
MIN
49.1
136
99
235
82
77
Still, that's a median ERA- of 64 and a median FIP- of 74. This is generally a good place to be, and there's our man Rasmussen, having joined the party by boosting his K%+ from last year's 97 and his GB+% from last year's 110. His 35-point jump in KGB+ is the fifth-largest of any pitcher meeting the two cutoffs, with Gilbert's 55-point jump the largest, and Joe Ryan, Kevin Gausman, and José Berríos the three pitchers in between.
Rasmussen's emergence as a starter owes plenty to last year's addition of an outstanding cutter, one Ben Clemens wrote about last August. It's become his workhorse pitch, to the point that this year, he's throwing it more often than his four-seamer. The pitch generates his highest swinging strike rate and, if we're not counting his emerging sinker, his highest CSW rate as well:
Drew Rasmussen Pitch Usage and CSW%
Pitch
2022 %
2022 SwStr%
2022 CSW%
2023 %
2023 SwStr%
2023 CSW%
Cutter
32.8%
17.0%
31.6%
35.9%
13.6%
33.1%
4-Seam
35.4%
9.6%
26.6%
29.5%
10.6%
30.7%
Sweeper
23.0%
15.2%
23.2%
15.0%
12.9%
21.8%
Sinker
3.8%
5.8%
23.3%
12.2%
8.5%
34.1%
Curve
4.4%
12.1%
24.2%
7.4%
12.0%
32.0%
With this slightly rejiggered mix, Rasmussen's been more effective when he gets to two strikes, holding hitters to a .122 AVG and .156 SLG, down from .189/.279 last year; he has yet to allow a two-strike home run this year. Meanwhile all of his pitches save for his sinker (curiously enough) are generating higher groundball rates than last year: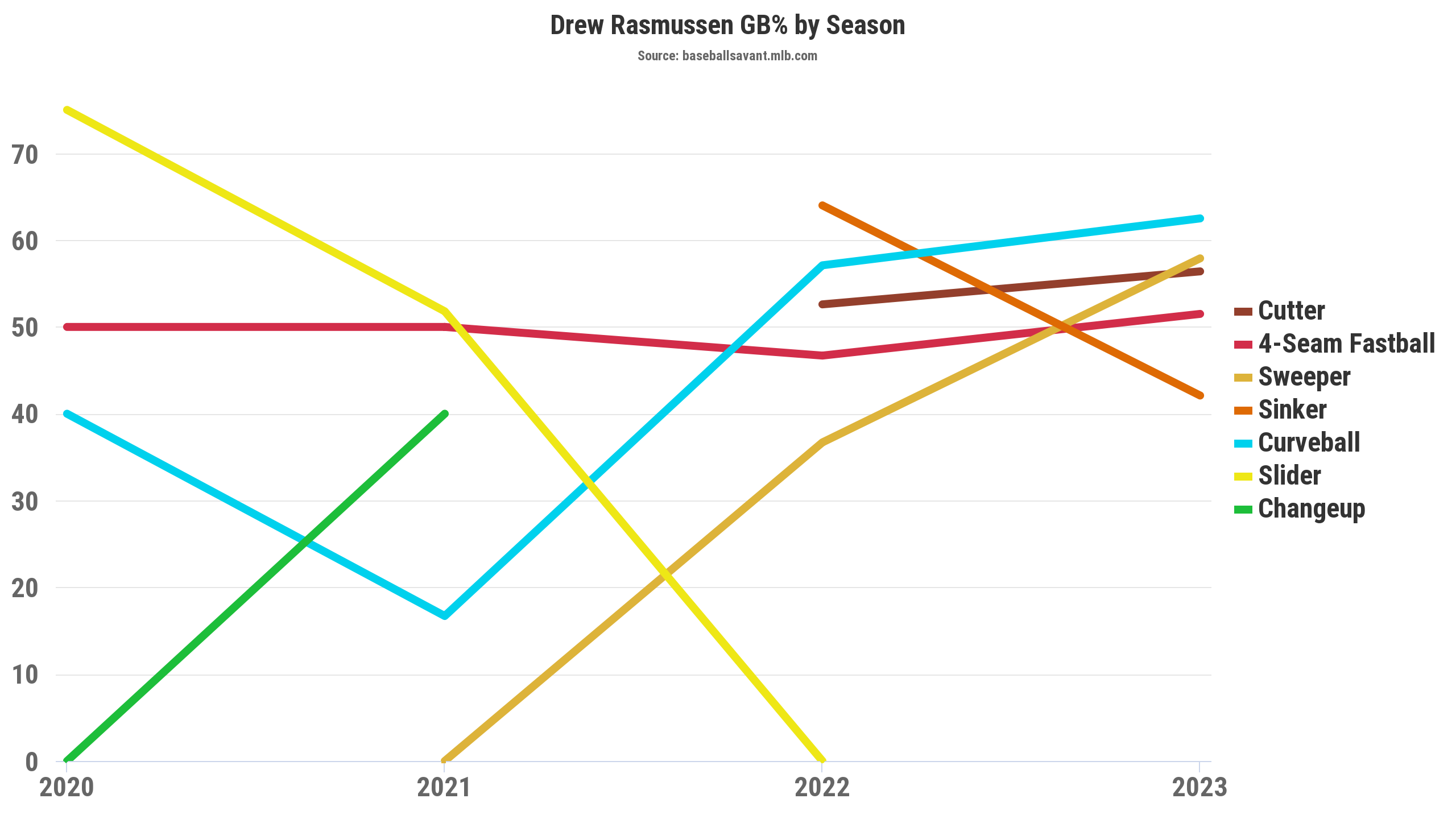 Batters are hitting just .204 and slugging .327 against the cutter, compared to .248/.360 last year. And while he's featuring his sweeper less, they're also hitting a meager .129/.161 against it. In all, he's done a very good job of limiting hard contact:
Drew Rasmussen Statcast Profile
Season
BBE
EV
Barrel%
Hard-Hit%
xBA
xSLG
wOBA
xwOBA
2020
41
86.8
4.9%
29.3%
.209
.306
.361
.282
2021
209
91.4
5.7%
50.2%
.246
.367
.252
.295
2022
423
88.9
6.6%
39.2%
.238
.375
.270
.290
2023
118
87.3
4.2%
32.2%
.225
.316
.255
.264
Via Statcast, Rasmussen's average exit velocity places in the 72nd percentile, his hard-hit rate in the 81st, his barrel rate in the 84th, and his xwOBA (and xERA) in the 85th.
It's a bummer to lose that good a pitcher for any length of time, and it's still possible he'll need surgery on his flexor, if not a third TJ. If there's good news, it's that if Rasmussen does avoid surgery, he should have a window to return this season, though he's guaranteed to go beyond the minimum stay on the IL. Via Topkin, the plan is for him to be shut down from throwing for a minimum of eight weeks, after which he can slowly be built back up to the point of going on a rehab assignment, perhaps in mid-August. Even without setbacks, the process could easily stretch past three months.
As to where that leaves the Rays, the answer is "back in the realm of openers." The lefty-throwing McClanahan and righty-throwing Eflin are working as traditional starters, and both have pitched well, but the rest is mixing and matching, as a total of seven pitchers besides that pair and the two now-injured ones have started games. Righty Yonny Chirinos and lefty Josh Fleming have each started just once, but both are pitching in bulk roles behind openers such as lefty Jalen Beeks and righties Trevor Kelley, Javy Guerra (who was designated for assignment on Sunday), and Calvin Faucher (who's since been optioned to Triple-A Durham).
Taj Bradley, their top pitching prospect (no. 37 on the Top 100 list), is a 22-year-old righty who could take Rasmussen's spot on Wednesday against the Mets. He made three starts for the Rays in April, lasting at least five innings in each and posting a 3.52 ERA and 2.58 FIP, but he's been getting knocked around at Durham since his demotion, where he's been working on a five-day schedule instead of a six-day one. Cooper Criswell, a 26-year-old righty at Durham, has been mentioned as an alternative, but he fits in more as a bulk type. Ultimately, the Rays are awaiting the return of Tyler Glasnow, who made three starts late last year (including one in the Division Series) after rehabbing from Tommy John surgery and is still working his way back from an oblique strain suffered in spring training. He made his second rehab start for Durham on May 10, but departed after just one inning due to mild left side tightness; thankfully, an exam revealed no new injury. He's expected to make another start for Durham on Tuesday and then probably one after that before he's ready to return to the Rays.
With their hot start, the Rays have taken command of the AL East. They lead the upstart Orioles by 3.5 games, the Blue Jays by 6.5, and the Yankees and Red Sox by seven. Via our Playoff Odds, their chances of winning the division have roughly tripled since Opening Day, from 19.6% to 60.3%, with their odds of making the playoffs shooting from 61.3% to 95.2%. Still, it's dismaying to see the players who helped them build that lead falling by the wayside. The Rays will have to cross their fingers and hope Rasmussen avoids the operating table and makes a strong enough recovery to help them finish what they started.