I've made another small series of updates to the Top 100 Prospects list, which you can find on The Board. For the first time this season, I've reshuffled some of the names in the top 15 to 20 spots. Mostly, I've done some incremental reordering near the top based on health and current level of play. For example, Mets catcher Francisco Álvarez, who has kept his head above water after being thrust into the primary catching role in Flushing, has hopped over Jordan Walker, who's struggling to get comfortable on both offense and defense down in Memphis. Neither player's evaluation has had an overhaul — this is just a better representation of how things line up right now.
The biggest mover in the 60 FV tier is Diamondbacks center fielder Druw Jones, who falls toward the back of that group due to his quad strain and early-season strikeout issues. It could make sense for Jones to rehab in extended spring training or during the early part of the Complex League schedule and hit his way back to Visalia. It sounds like he will be back sooner than Phillies righty Andrew Painter, who remains at the very back of the 60 FV tier while he continues to rehab from a UCL injury.
Changes to the top of the 55 FV tier buoy the hitters who are performing toward the top of that group. The players from no. 14 to 18 overall (Marcelo Mayer, Brooks Lee, Endy Rodríguez, Brett Baty, Josh Jung) now stack ahead of Jordan Lawlar and Diego Cartaya, who are both striking out a lot at Double-A. The other changes within the 55 FV tier come toward the back of that group. Red Sox outfielder Miguel Bleis and Pirates infielder Termarr Johnson slide about 20 spots (the two of them were stacked at no. 19 and 20 overall), while Rays infielder Junior Caminero (who had been floating among the high-variance hitters in the back third of the 50 FV tier for about a year now) moves up from 110 overall.
This trio has huge tools and huge risk associated with strikeouts. Johnson is coming off a hamstring strain and struggling to get traction in the Florida State League, where he's striking out 40% of the time even though the pitching isn't very good. The oppo, slasher approach he showed against outer-edge pitches while he was in high school isn't there right now, and he isn't showing the same plate coverage he was last year. It's possible Johnson has intentionally become more pull-oriented (I get it, it's where his biggest power is), and it's also possible he's been rusty because of the time off due to the hamstring strain. Either way, I can't have a guy striking out at a nearly 40% clip in the Florida State League ranked 20th overall. His FV grade hasn't changed, he's just slid behind players who are performing and/or are more proximate to the big leagues.
Bleis and Caminero both have hit tool risk derived from their lack of plate discipline. Caminero is hitting (like really, really hitting) right now, but at some point his lack of ball/strike recognition is going to have an impact on his output or force him to make an adjustment. That is already happening with Bleis, who is out of the gate slow at Low-A Salem. Both Caminero and Bleis have reassuring traits that not only make them exciting prospects, but make us optimistic they'll succeed despite their epicurean approach to hitting. For one, to the naked eye they're both ridiculously talented. Caminero has an Adonis-like build and plus-plus bat speed. Bleis swings with shocking verve for a skinny teenager. Both of these guys are also making about an average rate of in-zone contact, and in Bleis' case it's actually been better than that. These are characteristics that chase-prone stars like Bo Bichette, Luis Robert Jr., Adolis García, and other successful free swingers have shown in the minors. I've updated Caminero's blurb on The Board; he's the only player I've mentioned so far whose FV grade has actually changed.
There are two more additions. One is Reds shortstop Matt McLain, who moves into the Top 100 as his hit tool has taken a full grade leap from last year. He's getting beaten by fastballs in on his hands far less often than he was last season, and he's made a swing change that supports the on-paper improvement in this area. I go into the change more deeply in his updated blurb, but McLain's stance and stride direction have both been more open this year, enabling him to better snatch pitches in on his hands than he was in 2022. Here's a swing-and-miss last year compared to a ripped double this year, with screengrabs of his stance, as well as his body position as his front foot lands and at the point of contact: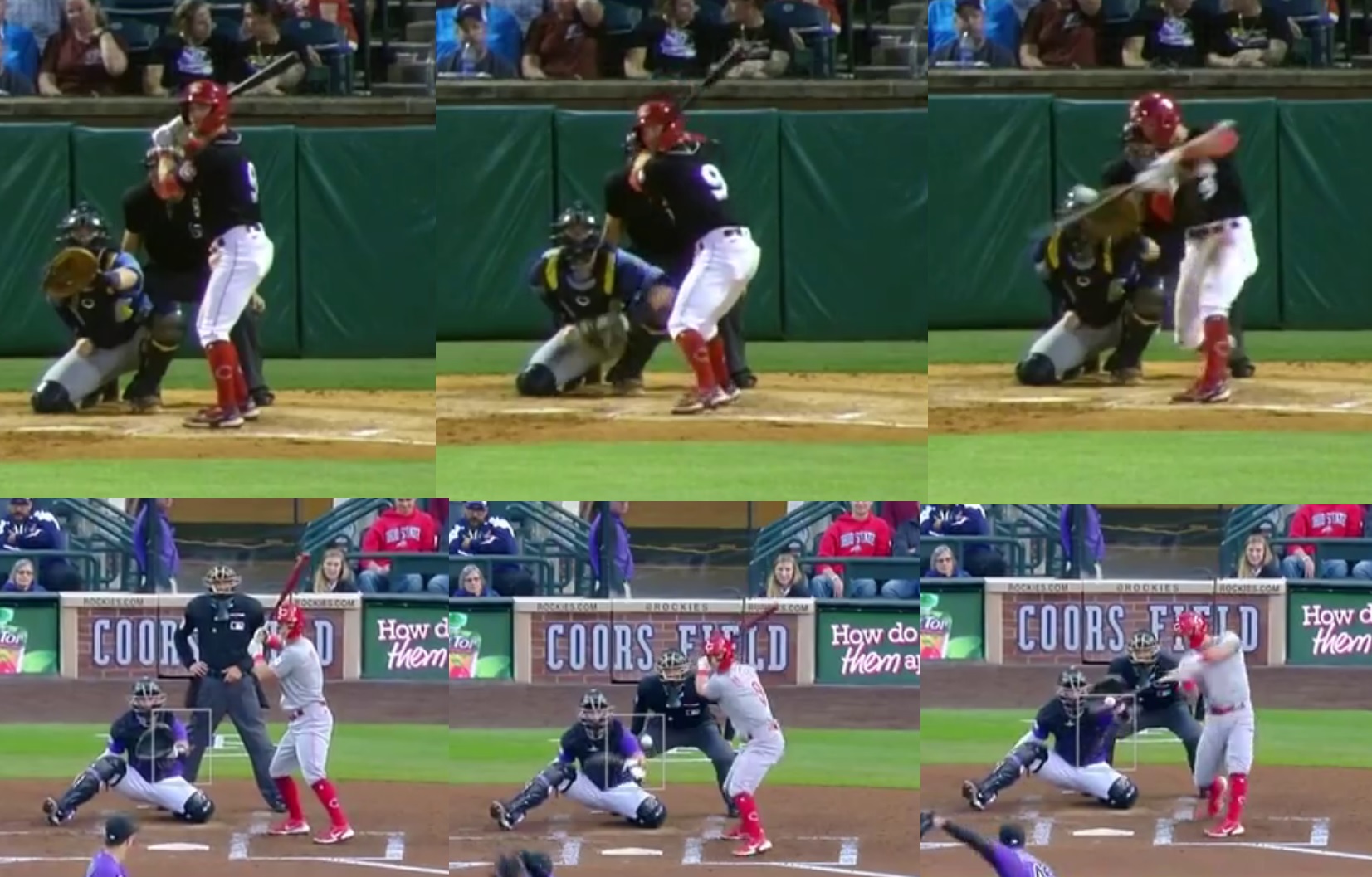 His ability to turn on these pitches rather than swing underneath them has McLain making something closer to an average rate of in-zone contact for a big leaguer. Fold in playable power and viable shortstop defense, and you have a prospect similar to the Ezequiel Tovar and Oswald Peraza contingent near the very top of the 50 FV tier, a plug-and-play everyday major league shortstop.
Finally, the Atlanta Braves again have a Top 100 prospect as AJ Smith-Shawver moves into the 50 FV tier upon promotion to Triple-A. This isn't like with Painter last year where by the time he had made a few Double-A starts, he had already shown polished usage of two more pitches than he was in April. Smith-Shawver still has a lot of key developmental checkpoints left to hit. His line to the plate, including often during his last start at Mississippi, can waiver all over the place and impact his fastball command. However, his feel for his curveball has leveled up since his first couple of starts, and his feel for locating his slider (which is often better than his fastball command) consistently gives him a go-to weapon that can miss a bat in a big spot. He still hasn't allowed an earned run this year and is now the youngest player at Triple-A. There's big long-term projection here because of the athletic and mechanical elements discussed throughout Smith-Shawver's scouting report. That stuff carries a lot of weight in forecasting above-average command and a good changeup down the line. He's now stacked near Cubs righty Ben Brown on the Top 100 list. Both are huge-framed late-bloomer types with two good breaking balls.
Updating the Rays list
The Rays farm system is extremely important to understand because they have the best record in baseball and play in a hotly contested division, making them likely deadline buyers. I've updated their prospect list over on The Board, which now includes notes collected from their extended spring training group as well as tweaks to some of the players who were already on there where I felt it was appropriate. They still flash impact tools and athletic ability, but Kameron Misner and Greg Jones are both striking out 40% of the time and need to slide. They fall into a 40+ FV tier that, aside from Cooper Kinney (healthy and making lots of contact, but still without a clear position) and Brailer Guerrero (who just signed), is full of players who are underachieving. Most of that FV tier either isn't hitting (Mason Auer, Heriberto Hernandez, Willy Vasquez, Xavier Isaac) or is hurt/rehabbing (Nick Bitsko, Ian Seymour and Colby White, who a source saw sitting 92-94 mph with no strikes in extended spring training).
Triaging the names in that tier will be the most important Rays-related task to accomplish between now and the end of July. The upper-level hitters from that group felt like near-ready role-players during the offseason and they're all face-planting so far. The group of players at Durham who've lost rookie eligibility, but who you might still consider "prospects" — Vidal Bruján, René Pinto, and Jonathan Aranda — are all more desirable in trade than anyone south of Kinney on the prospect list. Aranda especially could probably be an everyday stick for a lot of other teams.
Aside from Caminero's ascent, there isn't a clear riser in this system yet this year, and so the rest of the changes to the Rays list come via additions from the extended spring contingent on the complex. The added players are:
You can identify this group quickly on the list by looking for action in the "Trend" column.